2018 was the 50th year for Intel in the semiconductor business, and their Q4 2018 conference call just happened last week, so I'll get you all caught up on what they talked about. Bob Swan is the CFO and interim CEO, as the company continues to search for a new CEO after Brian K. was ousted for misconduct. Here's a quick financial summary for the Q4 2018 quarter:
EPS of $1.28,

beat estimates by $0.06

Revenue of $18.66B, a 9.4% increase, but

missed estimates by $360M
For the entire year revenue passed $70B, a growth of 13% thanks to data center, IoT, programmable, memory and modem businesses. I spend all day in the cloud by browsing, banking, reading, writing and networking, so no surprise that the Data Center Group did $23B in revenue, up 21% for the year.
I kind of expected the PC business to be flat or slightly down, but surprisingly that business grew 9% for the year. There was no big Q4 revenue uptick, so the product areas blamed are:
Modem
China slow-down
Slower cloud growth
NAND pricing
Hopes are high for three areas: AI, Autonomous Driving, 5G. All of these topics are popular on SemiWiki, so let's see if Intel can compete on a global scale with so many competitors in each field.
Related blog:Intel Swaggers at CES
3D chip packaging (aka Foveros) has arrived, and their first product is coming later in 2019, Lakefield – a 10nm CPU, four Atom cores, Gen 11 graphics. I'm still curious about how they managed to remove all of that heat effectively.
The 9th generation of Intel Core desktop products was launched in 2018, so that benefits the scientific, gaming and content creating segments. The 10nm Ice Lake client CPUs were previewed, but not quite ready for sale in 2018.
Vision processing is a typical AI task using CNN (Convolutional Neural Networks), so Intel has a 3rd generation vision processing unit along with a toolkit called OpenVINO. Another tease for AI is something Intel calls a Neural Network Processor for Inference (NNPI), due in the 2H2019, with a product family name of Nervana.
Intel's automotive acquisition Mobileye added some 28 new design wins and 78 vehicle model launches last year, so that segment for collision detection and avoidance is in growth mode for ADAS levels one to three.
Shareholders of INTC stock enjoyed receiving $5.5B in dividends, and the company bought back 217 million shares as the stock traded between $42 – $57.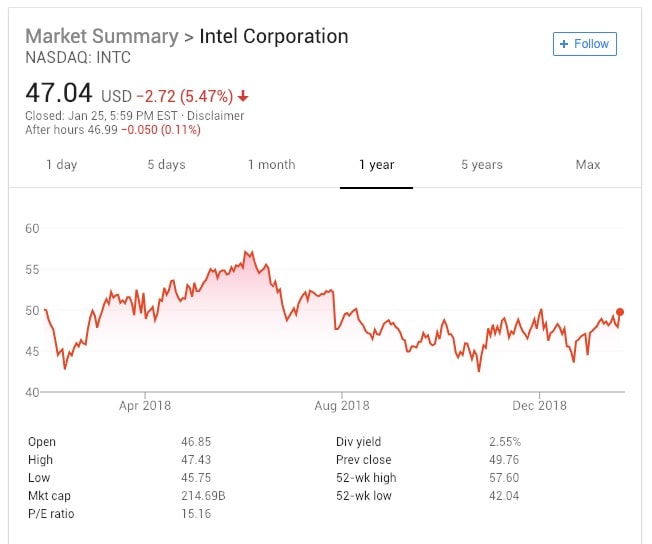 One statistic that really jumped out at me was that revenue per employee has improved 25% in the past three years.
Just the Data Center Group at Intel produced $6B of revenue in Q4, more than most companies in the world.
Back in 2006 Intel and Micron created IM Flash Technologies, LLC, but in 2018 Micron announced their plans to fully own the technology known within Intel as 3D Xpoint, or product name of Optane. Intel can still purchase their chips from Micron, so let's see if this segment continues to grow in 2019.
Forecasts for 2019 at Intel are:
Revenue of $71.5B,
EPS of $4.60
Q1 2019 forecast of $16B in revenue and EPS at $0.87, so no growth expected.
The transition at Intel from PC-centric to data-centric is slowly taking shape.
Data Center revenues for the first nine months of 2018 were up 45%, but the fourth quarter slowed way down. For 2019 they hope that the second half shows pickup in this area.
2018 we saw Intel exit Wind River and the wearables market. The 10nm node slowly continues to ramp up production volumes in 2019, although some 4 years later than expected.
Share this post via: