QCOM is now sampling the TSMC 20nm version of its market dominating Gobi LTE modem. The announcement also included a new turbo charged version of their 28nm Snapdragon 800 SoC with a Krait 450 quad core CPU and Adrino 420 GPU. Given the comparable benchmarks between the Intel 22nm SoC and the 28nm SoCs from Apple and QCOM, the new 20nm mobile products from the top fabless semiconductor companies will be well beyond Intel's 22nm reach, absolutely.


The question is: When will Intel have a competitive 14nm SoC? The answer will hopefully come today at the Intel Analyst conference so stay tuned to SemiWiki. I will compare the conference info with what I have heard and see how they match up. Spoiler alert: Production Intel 14nm SoCs will not arrive until 2015, believe it.
TSMC's 20nm process technology can provide 30 percent higher speed, 1.9 times the density, or 25 percent less power than its 28nm technology. The advanced 20nm technology demonstrates double digit 112Mb SRAM yield. The high performance device equipped with second generation gate-last HKMG and third generation Silicon Germanium (SiGe) strain technology. By leveraging the experience of 28nm technology, TSMC's 20nm process can further optimize Backend-of Line (BEOL) technology options and deep collaboration with customers to continue the Moores' Law shrinking path. Technology and design innovation keep production costs in check.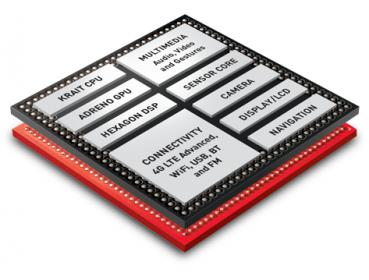 The new QCOM Krait 450 quad-core SoC is the first mobile CPU capable of running at speeds of up to 2.5GHz per core with a memory bandwidth of 25.6GB/s which will significantly increase the speed of running apps and browsing the internet. According to QCOM it is also capable of delivering Ultra HD (4K) resolution video, images, and graphics to mobile devices and HDTVs via their new Adreno graphics engine (the Adreno 420 GPU claims a 40% graphics boost over the Snapdragon 800). QCOM also claims to have integrated hardware accelerated image stabilization, which would be an industry first. The quad core processors are still 32-bit which was a bit of a disappointment for me. If anyone can push Android to 64-bit it is QCOM. As it turns out, Apple really did pull a rabbit out of the hat with their 64-bit ARM based A7 SoC for the iPhone5s which I have and am thoroughly enjoying!
"Using a smartphone or tablet powered by Snapdragon 805 processor is like having an UltraHD home theater in your pocket, with 4K video, imaging and graphics, all built for mobile," said Murthy Renduchintala, executive vice president, Qualcomm Technologies, Inc., and co-president, QCT. "We're delivering the mobile industry's first truly end-to-end Ultra HD solution, and coupled with our industry leading Gobi LTE modems and RF transceivers, streaming and watching content at 4K resolution will finally be possible."
The FinFET version of Snapdragon and Gobi LTE modems are expected to sample one year from now with a 20% performance boost or a 35% power savings from the silicon alone. I also expect it will have a 64-bit ARM based architecture for greater throughput. Apple's next A8 SoC (iPhone6) is also TSMC 20nm which will mark the first time Apple has competitive silicon with competing tablets and smartphones. Apple's A7, which just came out, is old school 28nm and last year's A6 was 32nm. Exciting times in the fabless semiconductor ecosystem, absolutely!
See the Qualcomm presentation HERE.
More Articles by Daniel Nenni…..
lang: en_US

Share this post via: