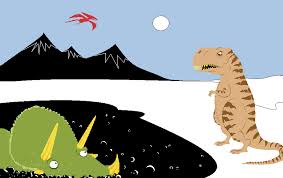 While this was not specifically stated, it was certainly implied during the sessions I attended at SEMICON West this week: The traditional semiconductor business model (IDM) is coming to an end. Starting with the keynote: Foundry-driven Innovation in the Mobility Era,cost was the common theme in any discussion involving mobile devices.
The Mobile Era is clearly upon us. Mobile devices are outselling PCs. More people access the internet through their phone or tablet than their desktop. Semiconductor consumption by mobile applications surpassed that of PCs last year for the first time. What does this all mean to the electronics industry, and the semiconductor infrastructure that supports it?
To me that means cost is going to drive the manufacturing process even more. The $300 PC CPUs will be replaced by $10 mobile SoCs. 28nm facilitated this move and will continue to do so for years to come. An interesting point made by Ajit Manocha,GLOBALFOUNDRIES CEO, on 14nm: By putting FinFETs on 20nm and not changing the backend pitch there will be significant cost savings and that means mobile.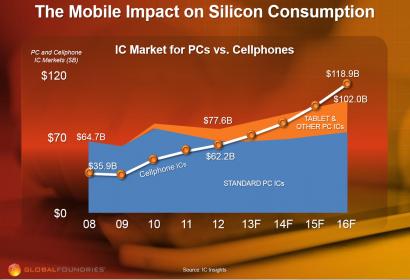 At the semiconductor level it is clear that the old manufacturing model won't support the needs of this dynamic new landscape. The foundry-based model, which has spawned so many fabless success stories over the past two decades, will continue to be a key driver behind this mobile revolution, and in fact will assert more influence and innovation than ever before. As successful as this approach has been, like all living organisms, especially those in electronics, we have to continue to evolve. Clearly, we must change – Call it Foundry 2.0.
We always focus on transistor complexities and Moore's Law but with mobile it is all about cost. Another change I see with mobile is for our phones to not just collect information but also help us understand the information in a more intuitive manner. Right now my iPhone5 is on information overload and I'm really hoping iOS7 will help with that. I would also appreciate a little more battery life. I really need to get through a 12 hour heavy use day without a charge but I digress.
A presentation by Dr John Scott-Thomas of TechInsights on what is inside the new phones and tablets brought me back to cost. TechInsights does teardowns and Bill of Materials of production phones. QCOM's SnapDragon is at $25, Samsung Exynos is $38 and Apple's A6 is at $40. SnapDragon is TSMC 28nm, Exynos is Samsung 28nm, and the A6 is Samsung 32nm. Right now TSMC has 90% of the 28nm market with premium pricing. As more foundries ramp up 28nm, 28nm wafer cost will drop dramatically in the coming months which is where I get the $10 price tag for a mobile SoC. That is going to be VERY hard to beat at 22nm and below.
Back to Foundry 2.0, which to me is an IDM for hire approach where the top fabless semiconductor companies engage with GF at the lowest level and get the technical benefits of the IDM model without having to carry manufacturing on their balance sheet. That, my friends, is the future of semiconductor design and manufacture and the future is now.
In 2012 the crowd of mobile SoC makers surpassed Intel in wafer shipments. In 2013 Apple will ship around 500 KW/year, Qualcomm around 600 KW/yr, and Intel around 900 KW/yr so the gap is widening. Add in Samsung, Mediatek, Broadcom, Nvidia, and the dozen other emerging fabless SoC companies? Sorry Intel fans, Intel is a dinosaur heading for the tar pits, just my opinion of course.
lang: en_US

Share this post via: