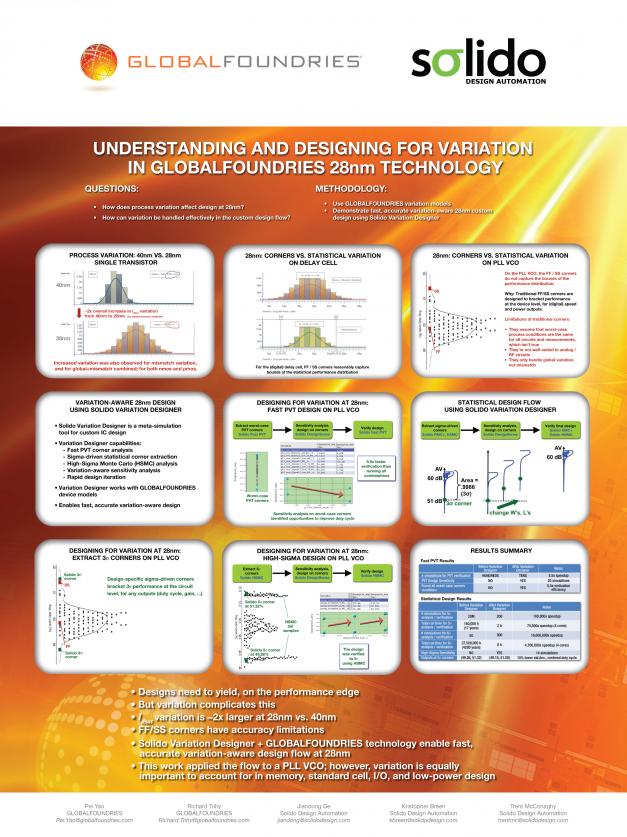 On Wednesday there is a User Track Poster Session that examines the design impact of process variation in GLOBALFOUNDRIES 28nm technology. For those of you who are wondering what process variation looks like at 20nm take this 28nm example and multiply it by one hundred (slight exaggeration, maybe).
Variation effects have a significant impact on nanometer circuit designs. Variation causes performance loss, yield loss, and re-spins, resulting in delayed time to market and financial losses. To address this challenge, GLOBALFOUNDRIES provides variation models that can be used to simulate process variation effects in the design flow. This enables designers to improve their designs and make them robust to variation effects.
This poster session examines the design impact of process variation in GLOBALFOUNDRIES 28-nm technology. Variation effects are compared between GLOBALFOUNDRIES' 28-nm and 40-nm technologies, as well as between different types of variation within the 28-nm technology. A design example will be discussed that demonstrates the application of variation-aware design in GLOBALFOUNDRIES 28-nm technology.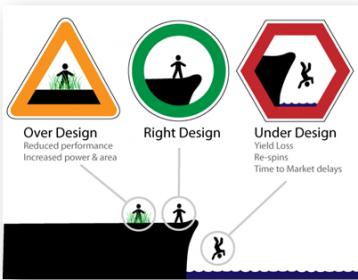 Solido Variation Designer was used to perform variation-aware analysis and design in this work. Solido Variation Designer is a variation-aware custom IC design tool that leverages variation data in GLOBALFOUNDRIES models to provide efficient, accurate variation-aware design. This tool made it possible to perform thorough analysis in a variety of variation analysis and design tasks, including: fast PVT corner analysis, sigma-driven statistical corner extraction, high-sigma Monte Carlo analysis, identification of variation-aware design sensitivities, and rapid design iteration.
Speaker:
Pei Yao – GLOBALFOUNDRIES, Milpitas, CA
Authors:
Pei Yao – GLOBALFOUNDRIES, Milpitas, CA
Richard Trihy – GLOBALFOUNDRIES, Milpitas, CA
Jiandong Ge – Solido Design Automation, Inc., Saskatoon, SK, Canada
Kristopher Breen – Solido Design Automation, Inc., Saskatoon, SK, Canada
Trent McConaghy – Solido Design Automation, Inc., Saskatoon, SK, Canada
Person of Interest: Daniel Nenni – SemiWiki.com, Silicon Valley, CA


Share this post via: