One of my favorite events is just around the corner and that is the TSMC OIP Ecosystem Forum and it's at my favorite Silicon Valley venue the Santa Clara Convention Center. Nobody knows more about the inner workings of the ecosystem than TSMC so this is the premier semiconductor collaboration event, absolutely.
In my 40 years as a semiconductor professional I cannot think of a more exciting time for our industry and TSMC is one of the reasons why. The ecosystem they have built is a force of nature that may never be replicated in the semiconductor industry or any other industry for that matter. Hundreds of thousands of people all working together for a common goal of silicon that could change the world!
The guest speaker for the Silicon Valley event will be none other than Jim Keller of Apple, AMD, Tesla, and Intel fame. Jim is an amazing speaker so you definitely do NOT want to miss this one.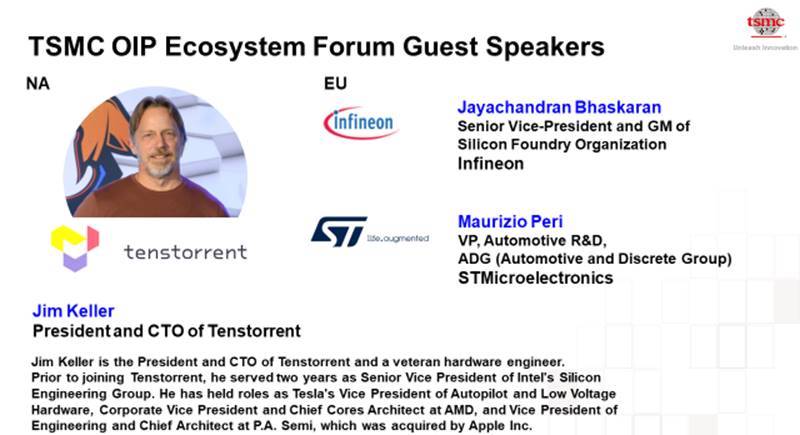 Learn About:
Emerging advanced node design challenges and corresponding design flows and methodologies for N3/N3E, N4/N4P, N5/N5A, N6/N7, N12e, N22, and 28eF technologies
Latest 3DIC chip stacking and advanced packaging processes, and innovative 3DIC design enablement technologies and solutions targeting HPC and mobile applications
Updated design solutions for specialty technologies enabling ultra-low voltage, analog migration, mmWave RF, and automotive designs targeting automotive and IoT designs
Ecosystem-specific TSMC reference flow implementations, P& R optimization, machine learning to improve design quality and productivity, and cloud-based design solutions
Successful, real-life applications of design technologies and IP solutions from ecosystem members and TSMC customers
For more information on the TSMC OIP Ecosystem Forum, e-mail us at: tsmcevents@tsmc.com.
Here is the agenda as of today:
Abut TSMC
TSMC (TWSE: 2330, NYSE: TSM) created the semiconductor Dedicated IC Foundry business model when it was founded in 1987. TSMC served about 535 customers and manufactured more than 12,302 products for various applications covering a variety of end markets including smartphones, high performance computing, the Internet of Things (IoT), automotive, and digital consumer electronics.
Annual capacity of the manufacturing facilities managed by TSMC and its subsidiaries exceeded 13 million 12-inch equivalent wafers in 2021. These facilities include four 12-inch wafer GIGAFAB® fabs, four 8-inch wafer fabs, and one 6-inch wafer fab – all in Taiwan – as well as one 12-inch wafer fab at a wholly owned subsidiary, TSMC Nanjing Company Limited, and two 8-inch wafer fabs at wholly owned subsidiaries, WaferTech in the United States and TSMC China Company Limited.
In December 2021, TSMC established a subsidiary, Japan Advanced Semiconductor Manufacturing, Inc. (JASM), in Kumamoto, Japan. JASM will construct and operate a 12-inch wafer, with production targeted to begin by the end of 2024. Meanwhile, the Company continued to execute its plan for an advanced semiconductor fab in Arizona, the United States, with production targeted for 2024. www.tsmc.com
Also Read:
Future Semiconductor Technology Innovations
TSMC 2022 Technology Symposium Review – Advanced Packaging Development
TSMC 2022 Technology Symposium Review – Process Technology Development
Share this post via: