Why making the difference between chips and cores, when mentioning that CEVA's customers have shipped four billion IC to date? Because that can make a big difference! Imagine for example an IP vendor selling processor IP cores to be used in massively parallel computing application, when the chip maker create a processor NxM matrix, where every IP core is duplicated (N x M) times… When you ship one chip, you also ship N x M cores.
In the SC industry, we evaluate a market made of IC shipments, and even if an IP is instantiated multiple times in the same chip, at the end of the day, we just count the shipment of such a chip – called "unit" – to calculate a market share. If anybody prefers to start counting IP cores, I strongly suspect that the standard cell Library vendors will end up winning the game…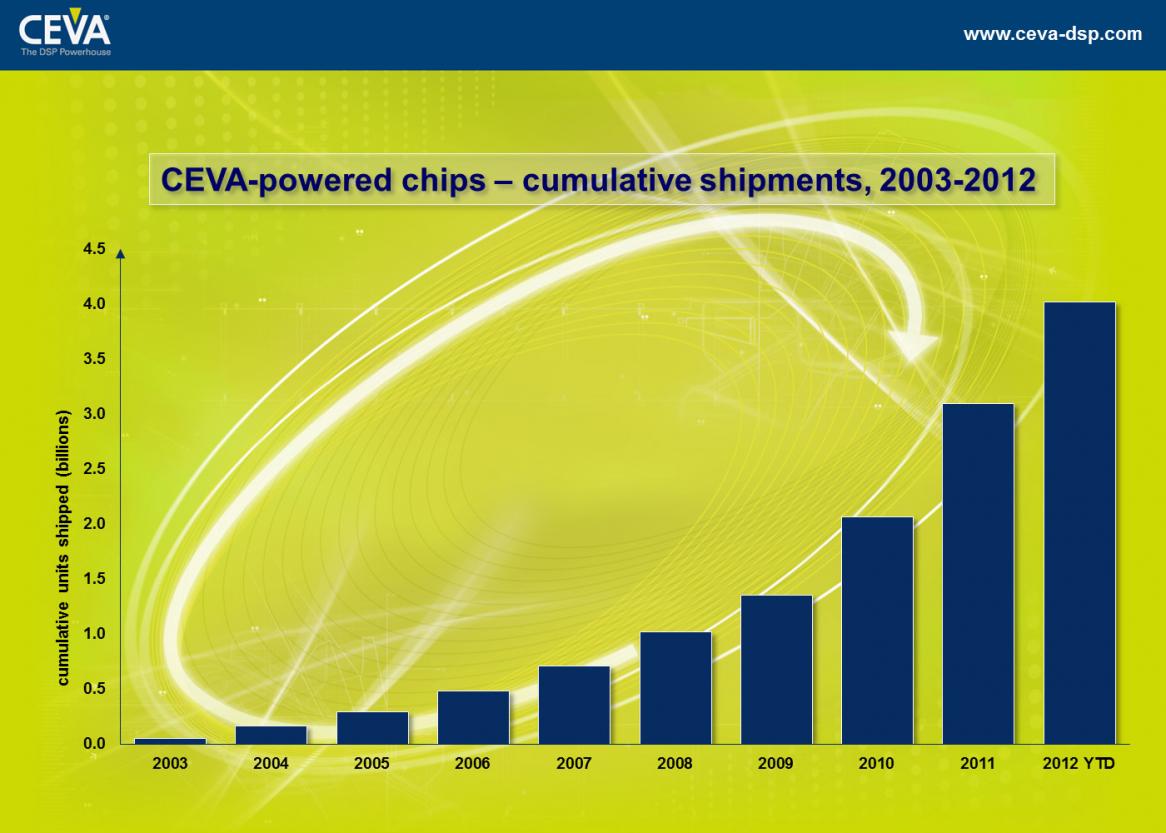 Let's come back to the exponential growth of units shipped by CEVA' customers. What kind of application has allowed such a growth during the last couple of years? I am sure you guess it, and you are right: smartphone! But not only, as CEVA DSPs have now powered audio/voice in more than 2 billion devices, including many of the world's leading gaming console, set-top-box, DTV, home audio devices… and smartphone. When looking at CEVA's customer list, many of the world's leading electronics brands, including; HTC, Huawei, Lenovo, LG, Motorola, Nintendo, Panasonic, Philips, Samsung, Sanyo, Sharp, Sony, Toshiba and ZTE are represented. Just like with ARM processor core, CEVA DSP IP core have been first implemented in the wireless segment, to run the baseband processing (for the DSP) and the application processing (starting with ARM7 in the 90's, up to ARM CortexA9 double core today), and these IP cores are now used in various market segments.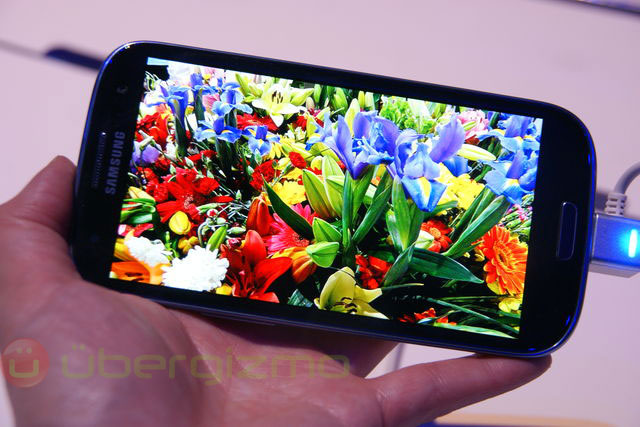 Listening to Will Strauss, President of Forward Concepts, help understanding the winning strategy: "I congratulate CEVA for its monumental achievement of reaching 4 billion CEVA-powered chips shipped. It affirms CEVA's clear market share lead in DSP IP and is a testament to its dedicated customer base. In recent years, CEVA has re-defined the classical DSP architecture by introducing special purpose DSPs such as the CEVA-XC that enable software-based modems and a unified platform for LTE, LTE-Advanced 802.11ac and 3G, with power and die size metrics on a par with fixed function modem designs. This new era in DSP technology along with strong customer traction for its LTE DSPs ideally positions CEVA to further expand their leadership in DSP IP as we enter a new era of wireless communications." T
he magic word is "special purpose DSP", this means that the one size fits all DSP IP concept is no more adapted to the market demand. Gideon Gideon Wertheizer, CEO of CEVA, explains this new paradigm: "For next-generation products requiring even more DSP horsepower – fixed function DSPs or DSP-configured CPUs are unable to match the flexibility, performance, power and die size of our new DSP offerings for baseband (CEVA-XC), audio/voice (CEVA-TeakLite-4) and imaging /vision (CEVA-MM3000)." If we look at these three different families:
CEVA-TeakLite DSP family is the most successful licensable DSP family in the history of the semiconductor industry, with more than 3 billion chips shipped, over 100 design wins, 30 active ecosystem partners and more than 100 audio and voice codecs and software applications available.
CEVA-XC family of DSPs is designed specifically to overcome the stringent power consumption, time-to-market and cost constraints associated with developing high-performance multimode baseband solutions. It supports multiple air interfaces for various applications such multimode cellular baseband (2G/3G/4G), connectivity (WiFi 802.11ac, GNSS), digital broadcast (DVB-T2, DVB-S2, ATSC) and smart grid.
For imaging and vision applications, the CEVA-MM3101 is a unique, fully programmable platform that is dedicated to addressing the extreme computational needs of any image enhancement or vision use case. By off-loading the device's main CPU and replacing multiple hardwired accelerators for performance-intensive imaging and vision processing tasks, the highly-efficient CEVA-MM3101 dramatically reduces the power consumption of the overall system, while providing complete flexibility in terms of standards, imaging functions, and vision applications.
To learn more about CEVA DSP and platforms, visit http://www.ceva-dsp.com/DSP-Cores.html.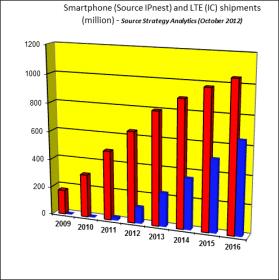 What is the electronic application exhibiting the highest growth and generating huge profits for (two) successful OEM (Apple and Samsung) in 2012? What is the wireless communication standard that any smartphone manufacturer has to support, if he wants to be successful tomorrow? Long Term Evolution, or LTE! The LTE baseband shipments have been forecasted by Strategy Analytics (note that they forecast IC shipments, not end devices and generally the chips are shipped one quarter before the device is sold in the market). We have used the data extracted from the Table (below) to build a graphical view of the smartphone (red) and LTE chips (blue) forecast (see the above picture). Also, note that baseband numbers include shipments to non-handset devices such as the Apple iPad 4G and Samsung Galaxy Tab 4G.
Clearly, LTE is the place to be today to prepare the future shipments, as these will bring revenue under the form of royalties.
CEVA has now achieved more than 20 customer design wins for its LTE/LTE-Advanced DSP technologies, reaffirming the company's dominant position as the #1 DSP licensor for wireless baseband. CEVA's publicly announced customer wins for LTE/LTE-Advanced include Broadcom, Intel, Mindspeed and Samsung, in addition to a number of unannounced tier 1 handset and infrastructure OEMs.
According to Stuart Robinson, Director of the Strategy Analytics Handset Component Technologies service, "Based on our analysis, LTE basebands powered by CEVA DSP cores are now shipping in the millions, second to Qualcomm. These shipments are expected to further accelerate as new CEVA-based LTE smartphones are being rolled out by tier 1 OEMs."
Finally, recently published industry data by The Linley Group revealed that CEVA continued to dominate the DSP IP shipments market in 2011, with shipments of CEVA-powered DSP chips surpassing that of any other DSP IP licensing company by more than a factor of 3x. We can guess that the cumulated shipments of CEVA DSP-powered chips (not core) will continue to outperform the DSP IP competition in the future…
Eric Esteve from IPNEST –

Share this post via: