Memo to Self: When all else fails, return to the Smartphone Market!
The announcement by Intel earlier this week that they would come up short this quarter is a reminder that it is not growth, but very high growth that covers a Multitude of Economic Sins (many which are unforeseen). The semiconductor industry has had to endure three major crises this year beginning with the Japan earthquake in March, followed by the Thailand Flood and now the European Sovereign Debt Crises that has already produced a major slowdown across the pond and will impact worldwide growth in 2012. This reminds me of Asia 1997 and Russia 1998 when semiconductor stocks were immediately tossed overboard when fear escalated. They eventually recovered and so in 2012 we should see an upturn in the part of the market that orbits the smartphone.
Intel's Q4 shortfall was a 4 month delayed response to the Thailand flood that took out more than 30% of the worldwide Hard Drive Industry. In October, the conventional wisdom was that Q4 PC supply was set and that shortages of Hard Drives would not be felt until Q1 2012. However, in the Intel updated earnings call earlier this week, they indicated that OEMs had just finalized their negotiations with HDD vendors and handed Intel a revised forecast. My suspicion is that the HDD vendors upped their prices to the point that PC vendors decided the last 10-20% of volume (in the low end of the market) offered no profit. Intel mentioned in the conference call that OEMs were shifting to higher ASP CPUs – another sign that they are focused more on commercial than retail.
It is clear that there are many moving parts in this story, as Intel highlighted that there would be no wafer cutbacks in Q4. Intel has already begun the shift to 22nm and is likely building ahead inventory in preparation for an April 2012 launch of Ivy Bridge. A true sign of how expensive it is to keep a brand new fab offline. The ramifications of this would seem to say that the die reduction from Sandy Bridge to Ivy Bridge is likely to result in a more aggressive ramp on the ultrabook market. With Ivy Bridge, Intel will also have much more die yield at the 17W TDP ceiling and as a result they can offer lower priced ULV parts. So now it is just a matter of when Intel launches a price war and the marketing dollars to push OEMs towards the $699 price point that is needed to accelerate the mobile conversion away from larger notebooks that may contain AMD and nVidia silicon.
On the OEM side, HP and Dell have made their peace with the fact that they are not going to be players in the consumer tablet or smarphone space. They instead will focus on the corporate side and ride the Wintel Posse in ultrabooks and >$500 tablets that at the very least ensure some profitability. In the end Apple and Amazon have drawn the boundaries around the consumer tablet that will make it difficult for any new entrant that does not sell books, movies and music to go with the tablets.
It is with this market setup that the chip vendors must strategize how best to go forward in 2012 and beyond. Unlike the euphoria of 12 months ago when all ARM based application vendors appeared to be counting on tablets to cannibalize PCs overnight, we are now in a reality where the value has migrated to a new spot – or I should say to two spots. The first area of value-add is no doubt in the baseband chipset. Currently Qualcomm and Broadcom appear to be out executing their rivals and I expect with this will come the bundling of cheap Application Processors. nVidia would differ in this opinion and state that they alone have figured out how to deliver outstanding graphics in a low power applications processor. In 12 months we will know if this is true.
In a research note this week, JP Morgan analyst Rod Hall noted that he expects smartphone unit growth to increase 43% in 2012. This followed the pitch that Broadcom gave to analysts where they saw significant upside to their Q4 revenue based on baseband chipset sales into Apple, Samsung and Nokia (see article). Qualcomm has yet to comment on its Q4 business but many suspect that will also show strong growth. As a side note, Qualcomm and Intel were one of the few suppliers to show >20% growth in 2011 over 2010.
Smartphone vendors will have little leverage over Qualcomm and Broadcom in the coming years because they don't have the IP or knowledge to replicate the functions. Instead they will focus on the areas that they can commoditize. With the application processor diminishing in value over time and with Samsung and Apple effectively controlling the cost and features of their LCD supply, they are now setting their sights on the one chip that looms large in their Bill of Materials today and even more so in the future – NAND Flash.
Despite all the benefits that the Cloud will produce, one that meets a skeptical eye is the reduction of storage needed on PCs, Smartphones and Tablets. Apple, as an example has recognized that part of the value proposition of the iPhone is the displacement of cameras and video recorders. Therefore on the latest iPhone 4S they upped the camera to 8MP and video to 1080p HD. To make sure the user never came up short on video they increased the NAND storage on the high end to 64GB and set a new, higher price point of $399. Therefore Apple's iPhone revenues and margins in the future will be partially related to increased camera functionality and reduce NAND Flash BOM.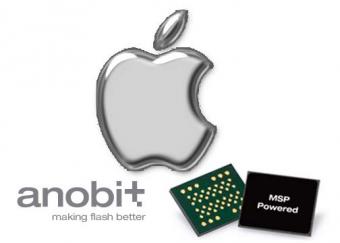 So perhaps the biggest story this week related to the smartphone industry is the rumored acquisition of Israeli based Anobit by Apple. With Anobit's Flash Controller technology, Apple can reduce the cost of its NAND flash storage by going out further on the MLC technology curve versus SLC and increase the lifetime of its NAND storage as it scales to lower geometries. This technology would also allow Apple to lower the cost of its MAC Air line relative to the Ultrabook PC copycats. It will be interesting to see how Samsung and Intel respond to the challenge – especially Intel, given that they are an investor in Anobit.

Share this post via: