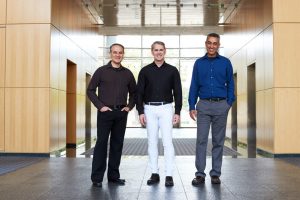 Arguably the cloud was the quickest road to riches for chip designers large and small. As an emerging company, if you wanted to raise money just put "Datacenter" in your pitch deck and you were assured millions. You would be competing with semiconductor's version of David and Goliath (AMD and Intel) but that was a good thing, right? Hundreds of start-up chip companies certainly thought so.
Intel currently owns 90% of the server processor market followed by AMD. Intel literally cannot make chips fast enough to satisfy demand and AMD seems to be stuck in the "just friends zone" amongst cloud companies so there is certainly opportunity.
Back in the heydays of fabless semiconductor companies it seemed like anything was possible. The asset heavy IDMs were slow to innovate creating opportunity for the quicker moving fabless companies with budgets big and small. Today IDMs are moving faster and lighter but the biggest obstacle I see are the cloud companies doing their own chips, absolutely.
Google started it with their Tensor chip in 2016 (now in its third generation) followed by the Edge TPU in 2018. Last year Amazon announced their own Graviton chip which is based on the ARM architecture (now in its second generation). In fact, the only cloud companies of the top five (Microsoft, Amazon, Google, IBM, Oracle) that are NOT making their own chips are IBM and Oracle. IBM sold their semiconductor division to Globalfoundries in 2015 and Oracle recently abandoned the SUN Microsystems IC team they acquired in 2010 for $5.6B, ouch.
That is not to say that money is NOT available for silicon startups gunning for Intel and AMD. Chip company NUVIA recently had their $53M  coming out party. Before you get your hopes of raising $53M up, the company's founders (John Bruno, Manu Gulati and Gerard Williams III ) are silicon experts taping out chips at Google, Apple, ARM, Broadcom, and AMD and have more than 100 patents granted to date:
"The world is creating more data than it can process as we become increasingly dependent on high-speed information access, always-on rich media experiences and ubiquitous connectivity," said Gerard Williams III, CEO, NUVIA. "A step-function increase in compute performance and power efficiency is needed to feed these growing user needs. The timing couldn't be better to create a new model for high-performance silicon design with the support of a world-class group of investors."
About NUVIA Inc.
Headquartered in Santa Clara, NUVIA was founded on the promise of reimagining silicon design for high-performance computing environments. The company is focused on building products that blend the best attributes of compute performance, power efficiency and scalability. For more information, please visit www.nuviainc.com.
More recently, you needed to have "AI" in your pitch deck if you wanted to raise money to make a chip. Hundreds of companies did and are making AI chips creating our next semiconductor start up bubble, my opinion.
But still, the systems companies have again transformed the semiconductor industry. Apple, Google, Amazon, Huawei, etc… are writing some VERY big checks and throwing budgetary caution to the wind. Remember, these companies have seemingly unlimited compute resources and can run simulations and verification in minutes versus hours or days. Systems companies also have stricter time-to-market requirements (Apple for example) and a huge software burden that fabless chip companies will never directly experience.
Moving forward I see the systems companies acquiring even more chip start-ups and semiconductor talent and putting them in an unbridled design environment which will be VERY hard for fabless companies to compete with.
Intel on the other hand is mid pivot with a new CEO and some very clever management hires. It is too soon to tell but from what I have seen and heard inside Intel, the competitive bar will be raised significantly in the Goliath vs Goliath battle with the systems companies leaving quit  few Davids behind, absolutely.
Share this post via: