John Heinleinfrom ARM briefed me at DAC exactly one week ago. I love to use my mobile devices (MacBook Pro, iPad and Samsung Galaxy Note II) every day, and many mobile devices are ARM-powered because of the low power consumption, and pervasive eco-system around the architecture. Apple with the MacBook Pro is still Intel-powered, but who knows if Apple will switch one day to an ARM processor in both the MacBook Pro and MacBook Lite product lines.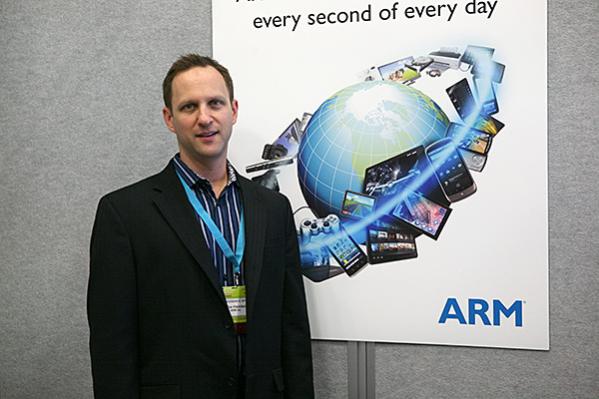 AMBA interconnect is the 5th generation and allows SoC industry to mix and match IP quickly.
Last year the v8 processors, A53 and A57.
The interface between processors and coherent hub.
AMBA 5 CHI – it's here and ready now, any of the processors A57.
Coherent Hub Interface – an evolution from AMBA 4 spec.
Enterprise market uses this type of spec, EDA companies support the flow.
Jasper, Cadence, Mentor, Synopsys are VIP partners.
Take ARM beoynd 4 or 8 cores, into enterprise.
John H. – Cortex A12 succeeds A9 by 40%, graphics chip Mali 622, Artisan POP at 28nm. VIA is an A12 partner. TSMC and GF are partners using POP at 28nm SLP (GF), and TSMC 28nm HPM.
First graphics licensee with POP.
ARM Mali T622 is smallest GPU, 50% energy improvement over T600.
FinFET – working with all foundries: TSMC, GF, IBM (Cortex M0), Samsung 14nm Cortex A7. TSMC at 16nm in April. GF A9 in 14xm process. Physical IP announcements to come later this year.
Q: Why choose ARM?
ARM has the highest quality IP in the market, silicon validated, engaged with the major providers.
Q: WHy does Broadcom do their own Memory compilers, std calles, IO?
IDMs like Freescale have moved to ARM, instead of doing their own from scratch.
lang: en_US

Share this post via: