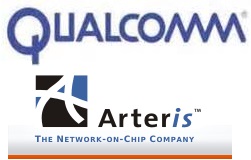 We still don't know the precise status about a potential acquisition of Arteris by Qualcomm, and I prefer not to comment a rumor and wait for the official announcement, if any. But I would like to comment … a comment about this rumor, recently made by Sonics. This comment has taken the form of an Open Letter, from "Grant Pierce, CEO of Sonics, written directly to Charlie Janac, CEO of Arteris". As far as I know, this is probably the first time that a CEO is publicly commenting such a rumor of an acquisition. This is probably a way to remind us that Sonics is also able to be innovative, after all.

Sonics CEO Letter to Arteris CEO
I have extracted some quotes from this open letter, and I will comment the comment.
– Are your customers (like Samsung, TI, and LG) who compete with
Qualcomm expected to simply let you hand over their confidential
data to Qualcomm in order to get bugs fixed?
This first point is quite interesting, especially when looking at Qualcomm's competitors mentioned here: Samsung and TI. Even if TI has been the first company serving the wireless IC market segment, and the clear leader for years in the 2000's, the company has decided to completely exit this segment a while ago. In other words, TI is no more a competitor for Qualcomm.
Samsung is clearly playing in the wireless segment, in multiple ways:
Foundry, serving Apple, to process Apple' Application Processor IC
Chip Maker, designing Baseband and AP IC (the latest integrating Arteris NoC IP)
OEM, selling smartphones, some of them integrating… Qualcomm IC
As you can see, Samsung can be at the same time a supplier (and direct competitor) for Apple, and a customer (and direct competitor) of Qualcomm. If these companies are able to manage these complexes relationship, there is no reason why they could not manage the new situation. Qualcomm makes big business of licensing technology so this a walk on the beach.
– Surely you are not expecting Arteris new hires to come in and
support the large code base your R&D has developed over the
10 year history of Arteris?
I love this comment starting with: "Surely you are not expecting new hires…". I thought that Charles Janac was CEO of Arteris, taking the decision to hire (or not hiring) engineers to support customers, not Grant Pierce. Being specific, we can guess (but only guess as we have no official information…) that the (potential) sale of NoC technology to Qualcomm will generate some cash, as it's usually the case. Maybe enough cash to hire missing engineers. The acquisition amount will be good indication, whether the new Arteris will have enough money at bank to do so…
– How will you keep up with new system requirements, new protocols,
and customer feature requests without your original engineering team?
I think that Sonics should wait for the potential sale to occur before asking these –relevant- questions…
Last but not least:

In the past, you have claimed market leadership by both
revenue and technology, although this has never been the case. Sonics
has always been the leader in this overall segment!
We have blogged in Semiwiki about the "NoC History", our readers know that, if Sonics was innovative in the 90's with their crossbar based solution, the Network-on-Chip was the real innovation of the late 2000's. If we look at the ranking by revenue, that's true that Sonics leads, with License revenue of $12.8M in 2012, after $4.8M in 2011. That's also true that the jump in revenue in 2012 came from a huge $20M (one time) PO from Intel, when the $14.5M license revenue made by Arteris comes from several dozen NoC IP sales to various customers. Nevertheless, we have no doubt that new Sonics customers will get the same level of support than Intel has.

More Articles by Eric Esteve …..
lang: en_US
Share this post via: