I have mentioned NoC adoption explosion during the last two years, illustrated by the huge growth in revenue of a company like Arteris: if we consider only revenue coming from upfront license sales (not including royalties), Arteris growth has been geometric between 2011 and 2010, passing from 18 to 39 customers, which is more than 2X. This penetration has been consolidated in 2012, as Arteris enjoys more than 50 customers. To summarize:
Arteris had 50 CUSTOMERS total as of 2012.
And well over 100 design licenses total (cumulative)
To better understand the performance, just remember that Network-on-Chip was a concept in the early 2000's and the first commercial product was sold in 2006. This adoption rate can be compared with the emergence of Chinese chip design companies: very few were active in the early 2000's, and then we have seen an explosion of start-up emerging in the mid-2000 and now several of this start-up has turned into well-established chip makers like NuFront, RockChip or Actions Semiconductor.


These three fabless companies have many similarities: they have launched complexes ARM based SoC in 40nm, targeting high volume market segment like Mobile (Handset or Media Tablet) or Set-Top-Box and… they have integrated a NoC from Arteris! The NoC penetration in China is a strong signal: it means that Chinese fabless are playing in the same space than the Nvidia, Qualcomm or Samsung. It also means that the Network-on-Chip, just a concept ten years ago, is penetrating every segment, every region of the world. One reason can be found in Rockchip quote from Li Shiqin: "We evaluated all the leading interconnect technologies and proved that Arteris' NoC technology is the good choice for our multicore ARM-based SoCs," said Li Shiqin, IC Design Manager at Rockchip. "Arteris FlexNoC is the suitable way for us to meet our design frequency, power, memory efficiency and QoS requirements."
Last November, I had the opportunity, during ARM TechCon in Santa Clara, to discuss face to face with Kurt Shuler,

VP of Marketing at Arteris, and Kurt give me his feedback about the numerous customer visits he had in China. He has been really impressed by the energy and enthusiasm of the designers he has met there. Even if the team leader is usually older, quite often coming back home after starting his career in the US, most of the designers are young people, eager to learn new skills and practices. When Kurt describe the atmosphere during these working sessions in China, this sounds me like during the 80's in Europe, or even more accurate, in the Silicon valley. Just use a X6 multiplication factor, taking into account the 1.343.239.923 population (estimated in 2011), and you realize how much design power these Chinese fabless companies will have soon.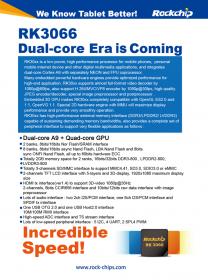 I had a look at a couple of SoC from Nufront and RockChip supporting smartphone, media tablet or STB, and I have noticed that there is still room for new business for IP vendors. In fact, I did not see any MIPI IP interface being specified (and my feeling is that there is no MIPI interface supported), and if some of these SoC support several USB (up to three), none is supporting SuperSpeed USB. I can easily understand why there is no MIPI in the already released SoC: it can be seen as complex, especially MIPI interfaces requiring M-PHY, and expansive piece of IP, and the feature cannot be used as a sale argument to the end user. As well, USB 3.0 was probably not perceived as "must have" at the time these SoC have been specified (2010 or 2011), due to the lack of SuperSpeed enabled peripherals availability. But I am sure that this status will change in the near future!
To learn a lot more about NoC and Arteris products, just go here.
By Eric Esteve from IPNEST

Share this post via: