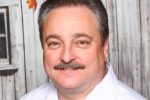 The semiconductor industry lost another good one last week, my friend, co-worker, and longtime SemiWiki contributor, Randy Smith. Randy published sixty blogs on SemiWiki over the last eight years that have been viewed more than a half million times. That is quite a digital legacy, absolutely.
Like myself, and many other semiconductor professionals out there, Randy was a start-up enthusiast. We both loved the challenge, thrill, and rewards they promised. It's a roller coaster ride for sure but definitely better than riding a carousel for 35 years.
Randy began his career in Silicon Valley in 1984. He started with Tangent Systems (TANCELL) which was then acquired by Cadence. Ten years later he joined Silicon Architects, followed by Silicon Valley Research, Gambit Automated Design, Artisan Components, TriMedia Technologies, Celestry Design Automation, Aprio Technologies, Sonics Inc, and consulted for many others.
Randy was also well traveled. It was really funny walking through a Tokyo subway and hearing Randy's laugh before seeing him. Running into friends halfway around the world is a memorable experience. We also traveled together, the one I remember most was a trip to Russia. It was our first time traveling there and I remember him devouring Russian history books on the plane while I was struggling with Harry Potter. Once there, Randy was the best tour guide I have ever had. Seriously, he could consume an incredible amount of information in the shortest amount of time and replay it back so mere mortals like me could understand it.
Randy was also a talented musician and dedicated family man. Many times I was told he was not available due to family commitments and I greatly respected that. Unfortunately, he passed away while experiencing some serious financial challenges that his wife Anne must now sort out. For those of you who knew Randy or even if you didn't and would like to help there is a gofundme page to help his family in this time of need.
Share this post via: