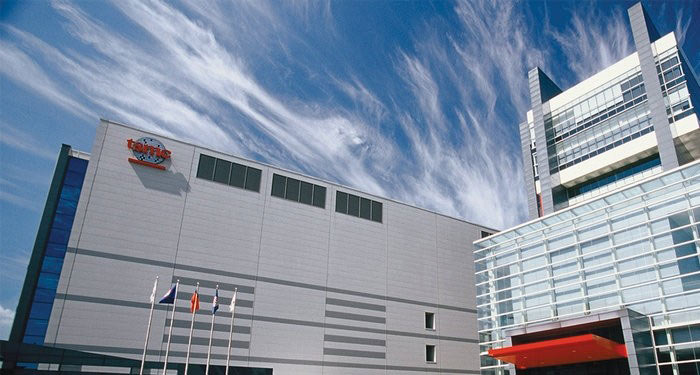 J.P. Morgan says a big turnaround for Taiwan Semiconductor Manufacturing's business may be farther out than anticipated.
On Wednesday, analyst Gokul Hariharan predicts TSMC (ticker: TSM) will offer a mixed outlook when it reports earnings next month.
"We expect TSMC to turn more conservative on capex and the semi cycle," he wrote. "We also expect initial comments on [first-half 2024] recovery to be muted, which could act as a trigger for [Wall Street estimates] consensus 2024E revenue growth to come down."
In Thursday trading TSMC American depositary receipts rose by 1.3% to $86.51.
TSMC dominates the market for high-end chips. It makes the main processors inside Apple (AAPL) iPhones, Qualcomm (QCOM) mobile chipsets, and processors made by Advanced Micro Devices (AMD). According to TrendForce, TSMC has 56% market share of the third-party chip-manufacturing business, followed by Samsung at 12%.
In July, TSMC lowered financial guidance for the year, forecasting a decline of 10% year over year in revenue. Management at the time said it saw a worse-than-expected deterioration in demand outside of the robust artificial-intelligence chip market and a weaker-than-expected recovery in China.
Hariharan expects TSMC's business next year may disappoint as many of the large chip markets—including computers, smartphones and non-AI servers—still have too much inventory and soft demand trends.
There are "early indications that the semiconductor rebound is unlikely to be strong and quick," he wrote. "In the near-term, we expect the stock to remain rangebound due to likely earnings-per-share cuts and a longer downcycle."
On the other hand, the analyst is optimistic 2025 will be a "big year" for TSMC, as its customers launch new chips. He reaffirmed his Overweight rating for TSMC's Taiwan-traded shares, and reiterated his price targe of 650 Taiwan dollars based on the company's long-term technology leadership.
The target represents roughly 25% upside from current levels in TSMC's ADRs.