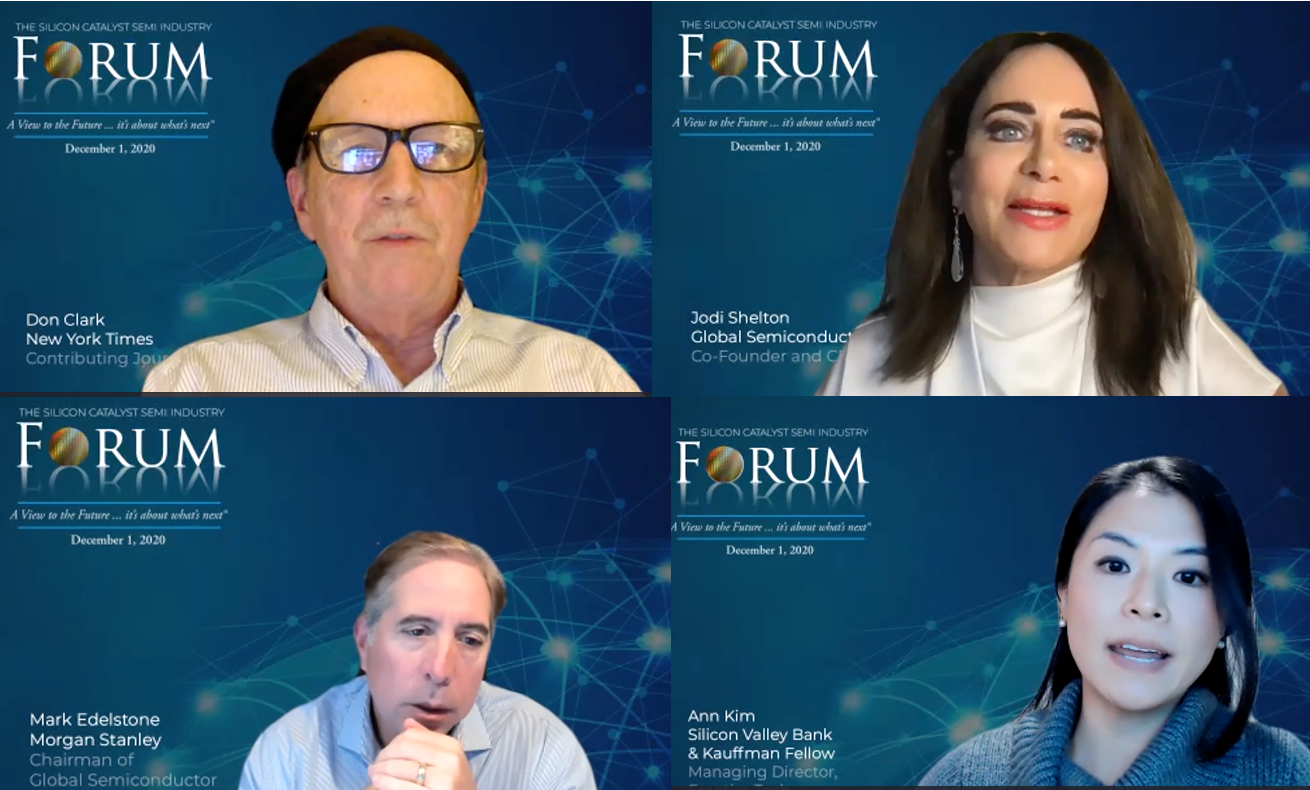 A few weeks ago I wrote about an upcoming event Silicon Catalyst was hosting, the Semiconductor Industry Forum – A View to the Future. I mentioned a high-profile group of presenters: Don Clark, Contributing Journalist, New York Times as moderator;  Mark Edelstone, Chairman of Global Semiconductor Investment Banking, Morgan Stanley as a panelist; Ann Kim, Managing Director, Frontier Tech, Silicon Valley Bank & Kauffman Fellow as a panelist; Jodi Shelton, Co-Founder and CEO, Global Semiconductor Alliance as a panelist with both Pete Rodriguez, CEO at Silicon Catalyst and Richard Curtin, Managing Partner at Silicon Catalyst providing opening remarks. I had the opportunity to attend the event and I'm here to tell you it was insightful, thought-provoking and at times quite surprising. The all-star cast didn't disappoint.
Don Clark began the panel session with an observation that "chips are cool again". Don explained that he's been covering semis since about 1987 when he interviewed Andy Grove, so he brings a substantial perspective to this event. He then engaged with each panelist. There were many great insights offered during this portion of the evening. I will offer a key point or two from each of the panelists here. A replay link is coming – I strongly encourage you to watch the entire event. It's definitely worth the time.
First up was Mark Edelstone, who pointed out that he's been watching semis for over 30 years and has never seen a better time for the industry. That statement alone made the whole event worthwhile for me. Mark presented some slides about the trends and what they mean. As is typically the case, he worked through a huge amount of data and turned it into clear and easy to understand trends. There is one slide in particular I'll share here. I mentioned it in my previous post on the event. It's an analysis of semiconductor consolidation trends and it shows what the semi world will look like in a few years. As shown in the graph, Mark sees a significant amount of further consolidation in the industry, projecting it to shrink to less than three dozen companies in the next five years.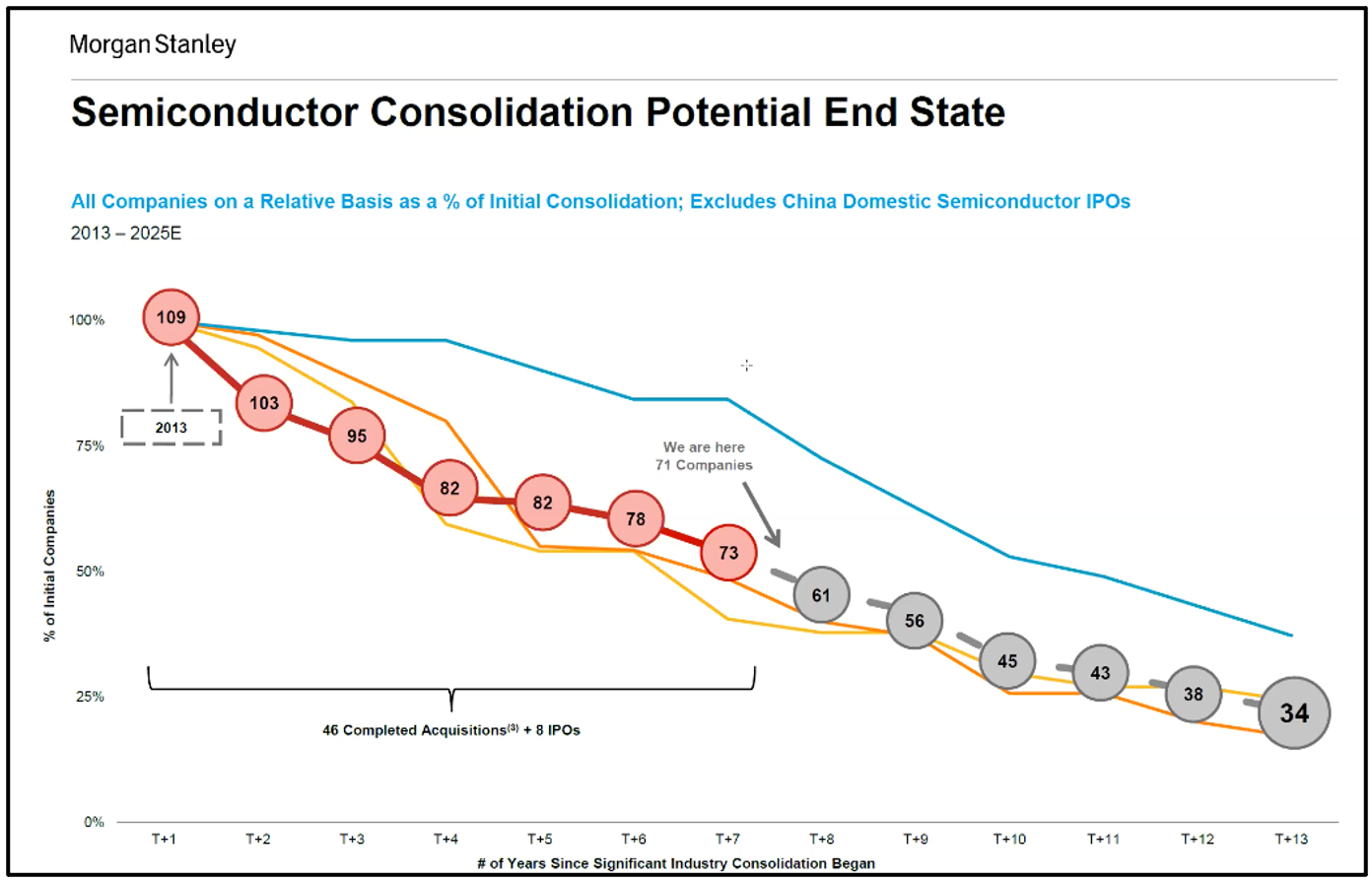 Next was Jodi Shelton. Early in her discussion she said, "we're reminded as never before that the global economy runs on semiconductors." That's another one of those statements that made the whole evening worthwhile. Jodi presented a thoughtful analysis of the current tension with China and shared some views of how to get back to a more productive path for both countries. Taiwan and its unique position were also discussed. Jodi made a final comment about the significant lack of engineering talent. She pointed to the female population as an underserved demographic for engineering. The GSA will be promoting STEM education for women. If you're a female who is choosing a college career, or if you know someone who is, give engineering a serious look – you will find a warm welcome with that credential.
Next was Ann Kim. The memorable quote here was, "VC funds have over $150 billion of dry powder. It's a great funding environment." She pointed out that a large influx of capital into the semi sector will help companies get to that all-important tapeout. Don asked Ann "what's hot these days?". Ann covered several areas. An interesting one was space technology. She said companies like SpaceX, Virgin Galactic and Blue Origin are doing well. Autonomous technology is popular in the air as well as on the ground it seems. Health care and life sciences are also driving a lot of interest.
After a few rounds of discussion with the panel from Don, the floor was opened to a very spirited Q&A from attendees. Many topics were covered; you need to see it for yourself. The all-star cast didn't disappoint. You can see the full replay of the event here, starting with the introductory remarks from Richard regarding the Forum's charter and an overview of the Silicon Catalyst Incubator by Pete.
By the way, for those of you engaged with early-stage semiconductor startups, the application deadline to the Silicon Catalyst Incubator is January 11, 2021. www.sicatalyst.com
Happy Holidays to all.
Also Read:
Chip Startups are Succeeding with Silicon Catalyst and Partners Like Arm
Silicon Catalyst Hosts Semiconductor Industry Forum – A View to the Future … it's about what's next®
Silicon Catalyst Announces a New Startup Ecosystem for MEMS Led by Industry Veteran Paul Pickering and supported by STMicroelectronics
Share this post via: