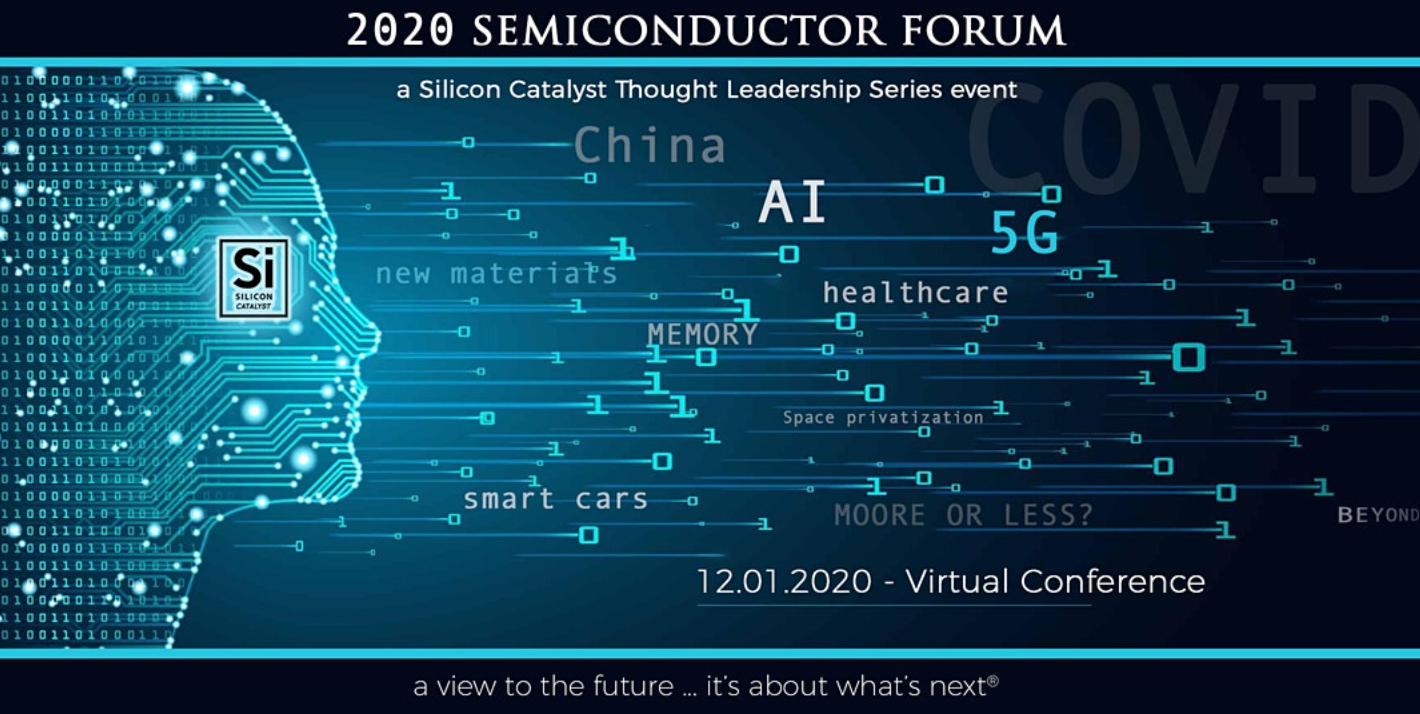 Silicon Catalyst has been hosting semiconductor forums since 2018. At these events, a group of industry leaders gathers to discuss trends in the semiconductor industry and what the future may hold as a result. I recently had an opportunity to speak with Pete Rodriguez, CEO at Silicon Catalyst. Pete explained that these forums examine technical and financial aspects of the industry with an eye toward their societal, geo-political and ecological impact on the world. There is no shortage of significant trends to discuss this year. A world-class panel has been assembled to tackle a multitude of challenges. This virtual event will take place on December 1 and you will definitely want to attend to experience a view to the future … it's about what's next®. Let's take a look at some of the event details to whet your appetite about the Forum.
First, the panel lineup is definitely worth a look.
Don Clark, Contributing Journalist, New York Times will moderate.
The panelists are:
Mark Edelstone, Chairman of Global Semiconductor Investment Banking, Morgan Stanley
Ann Kim, Managing Director, Frontier Tech, Silicon Valley Bank & Kauffman Fellow
Jodi Shelton, Co-Founder and CEO, Global Semiconductor Alliance
Pete Rodriguez will provide opening remarks.
This is indeed an all-star cast, which I believe is what's needed to address a daunting list of issues. When I spoke with Pete Rodriguez, he outlined some of the accomplishments Silicon Catalyst has achieved since its inception about five years ago. It is a truly an amazing story. You'll definitely want to get there on time to hear his opening remarks. For those unfamiliar with Silicon Catalyst, the organization provides a comprehensive incubator environment that focuses exclusively on accelerating solutions in silicon (including IP, MEMS & sensors). If you want to learn more about them, you can read my inaugural Silicon Catalyst post on SemiWiki here.
Back to that daunting list of issues. Below are the discussion topics from the registration page. You also have the opportunity to interact with the panelists by submitting questions via email in advance to forum@sicatalyst.com. I can tell you these folks are quite busy, so I would definitely take the opportunity to pick their brains with a question or two. Here's the initial list of questions that the panelists will discuss:
What will be the continuing repercussions of the global pandemic, both in terms of business challenges and new opportunities in healthcare and other applications?
With the upcoming change in the U.S. government leadership, how far will policy makers go to help the domestic semiconductor industry and reduce dependence on manufacturers in Asia, particularly Taiwan?
What semiconductor demand drivers will be most important for new chip designs and startup formation? Artificial intelligence? 5G? Smart cars? Healthcare? Space privatization? Others?
What are the prospects for a continued trade war with China and the repercussions for semiconductor makers and customers?
How have the headwinds slowing Moore's Law advances affected innovation and business strategy in the sector?
What new materials and technologies for creating future memory and logic chips will become most important?
What are the factors driving the current consolidation wave in the industry? Will they continue? What will be the impact on innovation?
I also had a chance to speak with a couple of the panelists in advance of the event. First, I spoke with Mark Edelstone. I was able to preview his slides as well. As is typically the case, Mark takes a huge amount of information and creates a series of well-organized visuals that help to make sense out of all of it. He begins by cataloging the markets that drive semiconductor growth, there are many. I asked Mark what he saw as the highest impact growth drivers. He felt the cloud and the trend toward "AI everywhere" are major forces.
Mark also has a really interesting chart that tracks the consolidation trends of the semiconductor industry. This analysis began about five years ago, and he has done a very good job of tracking the observed data. If you want to see what the semiconductor industry will look like in five years, you'll need to catch Mark's presentation.
Next, I spoke with Jodi Shelton. Jodi presides over a substantial organization that represents the vast and growing semiconductor ecosystem. This includes the usual suspects of chip development and manufacturing, but now is also expanding to include the system companies who are driving a lot of semiconductor demand and deployment. I was interested to hear what Jodi felt were significant challenges for the industry. She mentioned China and the need to get back to some kind of collaborative relationship with them. China is arguably a significant force in the semiconductor industry and a vast market. Jodi pointed out that, thanks to recent events, the US government now knows more about semiconductors. This may be a good thing; it depends on your point of view.
Jodi shared other geopolitical concerns and insights about what it takes to expand complex technology such as the foundry model. All quite interesting. You're likely to hear more about these Forum topics on December 1 at the event.
When I think about Mark's chart that depicts semiconductor consolidation, I remember some comments Pete made. Silicon Catalyst is helping to build the next generation of semiconductor companies. Without that innovation pipeline, the consolidation trend will ultimately stall.  More interesting discussion topics, I believe.
Finally, here is the link to register for A View to the Future … it's about what's next®. You'll see the green Register button in the upper right. The event will be Tuesday, December 1, 2020 from 5:30 PM – 7:00 PM PST. I hope to see you there. I don't think you'll want to miss this one.
Also Read:
Silicon Catalyst Announces a New Startup Ecosystem for MEMS Led by Industry Veteran Paul Pickering and supported by STMicroelectronics
Starting a Chip Company? Silicon Catalyst and Arm Are Ready to Help
Silicon Catalyst Fuels Worldwide Semiconductor Innovation
Share this post via: