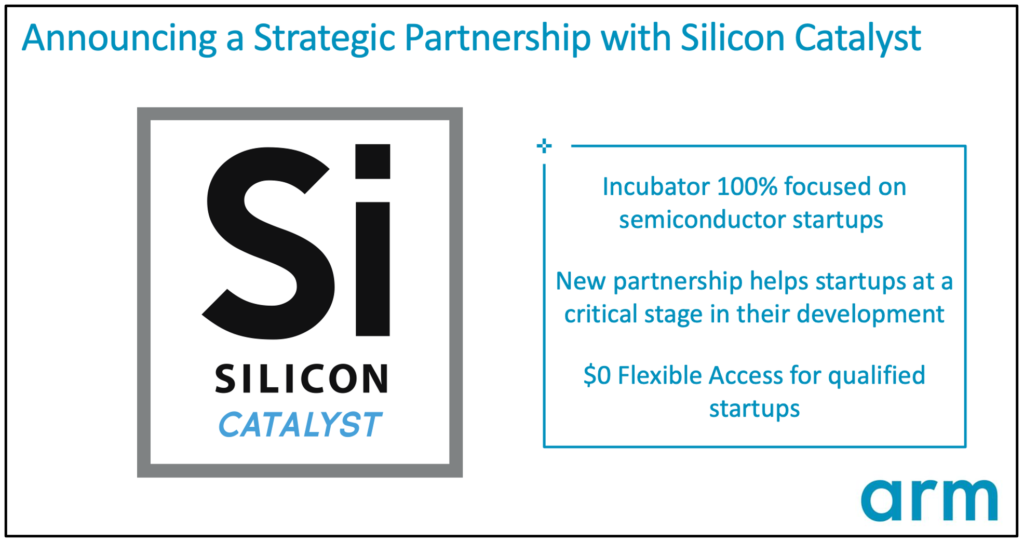 Anyone who has started a company knows that landing the seed round of investment is just the beginning. There are many decisions to face.  When to start building a sales team?  What parts of the company's infrastructure to outsource? How to price and promote your product? These are just a few of the questions to be answered. If your end product is a chip, you also face a maze of tasks regarding access to process technology, packaging and test, EDA tools and semiconductor IP, none of which is particularly easy to choose or inexpensive.
This is why a press announcement that crossed the wire today caught my attention – Silicon Catalyst Collaborates with Arm to Accelerate Semiconductor Startups.
Silicon Catalyst is an incubator that focuses exclusively on chip companies. They offer a broad range of support to get your company off the ground. I believe their singular focus on chip startups and their breadth of support make them unique in the world.
Silicon Catalyst is a new member of the SemiWiki family, and I got a chance recently to speak with Peter Rodriguez, CEO at Silicon Catalyst, about the organization and the significance of its press release with Arm. Pete is no stranger to the semiconductor business, with over 35 years of executive experience. He was formerly VP & GM of Interface and Power at NXP Semiconductors. Prior to NXP, Pete was CEO of Exar Corporation, CEO of Xpedion Design Systems, Chief Marketing Officer at Virage Logic and Major Account Manager at LSI Logic. Mr. Rodriguez also retired from the US Naval Reserves with the rank of Commander. He brings a wealth of technical and business leadership to Silicon Catalyst.
The primary news in the press release is that Arm has joined Silicon Catalyst as both a Strategic and In-Kind Partner, giving startup companies being incubated by Silicon Catalyst zero-cost access to trusted IP and support from Arm.
Silicon Catalyst's In-Kind Partner Program offers a wide range of design tools, simulation software, design services, foundry PDKs and MPW runs, test program development, tester access and semiconductor IP, now including industry-leading IP from Arm. Arm becomes the 33rd In-Kind partner for the incubator, joining the likes of TSMC, Synopsys, Mentor, Advantest, and Keysight, to name a few. Companies accepted into the incubator have two years of no-cost or significantly discounted access to these tools and services during the incubation period, resulting in a dramatic reduction in the cost of chip development.
Pete explained that since 2015, over 300 startup companies have engaged with Silicon Catalyst and the organization is closing in on 30 companies that have been admitted to the incubator program. Pete also discussed the many other programs at Silicon Catalyst and how they help chip startups. The Strategic Partner Program provides participants early access to review and help select the silicon startups seeking to participate in the Silicon Catalyst Incubator. Arm has also joined the Strategic Partner Program, making it the first company to join as both an In-Kind Partner and a Strategic Partner.
Silicon Catalyst maintains a growing network of over 150 seasoned Silicon Valley veterans who are available to advise portfolio companies. Their skills span technology, manufacturing, business development, sales, staffing, finance and legal matters. The Silicon Catalyst Angels was launched in July 2019 as a separate organization to provide access to seed and Series A funding for Silicon Catalyst portfolio companies.
I also had a chance to speak with Jim Hogan, Silicon Catalyst board member and semiconductor/EDA industry veteran. Jim has invested in many technology startups and has helped a lot of them achieve a successful exit. He knows the challenges of getting a chip startup off the ground well. Jim described the typical investment for launching a chip company to include $3M – $5M to get to proof of concept and perhaps another $20M or so to engage with customers. The Silicon Catalyst incubator can dramatically reduce these numbers, thanks to all their preferred tool and service access as well as the expert guidance of their advisor network.
In Jim's words, it's all about value preservation. Reducing the previously mentioned investment amounts allows the founding team to keep more of their company, making Silicon Catalyst portfolio companies a significantly more viable investment, and that's good for everyone. Having seen many chip startup business plans, Jim was also able to put the current press release in context. He explained, "most of the startups I speak with say two things when they walk through the door – we need TSMC and we need Arm." Jim sits on the board of five Silicon Catalyst portfolio companies, so he invested in the Silicon Catalyst model at multiple levels.
After my discussions with Pete and Jim it became clear that Silicon Catalyst has come a long way since its kickoff in 2015. Pete also explained that, while headquartered in Silicon Valley, Silicon Catalyst is expanding internationally. There is currently a joint venture in Chengdu, China and a presence in Israel through local partners with extensive semiconductor industry experience. The organization is also exploring expansion in Europe and India.
Simply put, if you want to start a chip company, Silicon Catalyst and Arm have you covered. Pete concluded our discussion by telling me the tagline for Silicon Catalyst. It's a sentiment that is simple, direct and especially in the current times, a very important one I believe:
it's about what's next.
If you have a great idea and want to explore it with Silicon Catalyst, you can start the process here.
Also Read:
Silicon Catalyst Fuels Worldwide Semiconductor Innovation
Webinar: Investing in Semiconductor Startups
Silicon Catalyst Hosts an All-Star Panel December 8th to Discuss What Happens Next?
Share this post via: