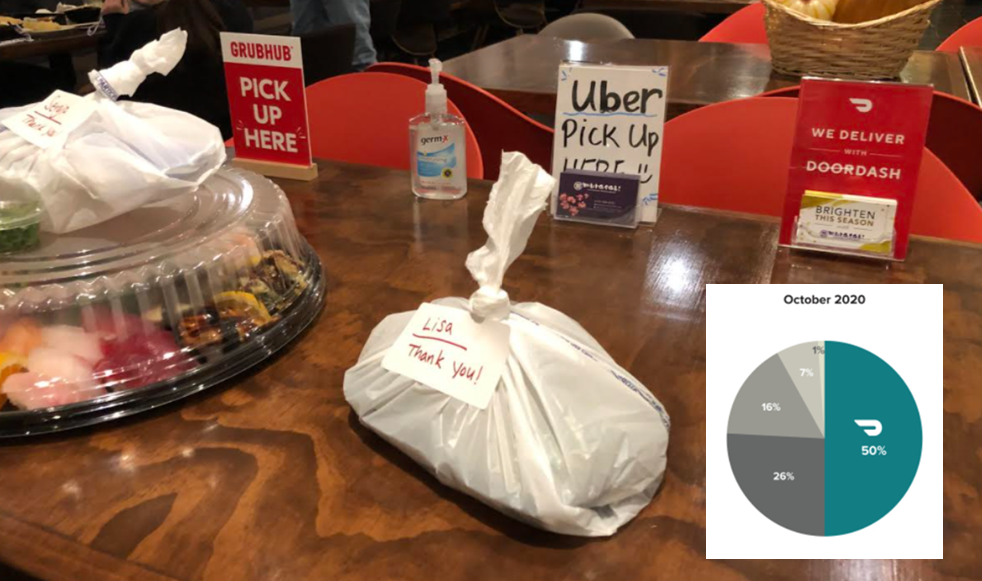 The outlook for DoorDash's highly anticipated public offering announced last week is inextricably bound up in the impact of the COVID-19 pandemic. It seems that the worse the COVID-19 pandemic becomes, the better the IPO circumstances look for DoorDash, but that's not exactly how DoorDash tells the tale.
DoorDash filed its S-1 with the Securities and Exchange Commission on November 13th, just days after Pfizer announced that early tests of a COVID-19 vaccine it developed with BioNTech had prevented infection in some trial subjects. Curiously, DoorDash failed to mention the potential negative impact of the creation of an effective COVID-19 vaccine in its risk factors.
DoorDash S-1: https://www.sec.gov/Archives/edgar/data/1792789/000119312520292381/d752207ds1.htm
In the S-1, DoorDash acknowledges the existence of the pandemic:
"Prior to the pandemic, we played a significant role in connecting merchants to new consumers and driving incremental sales, providing selection, experience, and value to consumers, and offering economic opportunity to those looking for income. With the pandemic, our platform has become a lifeline for merchants whose only revenue options are take-out and delivery, for consumers sheltering in place, particularly vulnerable populations whose health depends on isolating, and for many of the millions of newly unemployed in need of earnings opportunities."
That lifeline translated to $1.9B in revenue for the nine months ended Sept. 30, 2020, vs. $885M in the same period in 2019 and a net loss of $149M (in 2020) vs. $667M in 2019. It's no secret that even before the pandemic food delivery companies like DoorDash, Grubhub, and Uber Eats had already established contentious relationships with restaurants by wielding their demand creation leverage and grabbing what some considered an unfair share of the service price.
In a post-COVID-19 world, food delivery partners became even more important to restaurants operating without dining rooms – with a corresponding increase in leverage. The long and the short of the matter is that DoorDash remains a loss-spinning venture in spite of its COVID-19 infused success. That success appears to be increasingly built upon the misfortune of others – including the 1M "dashers" (many of whom may have become newly unemployed) and 390,000 merchants (newly dependent upon delivery services) on the platform. The company claims 18M users.
DoorDash is leveraging the advantages of its platform including demand creation, service expansion, and "operational excellence" to consolidate the food delivery business and expand into non-food sectors. The company claims 50% market share in the space, so the consolidation is proceeding quite well in the face of what it acknowledges is intense competition.
DoorDash was and is targeting the shift toward "dine-in and delivery meals." The company cites Pre-COVID-19 estimates that the shift to "off-premise consumption" has created a $302.6B market opportunity. Precisely what that opportunity looks like Post-COVID-19 is unclear.
DoorDash says, in its S-1:
"Fifty-eight percent of all adults and 70% of millennials say that they are more likely to have restaurant food delivered than they were two years ago, and we believe the COVID-19 pandemic has further accelerated these trends." What DoorDash fails to note is that what COVID-19 giveth (increased demand), COVID-19 taketh away (100,000 restaurants – 1 out of every 6 – closed).
In its risk factors, DoorDash has one concern regarding COVID-19: "The COVID-19 pandemic, or a similar public health threat, could adversely affect our business, financial condition, and results of operations." More significantly, DoorDash might actually be vulnerable to a mitigation of the pandemic via the highly anticipated Pfizer vaccine or other means. Sadly, DoorDash's prospects will dim in direct proportion to the speed of the recovery from the pandemic.
DoorDash notes the acceleration of dine-in trends from the pandemic, but remains mute on how permanent or impermanent these impacts may be. DoorDash also fails to note the emergence and evolution of food delivery as "ghost kitchens" – i.e. delivery-only – restaurants emerge that may operate their own delivery services – not unlike pizzerias.
And what about the corollary reality of shut in diners that are desperate to once again eat in the wild. Visiting restaurants during the pandemic has suddenly become an exotic, special occasion. The restaurants near where I live that have managed to remain open are busy – even at the height of the pandemic – even with curbside pickup stations.
When the COVID-19 fever lifts, an entirely new food service marketplace will emerge with new accommodations and business models that may favor or disadvantage DoorDash. But one thing is clear. DoorDash should more honestly disclose the risks to its business. The successful creation and distribution of a COVID-19 vaccine is a real risk factor – as is better COVID-19 behavior by the general public that may lead to a relaxing of restrictions.
While food delivery service can be great – or sometimes disappointing – if we all wear masks and socially distance maybe all this food delivery won't be so essential. Judging by the animated diners I see when I infrequently go out to eat these days, it's clear that humans are social animals. Sitting isolated in our private caves is not the wave of the future.
Share this post via: