Supporting NB-IoT requires low cost (optimized silicon footprint) and ultra-low power solution to cope with IoT device requirement. Cadence Fusion F1 DSP IP has been integrated in modem IC by two new customers, Xinyi and Rafael, gaining traction in NB-IoT market. These design-win builds on previous momentum: software GPS solution from Galileo announced at MWC 18 (Barcelona) and CommSolid NB-IoT modem, at MWC 17 (before CommSolid acquisition by semiconductor company Goodix in Feb 2018).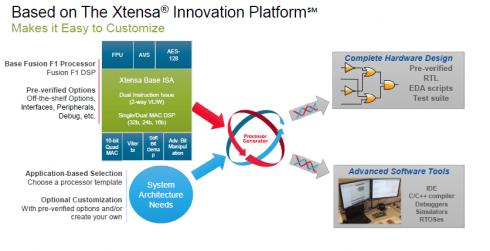 Fusion F1 DSP architecture has been optimized to offer Ultra-low Energy for IoT Applications. These applications are multiple, as they allow connecting "things" and processing whichever data the thing is capturing. The DSP is intended for sensing, wake-up processing, audio voice speech processing and support communication with the outside world. The communication protocol can be NB-IoT, Wi-Fi HaLow or GNSS. Speech processing capabilities range from speech recognition or pre-processing to audio playback. Wake-up processing supports Voice trigger, Face trigger or Gesture trigger. Sensing can be pedestrian dead reckoning, biometric monitoring or sensor fusion.
Tensilica® Fusion F1 DSP Base Architecture is Xtensa Base ISA, offering Dual-issue, VLIW processor based on HiFi 3 DSP architecture VLIW, which is only used when required to save power consumption. MAC support is highly flexible, from Single 32×32, Dual 32×16, Dual 24×24 or Dual 16×16. To reduce MAC latency, an optional mode allows certain instructions to have a reduced latency to save power and area.
The Fusion F1 DSP core is above pictured and the green box is the core basis. Because Tensilica want to address various applications, IoT and even more, the flexibility has been the driver for the architecture definition. The 7 blue boxes (FPU, AVS, AES-128, 16-bit Quad MAC, Viterbi, Soft Bit Demap and Bit Manipulation) are proposed as pre-verified and proven option. A chip maker can really optimize the DSP core definition in respect with the real needs of the application, and minimize the DSP area and power consumption. This flexibility is added to the natural DSP flexibility, as you can use the same core to support the communication protocol (the modem) when active, then switch to support sensor fusion when needed. This strategy is also good for power consumption optimization, which is key for this type of application.
This Fusion DSP can target technology nodes from 55 nm, 40 nm, 28 nm to 22 FD-SOI (all of these sounding good for IoT applications), and obviously smaller nodes when designing to support very complexes platforms.
Tensilica® Fusion F1 DSP Value Proposition is to provide Ultra-low Power Processing for Always-On/Wearables/IoT.
The first goal is to offer leading low power DSP/Control performance. Starting with lowest possible energy for always-on and excellent control code performance (up to 4.61 CoreMark/MHz), Fusion F1 offers efficient floating-point support for sensor fusion and Quad MAC performance for narrowband wireless.
Because IoT systems are multiple, it's important to provide very good configurability allowing designer to get the right processor immediately. We have listed the pre-verified and proven option, allowing to configure exactly for the targeted applications. In short, it guarantees maximum efficiency and no waste (optimized silicon footprint and cost, smallest possible power consumption).
Because IP strength is also based on the IP ecosystem size, Cadence propose comprehensive software packages (250+ SW packages) offered by 120+ partners. Optimized DSP library with fixed point and float point kernels allows benefiting from the best performance/power compromise.
To support NB-IoT, communications ecosystem support has been emphasized. With Xinyi selecting Cadence® Tensilica® Fusion F1 DSP for their new highly integrated NB-IoT modem, Marconi X1 NB-IoT (Release 13 and Release 14) SoC, based on Fusion F1 DSP. This new modem offers very high-level of integration including an integrated power amplifier (PA), allowing for up to 30 percent reduction in modem cost. Protocol stack for this modem is supplied by Huachang Technology and has been optimized to save 20% on program code requirements.
Rafael Micro has also licenses Cadence® Tensilica® Fusion F1 DSP for Low-Power NB-IoT Modem IC, introducing the RT580 NB-IoT modem IC, which features an integrated RF radio. Important to mention, Rafael selected the Fusion F1 DSP after their benchmark results showed 36 percent lower power and 45 percent smaller code versus a competitive processor core…
The following link to more information about the Fusion DSPs: https://ip.cadence.com/ipportfolio/tensilica-ip/fusion
ByEric Esteve fromIPnest
Share this post via: