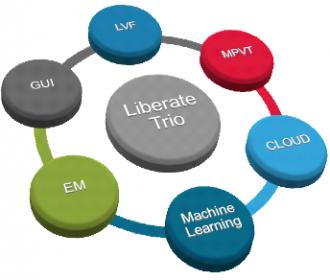 A chain is as strong as its weakest link. This phrase resonates well in Static Timing Analysis (STA) domain, though it is about accuracy rather than durability. As timing signoff step provides the final performance readings of a design, an STA outcome is as good as its underlying components. Aside from the parasitic extraction accuracy and a delay equation that should be consistent with the upstream place and route tool, design's cell timing-model accuracy derived from the characterization runs is critical –and could be the weakest link if not handled properly.

Characterization changing landscape and Cadence solution
Library characterization is both time consuming and extremely compute-resource intensive task. Traditionally it involves non-trivial data preparations as designers need to deal with multiple process corners, simulation models or library versions, permutation of constraints and different data types. The introduction of advanced process nodes has been accompanied by more complex requirements related to the ultra low-voltage devices, complex library cells and process variability that further complicate the characterization effort. Moreover, designers still needs to ascertain that the generated simulation delays must be accurate and tightly aligned with the STA tool of choice.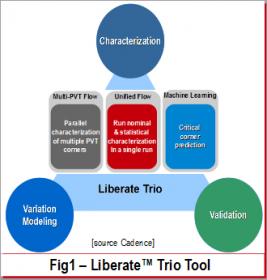 At DAC 2018, Cadence announced Liberate™ Trio Characterization Suite, the industry's first unified library characterization tool that runs both statistical and nominal characterization in parallel and provides complete validation of standard cell libraries. The word trio in "Liberate Trio" implies the three critical characterization components the integrated tool has been designated to provide: complex characterization needs, variation modeling and validation.

Integrated solution shorten characterization time
The tool unified environment ensures data consistency across many PVTs and improves the overall turnaround time such as through the reuse of vectors from one corner for another corners. "The creation of accurate timing, power and noise models for advanced-node libraries is becoming increasingly complex," said Vinod Kariat, corporate vice president of research and development at Cadence. "The Liberate Trio Characterization Suite simplifies library characterization by enabling characterization across multiple corners and natively integrating nominal and variation in the same run. This significantly improves turnaround time and ease of use."
Commenting on this release, Ron Moore, vice president of business planning, Physical Design Group, Arm said "Characterization is an extremely time-consuming activity with increasing corners, larger libraries, and new data formats. By using Arm's Artisan Physical IP, we validated Cadence's Liberate Trio Characterization Suite and saw a notable improvement in turnaround time using the same number of CPUs. This is an important step in continuing to deliver high-performance libraries to our mutual customers."
ML augmentation and cloud enablement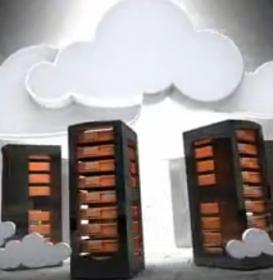 In this release, Cadence also took Liberate into the mainstream AI driven solution space. Employing advanced machine learning techniques, Liberate uses smart interpolation to help determine and reduce the critical corners that need to be characterized.
Seena Shankar, Cadence Sr. Principal Product Manager said, "With machine learning what we use is the data clustering technique to identify and predict the points for which the characterization should be done and anything in-between is interpolated well in the STA environment."
As part of Cadence Cloud portfolio, Liberate Trio has been fully optimized for running on cloud-based servers. Its distributed and massively parallel capabilities offers up to 3X performance increase by running corners in parallel and natively running concurrent statistical and nominal characterization. Characterization of a library containing over 1000 cells that would normally take weeks now can be turned around in days. Liberate on the Cloud has been tested, validated, and optimized to run with the leading infrastructure as a service providers.

Differentiating features
Aside from ML and cloud support, Liberate Trio provides several features that make it to standout from other characterization solutions:
EM Support
Along with Spectre APS and Voltus-Fi electromigration (EM) characterization can be done, in which cell max capacitance limit is generated as a function of operating frequency and input transition.
Dashboard
GUI as dashboard to track job progress (can be tied to mobile phone notification), perform data analytics, reuse and visualization of reports (such as CPU utilization, potential bottleneck in spawn jobs, arc-level assessments, etc.) as shown in figure 2.
Validation Facility
Provides utilities for library validation including confirming functional equivalency, data consistency, revision analysis, and correlation with various electrical analysis tools for timing, noise, and power (Liberate-LV).
Inside View
Patented Inside View approach automatically pre-characterizes each cell using transistor-level circuit analysis to learn all internal logic states and enable automatic vector generation (as shown in figure 3).
External Char-Engine and Latest Process
Tight integration with Spectre APS. Other supported simulators are Eldo, Finesim, HSPICE and Analog FastSPICE. Liberate has also been validated for TSMC 7nm+ and 5nm to deliver Liberty libraries including advanced timing, noise and power models.
Liberate Trio Suite delivers a comprehensive solution for IP characterization and validation. With this recent upgrades, Cadence has demonstrated that the characterization tool kept pace with both digital implementation and signoff flows migration to be more AI centric and cloud ready.
For more details on Liberate Trio, please follow this link HERE
Share this post via: