Printed circuit boards that incorporate a combination of traditional PCB technology with flexible substrates, aka rigid-flex designs, have enabled an increasing variety of product designs, that leverage the unique physical form factor and lightweight options that rigid-flex technology offers. Yet, this technology requires unique CAD tool features and enhancements, when compared to traditional PCB design flows.
Cadence recently published a whitepaper and a corresponding site with a video demonstration that highlights the unique rigid-flex capabilities that have been incorporated into a recent release of the Allegro PCB design tool suite (Release 17.2, SPD17.2-2016). I had an opportunity to chat briefly with the author of that whitepaper, Ed Hickey, Product Engineering Director.
Ed described some of the features of this recent release, covering both design and verification requirements.
Stack-up definition for rigid-flex "zones"
The stack-up material definition is the fundamental fabrication technology description used by PCB placement, routing, and analysis tools. For rigid-flex designs, the stack-up support needs to be expanded to accommodate the various "zones" of the total design. The figure below illustrates how the traditional "rigid" FR-4 based layers, the (polyimide and copper) "flex" layers, and the transition "stiffener" zones are defined for stack-up identification.

Component placement
Component placement (and pin-attach padstack) rules are dramatically different on flex – moving a component across a rigid-flex boundary needs to automatically ensure a correct layer + padstack definition.
Routing
Signal routing on the flex layers presents very unique considerations. Ed highlighted, "The flex outline typically utilizes aggressive contours. Routing must support detailed arc definitions to the contour outline – this includes bus route(group mode) definitions. Routers need to be compliant to teardrop requirements at pins and vias, and tapering rules at trace width transitions. And, designers need editing support to be contour-aware, as well."
The Cadence site corresponding to this whitepaper includes an illustrative demo, showing how a new signal inserted interactively leverages push-and-shove capabilities that are also fully compliant to the flex contour.
In-Design Checking
Rigid-flex technology has several unique verification requirements, enabled in Allegro PCB:
restrictions on component placement on the flex, relative to bend areas ("

the bend line and bend radius

")
restrictions on multi-layer via placement on the flex
routes must cross perpendicularly to a flex bend line
signal routes on different flex layers need to be offset, to avoid a flex cross-section that is mechanically stiff ("

the I-beam effect

", according to Ed)
unique rules are needed for vias and material dimensions in the transition zone
The Cadence Allegro release incorporates a new user-interface to create rules for rigid-flex design, as illustrated below for various layer-to-layer interfaces (including non-electrical surface and flex layers, such as the polyimide coverlay).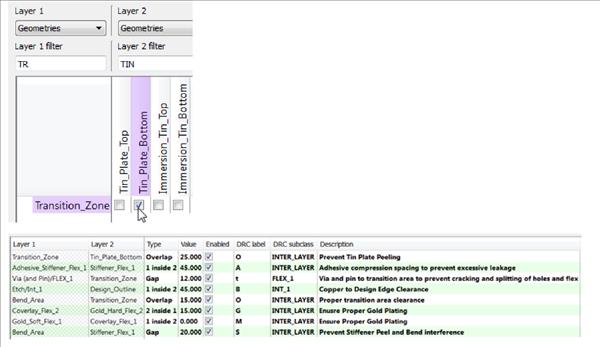 Rigid-flex electrical analysis requirements
"Cadence tools for electrical analysis also support the unique characteristics of rigid-flex designs.", Ed indicated. "Specifically, there may be cross-hatched copper areas. Field-solver technology has been enhanced to provide accurate impedance modeling for non-solid geometries."
MCAD-ECAD data interchange, manufacturing release
Ed emphasized the need for robust exchange of rigid-flex design data with mechanical CAD tools for product enclosure co-design and structural reliability analysis.

"Mechanical analysis requires accurate data on the material stackup in each zone, to evaluate the overall bend performance. The IDX standard data format is replacing the legacy IDF standard.", Ed pointed out. "We have qualified the Allegro design export flow for rigid-flex with MCAD analysis tools."
And, to be sure, the export of the rigid-flex design to fabricators requires exact representation. "There has been a tremendous amount of dollars and time wasted, due to issues with the lack of accuracy in design data provided to manufacturers. Cadence is committed to the new intelligent format standard for data exchange, known as IPC-2581."
Ed summarized the emphasis that Cadence is putting into Allegro features for rigid-flex design in a succinct manner, stating, "The growth of this technology is accelerating. Traditional PCB designers should be aware that rigid-flex is coming."
A link to the Cadence whitepaper is here.
A link to the Cadence site with additional detail (and video demo) is here.
-chipguy
Share this post via: