Internet of Things (IoT) can be seen as a fashionable buzzword covering so many distinct applications that IoT is sometimes nick-named "Internet of Everything", or it can be perceived as the next revolution in electronic systems generating more revenues than the smartphone and computer market together in 2020. But the industry consensus about IoT is that guaranteeing security will be absolutely crucial. And obviously IoT is by definition a wireless connected system…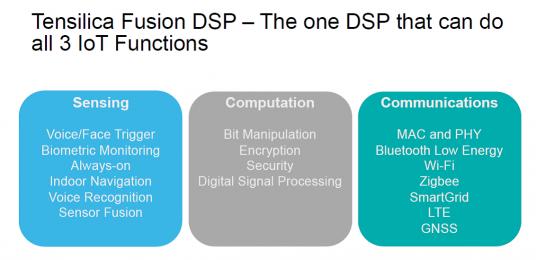 Fusion DSP core from Tensilica/Cadence based on the proven Xtensa® Customizable Processor is addressing the three basic functions to support needs of any IoT system: Sensing, Compute and Communicate. Computing information generated by sensors is by far more efficient when using a DSP rather than a General Purpose Processor (GPP). IoT application require using sensors, but only using low cost sensors will allow wide adoption of IoT systems everywhere it makes sense. Low cost sensor implies higher performance DSP computation, while keeping the power consumption as low as possible. Integrating a configurable DSP core is the right option, far more power effective than a GPP or even a standard DSP chip, allowing supporting always on type of application.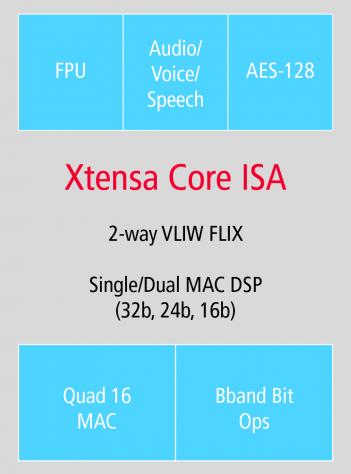 Xtensa Fusion DSP integrates a floating point unit to support sensor fusion as well as VLIW processor and configurable MAC. The designer mat select one single 32×32, dual 32×16, dual 24×24 or dual 16×16 MAC. The multiple configuration options allow core to be configured exactly for the targeted applications. No silicon waste and maximum performance efficiency, and even more important optimized power consumption. Audio/Voice/Speech (AVS) block has been derived from HiFi 3 Audio DSP and guarantee the S/W compatibility with HiFi 3, as well as an access to 140+ Audio/Voice software packages. As we have mentioned earlier, IoT implies wireless communication, the MAC and PHY from Cadence plus the BaseBand Bit Ops allow supporting:
Bluetooth Low energy (BLE)
WiFi
Zigbee
Smartgrid
LTE
GNSS
To add security to this wireless communication (BLE and WiFi), AES-128 encryption acceleration is integrated into the Xtensa Fusion DSP.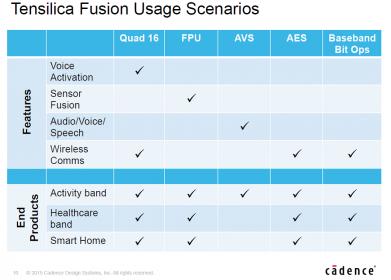 Xtensa Fusion DSP can be designed into systems on chip (SoCs) for wearable activity monitoring, indoor navigation, context-aware sensor fusion, secure local wireless connectivity, face trigger, voice trigger and voice recognition. The needed features to support voice activation (Quad 16 MAC), sensor fusion (FPU), Audio/Voice/Speech (AVS) and wireless communication, where both AES encryption and baseband Bit Ops are required, are listed on the above table. Tensilica Fusion is the unique DSP core offering complete features set to design IoT end products like activity, healthcare or smart home. SoC targeting IoT applications has to be low cost, integrating computing core is the right path compared to a design based on standard GPP or RISC chip. Using low cost sensor may push using high computing power, Tensilica Fusion DSP offers multiple, configurable MAC as well as a FPU. IoT require supporting one of the wireless communications among BLE, Zigbee, WiFi, Smartgrid, LTE or GNSS, guaranteed through the fusion DSP for the MAC and Cadence PHY IP. Moreover using AES-128 encryption integrated with the DSP core allows securing wireless transaction. Finally and probably the most important for a mobile IoT application, the configurable DSP offers unmatched power efficiency, especially when compared with any of the RISC CPU competitors!

Did you know that Tensilica Xtensa cores have shipped by billions, more precisely 2 billion in 2014? That Cadence Tensilica is #2 overall in royalty-bearing licensable processor shipments? I am not talking of DSP IP, as Cadence is #1 in licensing revenue since 2012… Cadence is simply #2 in licensable processor core, DSP or CPU! And Cadence is proudly claiming a number of mask-set re-spins caused by bugs in Xtensa processors to be…ZERO in history, since 1998.
No doubt that this new Xtensa Fusion DSP version is specifically designed for the vast IoT market, made of a multitude of applications. Let's listen to stated Martin Lund, senior vice president of the IP Group at Cadence: "As we were designing Tensilica Fusion DSP, we saw that our customer requirements varied greatly. We took those requirements into consideration while designing this DSP to extend beyond anything in the market today. The Xtensa Customizable Processor allows customers to further optimize the processor to create distinctive, highly efficient processors and DSPs that will help set them ahead of their competition."
By Eric Esteve from IPNEST
Share this post via: