This news is certainly not as amazing that the acquisition of MIPS by Imagination, or Arteris by Qualcomm… but it shows that Cadence is building a complete Interface IP port-folio, brick after brick. The result will be that a complete wall is being built on the Synopsys road to monopoly and complete success on Interface IP market. When evaluating HDMI and DisplayPort IP segment, the two big names are Synopsys and Silicon Image, and Transwitch comes after, quite far from the two leaders. Let's hope for Cadence that this lagging position was due to a lack of investment, rather than from the quality of the engineering team. In this case, the very strong motivation, and deep pockets of Cadence should help the company to head to head compete with Synopsys in the near future, in this IP market segment where Cadence had so far no product to offer… Thus, we think these asset acquisition will be generate new IP sales for Cadence. If we want to forecast the volume of these IP sales, it can be wise to see the starting point, or what was the latest available business figure for Transwitch.

In fact, Transwitch is under chapter 11 since November 21, 2013, and the company website has been pirated. But, if you keep searching, you can find the latest quarterly and annual report from Transwitch. I have read the complete annual report (2012) to understand that you had to search under "Customer Premise Equipment" product line to understand where the IP and services revenue are located:

It seems that in 2013, Transwitch had finally decided to call a spade a spade, and name this product line "IP and service revenue" as we can see on the below picture, extracted from the last published quarterly report.

Thus, IP and service have generated $K 3,676 revenue in 2012, and $K 2,868 during the first half of 2013. As we don't know what is the share between IP and service (and also what type of product the service revenue is related to) , we have to dig into another source, still extracted from the 2012 annual report, the "Consolidated Statement of Operation". We can find the "Cost of service revenue" line ($K 1,274 in 2012). This is important to discriminate between "service" and "IP": IP are developed by the R&D team, or say that the cost of IP development can be classified as "R&D Cost", when the service related cost are classified apart. Thus, we have to make some assumption, deciding that design service should generate 50% GPM. This lead to service revenue being evaluated in the $2.5million in 2012, leaving a maximum of $5million for IP revenue, or less. This is consistent with the $3,676million ranked in Customer Premise Equipment, or HDMI, DisplayPort, MHL, HDPlay and Ethernet IP sales in 2012.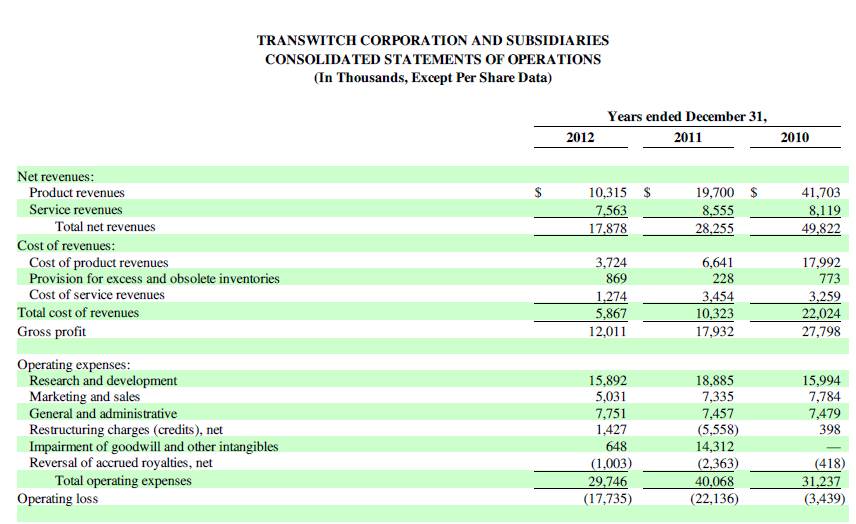 If we compare this revenue generated by these various IP with Synopsys or Silicon Image HDMI revenue, Transwitch is clearly below, with HDMI IP revenue being four time lower than Synopsys (and six or seven time lower than Silicon Image). Nevertheless, the engineering team will now be part of a far healthy company, able to make the right investment to target the latest technology nodes, pay for the shuttles, develop demonstration board. In short invest upfront to enhance the product quality and invest again to promote the IP in such a way that the license sales should follow. This is not a surprise if, even the best product doesn't really sale untill you develop the right marketing plan, better position the product if needed, and be able to rely on a strong sales network to access customers on a world-wide basis.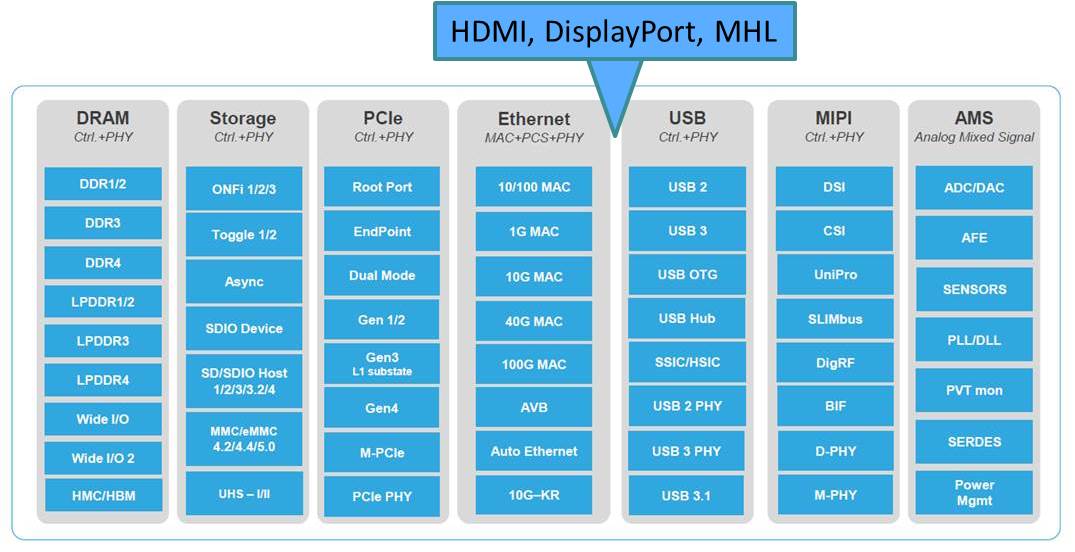 If you take a look at the new Cadence IP Port-Folio, you can see an IP offer as wide as the company direct competitor. How long could it take for Cadence to generate the same level of revenue in Interface IP market than Synopsys? Some time… but maybe not that long.
Anyway: HDMI, DisplayPort, MHL IPs + Engineering Team = Good Move
Eric Esteve from IPNEST
More Articles by Eric Esteve…..
lang: en_US
Share this post via: