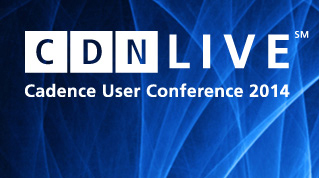 CDNLive is becoming a real worldwide event, starting in March in San Jose and ending in November in Tel Aviv, Israel.
The complete schedule is:
March 11-12th, Santa Clara, California
May 19th-21st, Munich, Germany
July 15th, Seoul, Korea
August 15th, Shanghai, China
August 7th, Hsinchu, Taiwan
August 11-12th, Bangalore, India
September 16th, Boston, Massachusetts
September 18th, Austin, Texas
November 3rd, Tel Aviv, Israel
As always, a lot of the content are presentations by users of Cadence tools or in-depth 'techtorials'. Cadence knows that users don't come to hear a lot of marketing guys present a lot of power point, they want to hear stories from the trenches from either Cadence customers or Cadence's own black-belt application engineers.
The call for papers for CDNLive Silicon Valley closed in December so you are too late if you want to present this year (although how about Germany in May or Austin in September for a change of scenery).
To give you a better idea of how this works out, here are the highlights of the 2013 CDNLive in Silicon Valley. Of course the speakers will be different and some of the details will probably change, but the basic format this year will be the same, with a lot of parallel special-interest tracks, keynotes, exhibits and more.
Technical Sessions: Sessions took place in nine tracks over the two full days of the conference. Close to 100 presentations were delivered, including a wide variety of user-authored papers addressing all aspects of design and IP creation, integration, and verification. Attendees discovered how others are using Cadence technologies and techniques to realize silicon, SoCs, and systems—efficiently and profitably.
Keynote speakers: Attendees heard from industry leaders, Lip-Bu Tan (Cadence President & Chief Executive Officer), Young Sohn (Samsung President & Chief Strategy Officer) and Martin Lund (Cadence Sr. VP Research & Development) about industry trends in silicon, SoC, and system realization.
Designer Expo: More than 35 exhibitors participated in the Designer Expo, and highlighted the collaborative ecosystem available to support you. Cadence and our partners enjoyed lunch and an evening reception mingling with customers and exploring joint solutions.
Networking opportunities: The R&D luncheon offered an informal atmosphere to engage in stimulating technology discussions with Cadence technologists and industry peers.


If you have a Cadence account you can download the full proceedings from last year here.
Details of this year's CDNLive events can be found on this page, which has links to more details for each of the individual events (and you can download proceedings for any of the other CDNLives). The CDNLive page is here.

More articles by Paul McLellan…
Share this post via: