In the third and final (for now) part of this series on the EDA design tool vendors, I'd like to take a closer look at Cadence Design Systems. This is probably the most interesting of the three from both an industry perspective as well as an investment perspective for a variety of reasons. With that said I'd like to first provide some background on the company and its management and then take a closer look at the company's financials and stock.
Some Rough Times
Rewinding back a bit to around the time of the financial crisis, it's interesting to see the kind of mess that Cadence (and its shareholders) got into at the time. As it turns out, Cadence – not unlike other software companies – had faced some trouble with respect to the timing of revenue recognition. This wasn't anything too egregious, particularly as the restatement was only for about $24 million worth of revenues against a revenue base that at the time was nearly $1 billion, but it definitely served to put off some investors. Couple that with the global economy melting down (which took its toll on the financial results of just about every tech company on the planet) and you have a recipe for disaster.
That wasn't the extent of it, however. On Oct. 15, the company's president and CEO and Michael Fister, along with four other top level executives, left the company. At the time, the growth in the EDA space was sputtering, Cadence's customers (and in particular NXP and Freescale) were seeing significant business pressures, and Cadence itself was seeing rather fierce competition from both Magma Design Automation as well as Synopsys in analog and mixed signal design. Times were truly tough, and it seemed that Fister decided that it would be best to hand the company off to somebody else.

A new era of prosperity
Cadence landed itself a new president and CEO, Lip-Bu Tan, in January 2009. Prior to taking the helm in 2009, he had been on the board of Cadence since 2004. Additionally, he is the chairman of Walden International (a venture capital firm he founded in 1987) and sits on the boards of Ambarella, SINA, and Semiconductor Manufacturing International. Under his leadership, Cadence entered a new era of prosperity.
A quick look at Cadence's stock price today suggests that the company is much healthier than it was in the 2008/2009 period with shares having roughly tripled from their lows. However, while Synopsys trades at all-time highs, and while Mentor Graphics is quickly approaching its all-time highs, Cadence trades at just under half of its pre-crash 2007 highs and about a third of its 1999/2000 Nasdaq bubble highs (it would be unreasonable to expect many tech companies to reach their 1999/2000 valuations, though, as this was a period of near insanity).
What's more important to look at, though, is the underlying businessperformance. Here is a plot of Cadence's revenue base and its net income over the last ten years: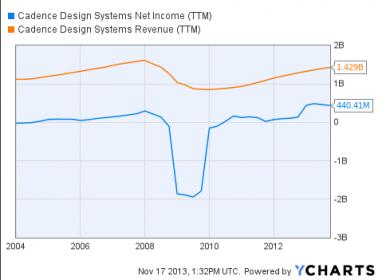 Notice something interesting? The company is earning more money today than it has over the last ten years, having fully recovered from its 2008/2009 slump. Its revenue base is still a bit off of its 2007 highs, but overall, the company is in good shape. That being said, when you look at how the market actually values the company (that is, what multiple of the company's earnings investors are willing to pay for the shares), it's, frankly, not much. While investors are willing to pay 23.5 times earnings for Mentor Graphics and 25.9 times earnings for Synopsys, they're only willing to cough up 8.30 times earnings for Cadence. Hmm!
Typically speaking, Wall Street (that is, the investment community as a whole) is more willing to pay a premium for today'searnings as long as they expect tomorrow'sto be significantly more robust. So what this would suggest is that Mentor and Synopsys are likely to grow at a faster pace and/or have more robust businesses than Cadence. However, what do the professionals think?

What gives?
The analysts covering Cadence believe that it will grow its net income per share by about 14% next year while at the same time growing its top line by about 7%. What's really intriguing is that Wall Street expects Mentor Graphics to grow its bottom line by 10% and its top line by 6%, and it expects Synopsys to grow its bottom line by just 4.5% and its top line by 6.6%. This is actually pretty interesting – all of the EDA players are expected to grow at just about the same rate, but Cadence is by far the cheapest. Why could this be?
Well, while the financials are an important part of valuing any stock – tech or not – tech is unique in that investors care a lot about the perceived barriers to entry. Synopsys, for instance, is not only the leading EDA tool vendor, but it is also the second largest provider of semiconductor IP – an enviable position to be in. However, what's peculiar is that Cadence is probably in a better position for, say, FinFET designs than Mentor Graphics is, if the design enablement readiness charts given by TSMC about the readiness of tools from the various vendors (found here) still hold true.
Indeed, while it's always important to do your own due diligence before following the recommendations of any analysts, it's interesting to note that the vast majority of the sell-side analysts think that Cadence is either a "buy" or an "outperform". My impressions thus far is that Cadence is probably the best deal in the EDA space today for investors, although I do plan to do much more work on the stock and report back.

More articles by Ashraf Eassa…
Also Read: A Brief History of Cadence
lang: en_US
Share this post via: