LIDAR is a controversial topic, with even Elon Musk weighing in on whether it will ever be feasible for use in self driving cars. His contention is that the sensors will remain too expensive and potentially be unreliable because of their mechanical complexity. However, each of the sensors available for autonomous driving have their strengths and weaknesses. LIDAR offers many of the advantages of camera based sensors, plus it can work in the dark. The other advantage it has over cameras is that it can provide object speed detection.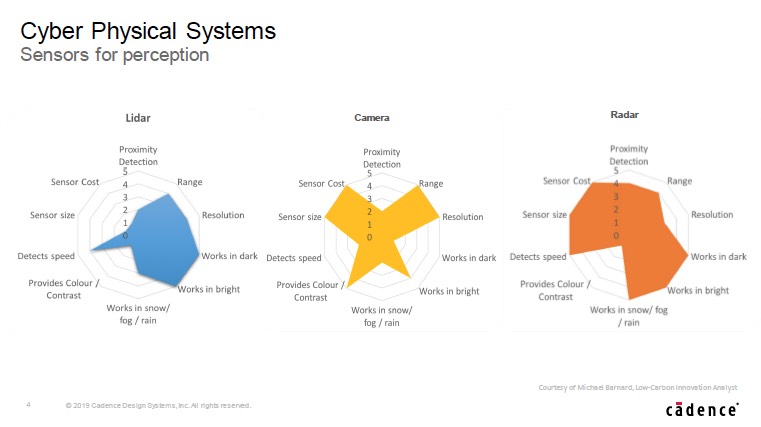 At DAC I had a chance to talk to Ian Dennison, Senior Group Director at Cadence about innovations occurring sensor technology and their integration into cyber physical systems. For instance, there are potential developments in LIDAR technology that could eliminate the need for mechanical elements, replacing them with a transmitter optical phase array. According to Ian a major roadblock for this kind of development was the difficulty combining optical and electronic design and analysis into a single integrated platform.
Beyond the elimination of mechanical elements, electro-optical design can help expand the application areas of a given technology.  It is well understood that LIDAR is not suitable for close range sensing. For automotive applications an accuracy 10 cm is fine. However, for industrial robotics this will not suffice. Ian believes that with more accurate laser modulation this resolution could be improved. One method could be adding additional electro-optical elements to create a PLL.
Cadence has been working hard on developing a photonics solution that extend design capabilities to solve problems that are holding back what Ian describes a gold rush in cost reductions for sensor systems. Cadence has established partnerships with Lumerical, Coventor and Mathworks to develop Virtuoso integrations that can accelerate design and integration of these systems.
Cadence has developed features and products to facilitate these integrations. An excellent example of this is their CurvyCore for creating curvilinear structures in Virtuoso. They have a SKILL API that allow symbolic curvilinear layout and discretization. It enables waveguide creation and model property calculation. Other useful tools can be added through SKILL IPC calls.
LIDAR is not the only application that is benefiting from Cadence's enhanced Virtuoso solutions. In the RF space Cadence has announced Spectre X which offers up to a 10X speed improvement coupled with up to 5X capacity while maintaining Spectre's golden accuracy. At high frequencies, such as 122 GHz, it is possible to include the antenna on the chip with the LNA and PA. Designs such as this need EM simulation for transmission like accuracy. Cadence has recently announced new EM solver solutions that can address all elements of a 122 GHz FMCW radar system.
From my conversation with Ian, it is pretty clear that Cadence is attacking the design issues in sensor design across the board. Indeed, there was a lot to digest. Nevertheless, as designers pick and use these new features, it is sure to change the landscape in autonomous vehicles, robotics, etc. While I am often a big fan of Elon Musk, I would not bet on LIDAR remaining unfeasible for automotive applications. History is full of examples of unforeseen advances due to improving technology. If anything, the rate of change is accelerating. A full description of the many developments in the Cadence solutions for sensor system development is available on their website.
Share this post via: