As much as I love all EDA vendors I must say Cadence did the best DAC this year. Great booth, great location, excellent content, and of course a great party. The 5G presentation in the Cadence booth by Ian Dennison was of great interest to me as I am still trying to wrap my head around this whole 5G thing. I was able to meet with Ian privately and he sent me his slides. It is a very detailed presentation covering a lot of data so it is a multi-blog sort of deal.
5G is a bit controversial in my neighborhood. There is a NIMBY (not in my back yard) movement that opposes towers which are based on the current 4G implementation that are admittedly a bit unsightly. As a result we have a big dead spot in my area where I cannot get 4G and I can only imagine what 5G will bring our quiet little hamlet.
I had not met Ian before so it was a pleasure. Ian is a 33 year semiconductor veteran that came to Cadence through an acquisition in 1994 and he has resided there ever since. He works in the Cadence Intelligent System Division in Edinburgh researching systems design, analog design, future flows, and emerging markets. Ian's presentation "Cadence 5G Intelligent System Design" fits right into that description, absolutely.
If you look at the transformation of EDA over the last 35 years you will see a clear path to systems design which is where we are today. Mobile, Industrial IoT, Datacenter, Automotive, Aero/Defense, and Health Care are all critical systems that revolve around semiconductor technology. Bottom up design includes Analog, RF, Digital, device support, Embedded Software and Security, and Systems Analysis. Machine Learning is now an important part of the systems design equation with the massive amounts of data at our disposal.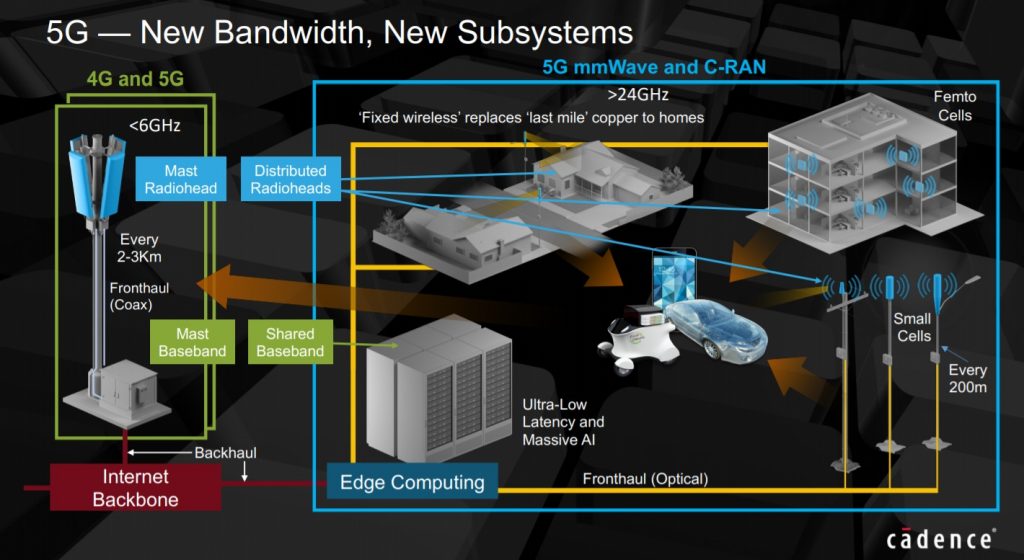 5G is an easy example of the complexities we face as an industry. No matter how much coverage and bandwidth we provide it will be quickly used and abused. The critical part of modern semiconductor design is creating chips and systems that can thrive inside the infrastructure of the United States. China is another story of course since they don't have NIMBYs.
The slide above is a breakout of a 5G Subsystem. The existing 4G towers with a mast radiohead and baseband (placed every 2-3km) will continue to provide 4G and slower 5G services. Much less invasive 5G mmWave radioheads can then be embedded in populated areas (every 200m). Yes, you can put one on the streetlight in front of my house, no problem.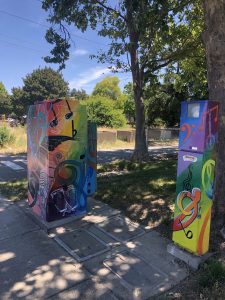 The invasive infrastructure here of course is the edge computing subsystem which is about the size of a shipping container so NIMBYs beware. With the coming onslaught of AI for literally everything we do it will not be possible for our edge devices (smartphones, autonomous cars, delivery drones, etc…) to manage ALL of the computation AI will require. Nor will our 4g/5G/6G networks ever be able to handle ALL of the data generated from an autonomous edge.
In my neighborhood we have taken to making exposed infrastructure into art. Hopefully we can do the same for the Edge Computing Subsystems because, again, we will never have enough compute power and if we are to be competitive as a country we will have to both innovate and accommodate.
For further investigation Cadence has a 5G Landing Page. It talks about 5G Systems and Subsystems, 5G Handset, 5G Radioheads, 5G Baseband and Edge Computing, plus 5g Front Haul and Back Haul. Also listed are Cadence related products for each of the landing pages, definitely worth a look.
Share this post via: