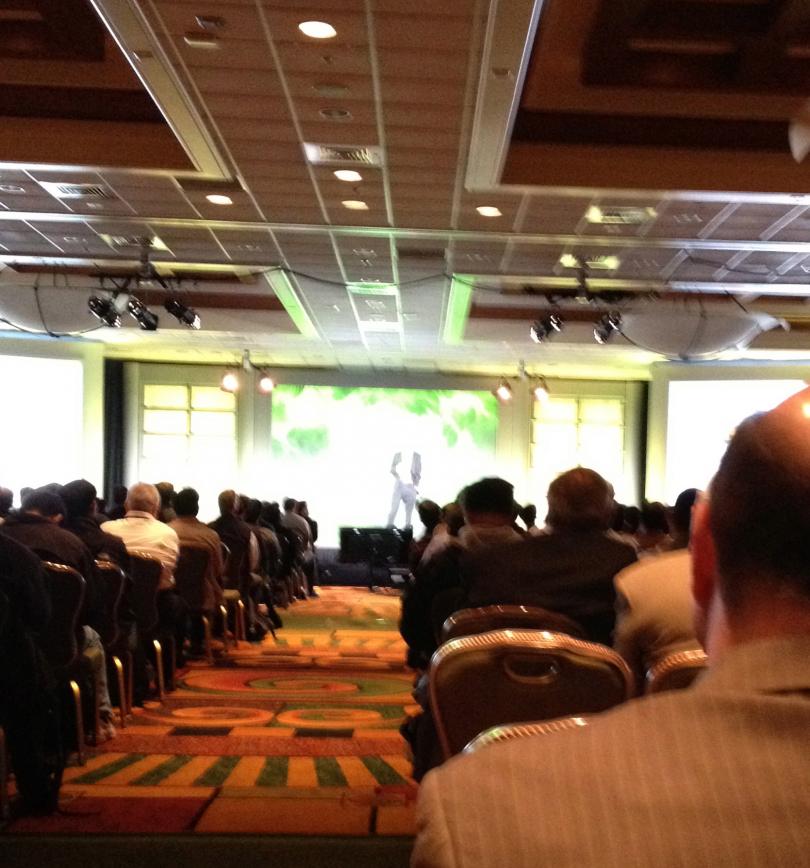 There were three keynotes at CDNLive this morning, and one theme ran through them: collaboration. In fact there was one specific instance of collaboration that all three people mentioned. Taping out an ARM Cortex-A15 in TSMC 20nm technology using a Cadence tool flow.
Lip-Bu, Cadence's CEO, went first. He had some numbers showing that semiconductors and electronics should continue to grow at twice the rate of world GDP. And the GSA semiconductor index is all going up for the next couple of quarters. Underlying this growth is that increasing integration leads to many more devices. Mainframes shipped perhaps 1M units. PCs 100M units. But mobile internet (smartphone, iPad) are in the 10B unit range.
Rick Cassidy of TSMC was next up. He had an interesting retrospective on cost. From 1970 to today, transistor cost has reduced by 10[SUP]-8[/SUP] and microprocessor cost per transistor per cycle by 10[SUP]-11[/SUP]. An example Rick uses with MBA students (who know nothing about semiconductor) is that if Manhattan was a chip in 1962, by today it has shrunk so much that it fits in an iPod screen. And if we continue on the same path for another 50 years, the entire world will fit in that screen. Of course driving this is the scale of fabs like those TSMC is building. 180,000 12″ wafers per month. Last year, TSMC shipped 13.2M 8″ equivalent wafers. That's a lot of silicon.
Tom Lantzsch of ARM started by asking everyone whether they were more likely to return home if they had forgotten their wallet than their phone and most of us figured we could do more easily without our wallet. His interesting statistic of the day is that there is a need for approximately one server in the cloud for every 600 mobile phones (and, for every 120 or so tablets). ARM is increasingly moving into the home (smartTV) and the car (infotainment). Underlying everything ARM does is energy efficiency (aka low power). This is why ARM is moving into servers in a move that has many commentators perplexed. ARM's view is that servers will mimic what has happened in SoCs in smartphones, with a general purpose CPU (Intel) being replaced by multiple smaller CPUs and specialized functions such as video decode (of course, no prizes for guessing which CPUs Tom is expecting those to be). Developing countries simply don't have the power to build a datacenter the way they are currently done. Instead, he expects servers with a power budget of 5W such as the Calxeda one, simplifying not just power, but cabling and physical size. Servers are likely to be specialized since, for example, netflix doesn't need general purpose servers, just specialized video pumps.
Tom's equivalent of TSMC's wafer statistics were that ARM now has 275+ silicon partners, 900+ ecosystem partners, 30B+ ARM-based chips shipped. 50+ mobile phone application processors. 100+ phone designs. 100+ tablet designs (where are they all?), 1B+ applications. That's a lot of compute power.

Share this post via: