Again on the theme of rationalizing NVIDIA's $40B acquisition of Arm, two more hot areas for growth are mobility and industrial automation markets. NVIDIA is already strong in intelligent mobility and Arm is is virtually everywhere in the modern car. Ditto for robotics in industry. In fact the two domains have significant overlap: in sensing, sensor fusion, intelligent decision-making, path planning and need for safety, in many cases within a constrained power envelope. We've been enjoying a gold-rush of innovation, but consolidation is inevitable. Markets are ripe for off-the-shelf chip solutions. NVIDIA and Arm cloud and communication solutions. Add to that NVIDIA and Arm mobility and industrial solutions. Mmm.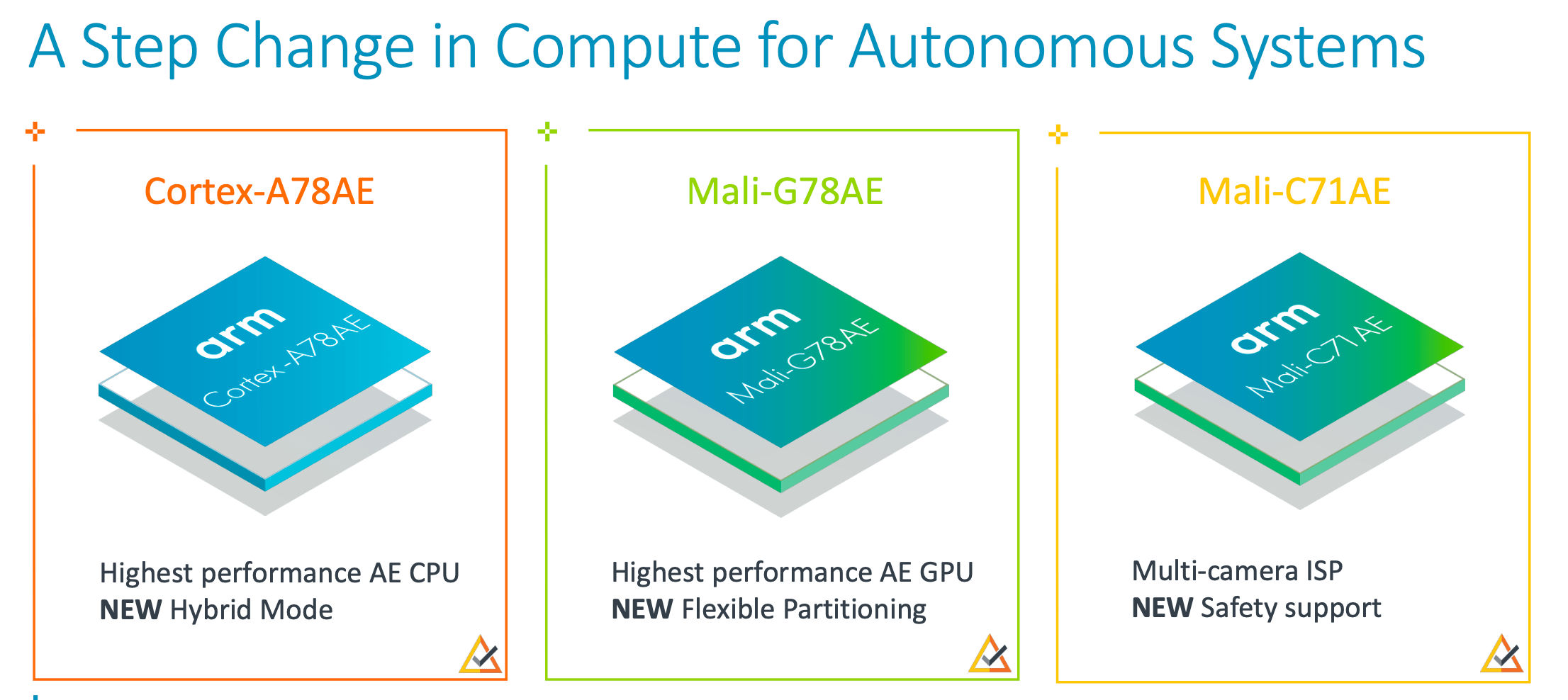 Arm recently announced their next round of products supporting these autonomous systems, new CPU, GPU and ISP platforms. Cortex-A78AE is the automotive enhanced (AE) spin of the 64-bit v8.2 A78, Mali-G78AE and Mali-C71AE are the AE versions of Mali-G78 and Mali-C71 respectively. In each case, while 'AE' implies only automotive applications Chet Babla (Arm VP of Automotive and IoT) stressed that design for these platforms leverages learning from industrial and automotive input.
Cortex-A78AE for autonomy
The CPU core offers what Arm call Split-Lock mode, also offered in the earlier Cortex-A76AE core. In split mode, all cores in the cluster are available to operate independently, offering maximum throughput at modest safety levels. Lock mode is for tough ASIL-D (automotive ISO 26262) or SIL-3 (industrial IEC 61508) demands in which pairs of core operate in lockstep, trading off maximum throughput for safety. In split mode, the cluster can still rise to ASIL-B/SIL-2 certification if each core cycles periodically through diagnostic testing. This is a strategy I've mentioned before for chips which must pass ASIL-D even though subcomponents don't all rise to that level. For earlier AE cores, shared logic in the cluster (DSU) also needed to be tested periodically. During those windows, all cores would be unavailable.
Cortex-A76AE offers a hybrid mode which for split mode operation offers lockstep support for the DSU, eliminating diagnostic impact from the DSU on throughput in ASIL-B/SIL-2 operation.
Mali-A78AE for autonomy
Arm tout Mali-A76AE as their first GPU to support safety requirements, up to ASIL-B/SIL-2. Also relevant to safety, the GPU now supports up to 4 fully independent partitions. It already supported virtualized workloads, but this goes a step further. Sure the GPU can run multiple workloads virtualized, but some of those loads may now be safety-critical. Which demands a higher level of separation than a virtual barrier, something a partition can provide. Partitioning doesn't remove support for virtualization. This is still possible within a partition, say for non-critical loads like infotainment.
Mali-C71AE for autonomy
Arm first launched their Mali-C71 ISP core in 2017. As a fairly new entrant in this field, at least visibly (ha-ha), you'd think they have a lot of catching up to do. But they've been at this for a long time, working with companies like Nikon, Sony, Samsung and HiSilicon. As an example, their Iridix technology for HDR (high dynamic range) management is pretty impressive. Now the IP supports up to 4 real-time cameras (or 16 buffered cameras) with up to 1.2 Gigapixel/second throughput. And in this AE version, they have added safety support to cover up to ASIL-B/SIL-2 levels. Vey necessary for vision at the edge.
Back to the future
Chet wrapped up with a big statement. He believes autonomy will be the predominant workload of the future, between I assume different flavors of mobility and robotics. Early in the announcement he said that Arm estimates autonomy will represent an $8B silicon opportunity by 2030. In the Q&A he was asked how that split between automotive and industrial. Chet acknowledged that a large proportion would go to automotive. However he said that the industrial opportunity is still quite nascent. In the $8B number he's extrapolating conservatively. Based on the engagements they already have he sees a very big opportunity for growth. Maybe yet another reason for that $40B price tag. (Whither Mali? Maybe low-power/edge applications, NVIDIA as the center of the web?).
For more details, click here.
Share this post via: