The global semiconductor market grew 13.7% in 2018, according to World Semiconductor Trade Statistics (WSTS). Each year, we at Semiconductor Intelligence review semiconductor forecasts and compare them to the final WSTS data. We used projections which were publicly released from late 2017 through early 2018, prior to the release of January 2018 WSTS data in March 2018. These forecasts ranged from 5.9% from Mike Cowan to 21.3% from Future Horizons. Most were in the 6% to 8% range. Our Semiconductor Intelligence projection in February 2018 was 12%, the closest to the final number of 13.7%.
We were set to award ourselves the (virtual) trophy for forecast accuracy. However, in researching recent forecasts for 2019, we found Objective Analysis posted a report on its forecast accuracy since 2008. The December 2017 video from VLSI Research shows a chart with the Objective Analysis statement "strong start supports 10%+ growth" for 2018. But in the video Jim Handy of Objective Analysis said their forecast was 14%. Thus, Objective Analysis wins the (virtual) trophy for 2018. The 2017 semiconductor market grew 21.6%. Last year we awarded our (again virtual) trophy to Future Horizons for its 11% projection. However Objective Analysis would have won that year also, with a forecast of ~20%.
What is the outlook for 2019? The year 2018 semiconductor market finished weak with an 8.2% decline in the fourth quarter from the third, according to WSTS. The first quarter of 2019 will be even weaker. Most major semiconductor companies are expecting up to double digit declines in 1Q 2019 from 4Q 2018. The exceptions are Qualcomm which expects a 0.9% increase (with 9.3% at the high end) and Infineon, which sees a flat 1Q 2019. Weak end demand and inventory adjustments are cited as key factors in the declines. Memory companies are the hardest hit, with Samsung down 24.3% in 4Q 2018 and SK Hynix down 13.0%. Micron just reported a 26.3% revenue decline in its fiscal quarter ended February 28, 2019. Micron's outlook for the quarter ending May 31 is a 17.7% decline.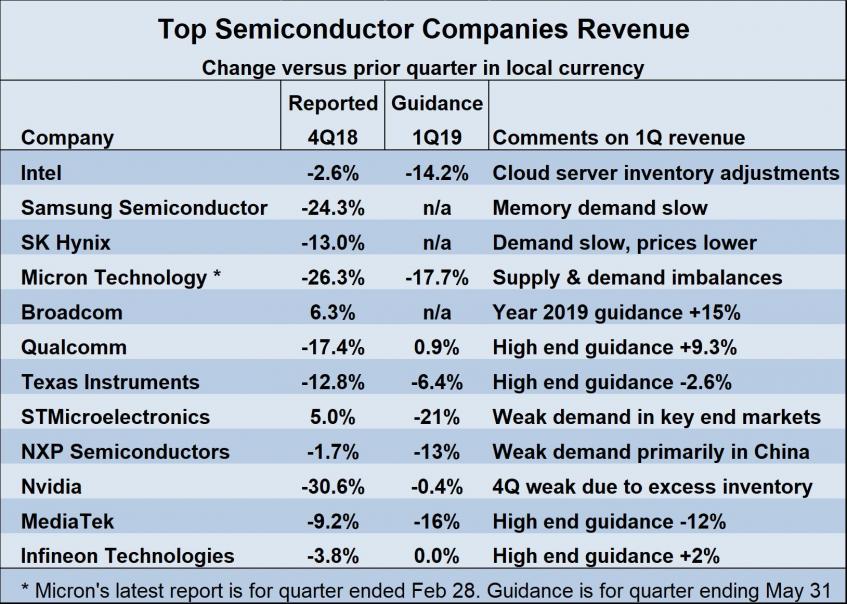 The global economic outlook for 2019 points to slower growth in 2019. The International Monetary Fund (IMF) January 2019 forecast is for world GDP growth to slow from 3.7% in 2018 to 3.5% in 2019. The decline is led by the advanced economies, with the U.S. slowing from 2.9% in 2018 to 2.5% in 2019 and the Euro area slowing from 1.8% to 1.6%. China is expected to drag down growth in the emerging/developing economies as its GDP growth decelerates from 6.6% in 2018 to 6.2% in 2019. On the positive side, India continues to show of over 7% and accelerating, the ASEAN-5 (Indonesia, Malaysia, the Philippines, Thailand and Vietnam) exhibit steady growth of around 5% and Latin America is recovering. Key factors cited by the IMF for the slowdown are trade tensions (especially between the U.S. and China) and the uncertainty of the U.K.'s exit from the European Union (Brexit). The outlook for 2020 show slight improvement, with acceleration to 3.6% world GDP growth led by emerging/developing economies.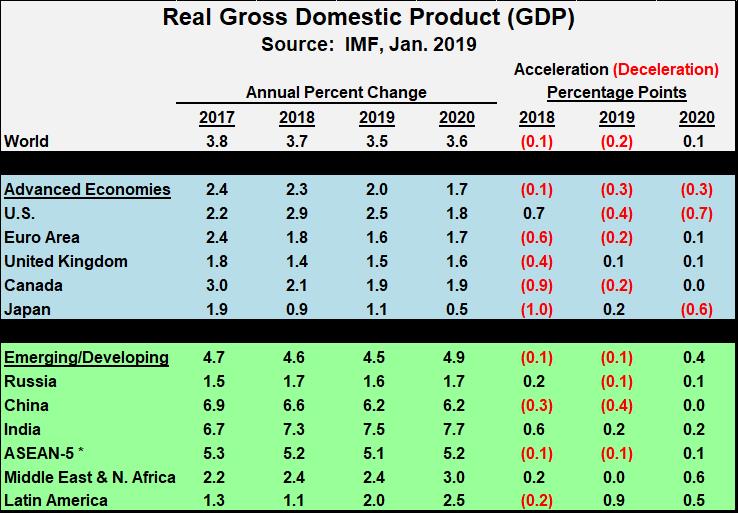 The outlook for key end equipment is also bleak. IDC in March forecast a 0.8% decline in smartphone unit shipments in 2019 and a 3.3% decline in combined PC and tablet unit shipments.
Recent 2019 semiconductor market forecasts are generally negative. Our latest projection from Semiconductor Intelligence is a 10% decline. Several forecasts are in the -5% to -1% range. Objective Analysis has a chance for a three-peat forecast trophy for 2019; but would have to share with Morgan Stanley if -5% is closest to the final number. IC Insights expects a slight 1.6% gain for the IC market while Gartner projects a 2.6% gain for semiconductors. Memory is the weakest link in 2019. IC Insights projects the IC market excluding memory will grow 6.7%. WSTS expects 2.6% growth for semiconductor excluding memory. Our Semiconductor Intelligence forecast is for a 2% decline in semiconductor without memory.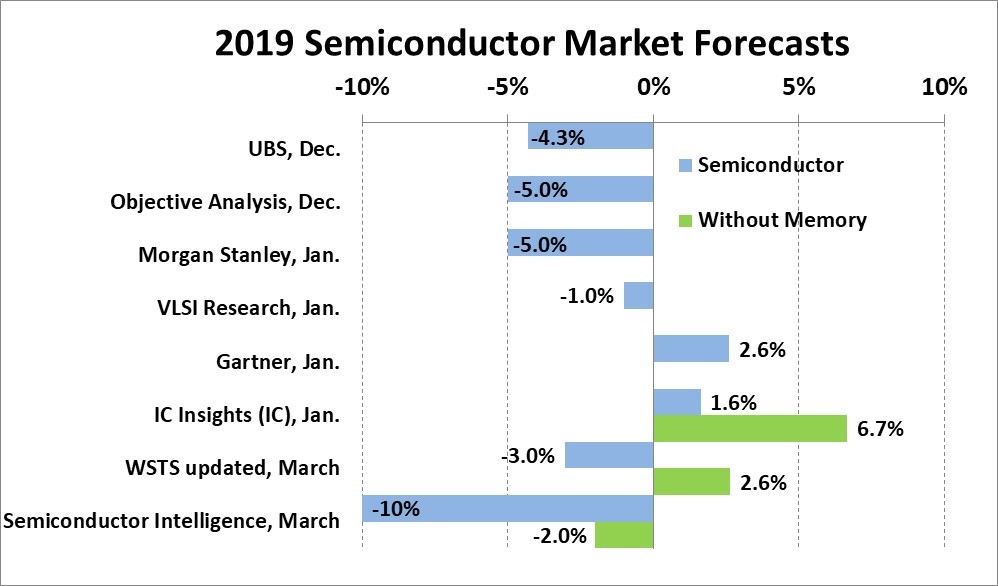 The current outlook for the semiconductor industry for 2019 assumes lower memory prices, slower electronic equipment demand, inventory corrections, and slower growth for the global economy. Despite all the uncertainty, few analysts expect a global recession in 2019. The expectations for the 2020 semiconductor market are mixed. VLSI Research and Gartner forecast a rebound in 2020 of 7.0% and 8.1% respectively. IC Insights projects a 1.9% decline in the 2020 IC market. Our preliminary 2020 forecast from Semiconductor Intelligence is 5% to 10% growth.
Share this post via: