The global semiconductor market is headed for the largest decline in 18 years. The market dropped 32% in 2001 when the Internet bubble burst. The 2019 decline should be around 15%, the third largest annual drop after 2001 and a 17% drop in 1985. The current weakness is largely due to excess memory capacity (DRAM and NAND flash) relative to demand. WSTS expects the memory market will decline 31% in 2019 while semiconductors excluding memory will decline only 4%. The market weakness is also due to an uncertain global economy and weakness in key demand drivers.
The second half of 2019 is showing signs of a turnaround. Below are the 2nd quarter 2019 revenues reported by major semiconductor companies and their guidance for 3rd quarter 2019. The non-memory companies showed revenue growth in 2Q 2019 versus 1Q 2019, ranging from 0.3% from Qualcomm to 16.2% from Nvidia. The memory companies (SK Hynix, Micron and Toshiba) experienced revenue declines, except for Samsung which grew 11.2%. A few companies expect healthy growth in 3Q 2019 revenues, ranging from 9.1% from Intel to 15.3% from STMicroelectronics. TI, Infineon and NXP project low single digit growth. Micron and Qualcomm expect revenue declines.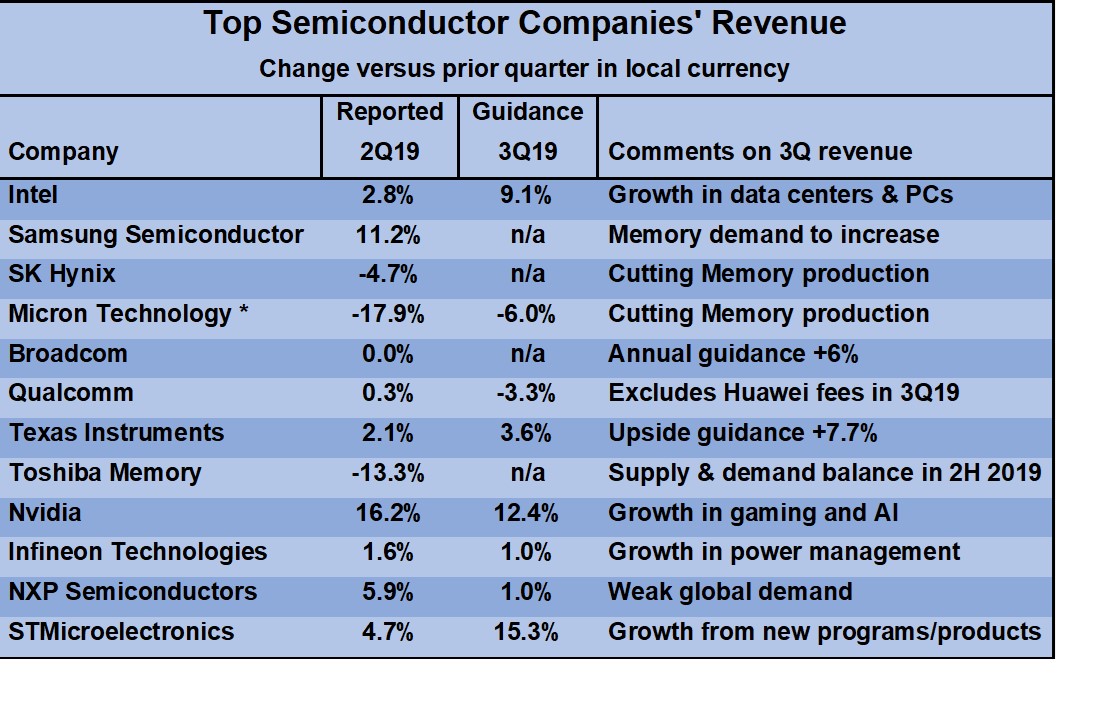 Recent semiconductor market forecasts call for 2019 to be decline about 13% to 15%. We at Semiconductor Intelligence are sticking with our June forecast of a 15% decrease. Forecasts for 2020 are in a relatively narrow range, from 4.8% by WSTS to 8% by Semiconductor Intelligence. For 2021, IHS Markit projects accelerating growth to 10% from 6% in 020. Our Semiconductor Intelligence forecast is for slightly slower growth in 2021 of 7% compared to 8% in 2020.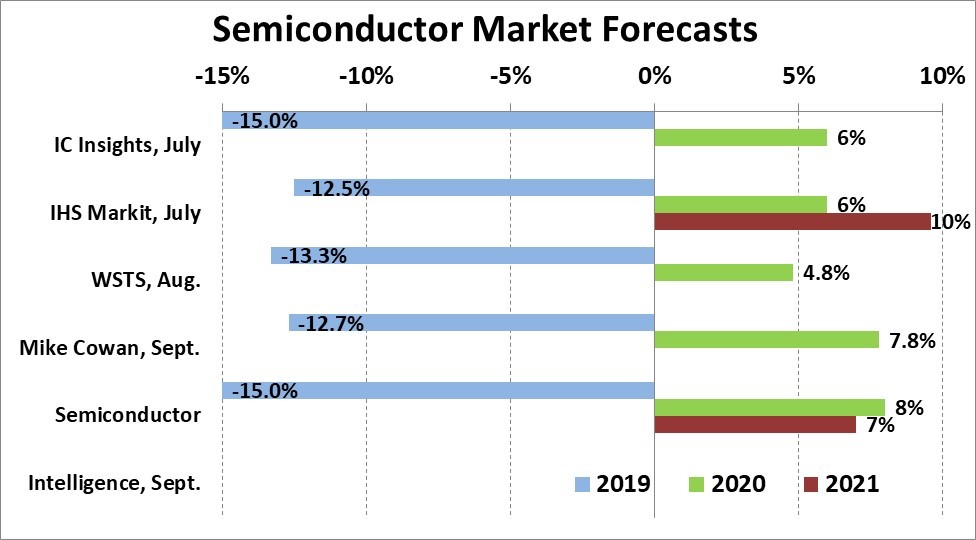 What are the drivers of the semiconductor forecast? One key is gross domestic product (GDP) which measures overall economic activity. The September forecast from Euromonitor shows a slowing of World GDP growth from 3.7% in 2018 to 3.1% in 2019. GDP growth picks up slightly to 3.3% in 2020 and 2021. The advanced economies (including the U.S., Euro area, UK, Canada and Japan) decelerate from 2.2% growth in 2018 to 1.7% in 2019 and 1.5% in 2020 and 2021. Two major factors behind the 2019 slowdown are the trade dispute between the U.S. and China and uncertainty over the UK's exit from the European Union (Brexit). Growth is stronger in the emerging economies (including China, India, Russia, Southeast Asia and Latin America) at 4.3% in 2019, picking up to 4.6% in 2020 and 2021. Slowing growth in China is offset by accelerating growth in India, Southeast Asia and Latin America.

The two largest applications for semiconductors are smartphones and PCs/tablets. IDC projects smartphone units will decline 2.2% in 2019 after falling 3.4% in 2018. Growth should turn positive in 2020 and 2021 as 5G smartphones enter the market. Gartner expects the combination of PC and tablet units to decline 1.5% in 2019 after a 2.5% decline in 2018. The rate of decline will slow to 1.4% in 2020 and 0.6% in 2021.
Against this backdrop, the semiconductor market is unlikely to show strong growth in the next few years. Our Semiconductor Intelligence forecast of 8% semiconductor market growth in 2020 is largely due to a bounce back from the 15% decline in 2019. We expect growth to moderate to 7% in 2021 due to continued economic uncertainty and lackluster end equipment market growth.
Share this post via: