Semiconductor manufacturing equipment has returned to growth after a falloff in the second half of 2011. Combined data from SEMI (U.S. andEuropean companies) and SEAJ (Japanese companies) show billings peaked at a three-month-average of $3.2 billion in May 2011. Bookings and billings began todrop in June 2011, with billings reaching a low of $2.3 billion in November 2011. Bookings and billings began to turn around in December. Billings recovered to $2.9 billion in April 2012.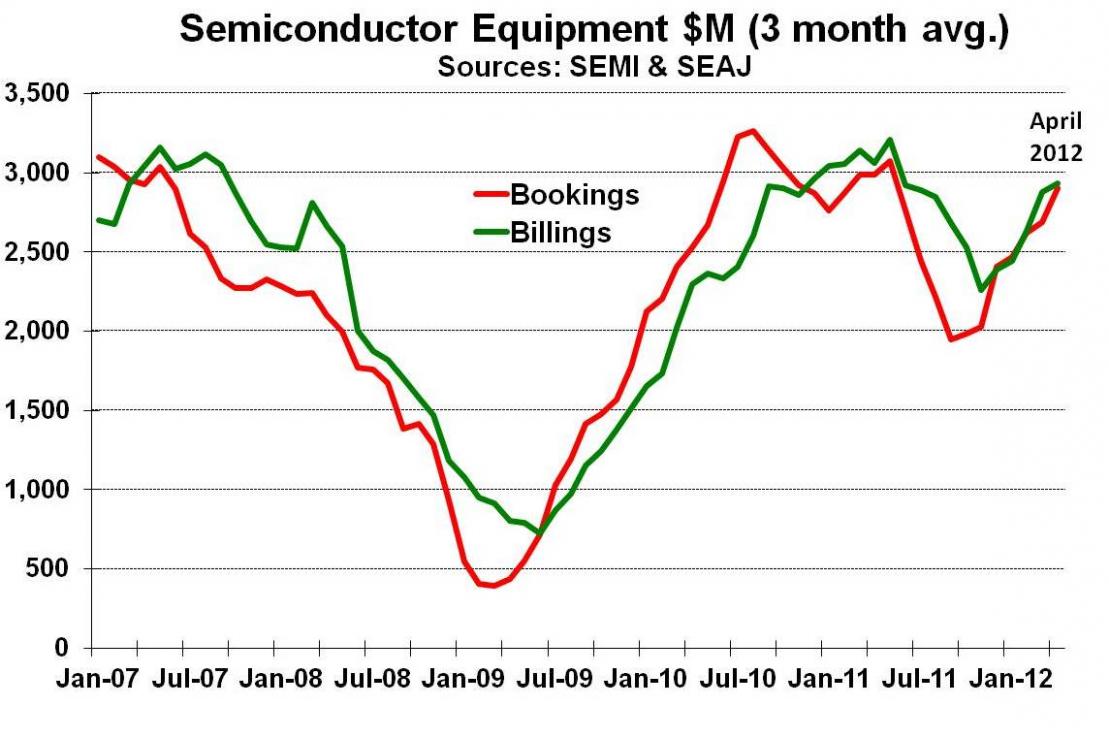 Total semiconductor manufacturing equipment billings were $33.4 billion in 2011. SEMI's May 2012 forecast for wafer fab equipment called for 2% growth in 2012. 2% growth would result in $34.1 billion in billings for 2012, still 2% below 2007 billings of $34.7 billion and well below the record high of over $45 billion in 2000. Thus semiconductor capacity appears to be headed for moderate growth, but nowhere near the overheated growth which could lead to overcapacity.
What is the current capacity utilization in the semiconductor industry? The demise of the Semiconductor Industry Capacity Statistics (SICAS) program makes the answer difficult to determine. The final SICAS data for 4Q 2011 showed MOS IC capacity utilization of 88.9%, down from 91.7% in 3Q 2011. WSTS data showed a 2.3% decline in the semiconductor market in 1Q 2012 from 4Q 2012. Thus MOS IC shipments likely declined by a similar amount. MOS IC capacity growth was probably roughly flat in 1Q 2012 based on the falloff in manufacturing equipment billings in the second half of 2011. We at Semiconductor Intelligence estimate industry MOS IC capacity utilization was86% to 87% in 1Q 2012.
Forecasts for 2012 semiconductor market growth are generally fairly low. Mike Cowan's June forecast was 0.3% growth, similar to WSTS' May forecast of 0.4% growth. Our forecast at Semiconductor Intelligence is for 2% growth. Forecasts made in March and April from major semiconductor analyst firms range from 4% to 6%. Slow growth in the semiconductor market combined with slow growth in the semiconductor manufacturing equipment market should result in no significant movement in capacity utilization. MOS IC utilization should remain in the mid 80% range through 2012.
The two largest semiconductor foundries, TSMC and UMC, provide information on their wafer capacity and shipments. Data over the last year reflects the industry trends above. Both companies saw declines in revenue and shipments in 3Q 2011 and 4Q 2011. Shipments began to pick up in 1Q 2012. Both companies expect strong growth in business in 2Q 2012. TSMC expects 2Q 2012 revenue to increase 20% from 1Q 2012. UMC expects wafer shipment to increase 15%. Capacity growth has slowed significantly from prior quarters. TSMC expects capacity will decline 1.3% in 2Q 2012. UMC forecasts a 0.6% increase in capacity in 2Q 2012 following a 0.9% decline in 1Q 2012.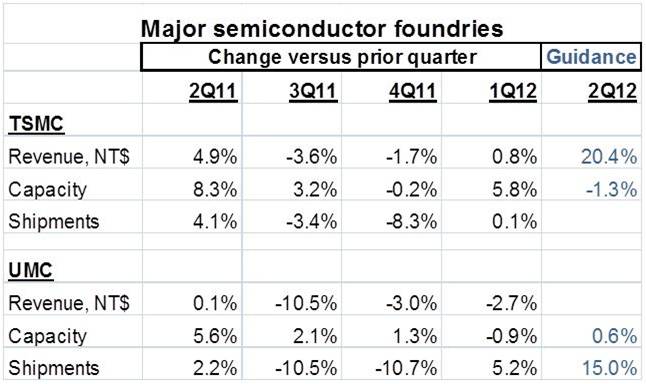 Share this post via: