Application Specific Integrated Circuits were the foundation of the semiconductor industry up until the IDMs came to power in the 1980s and 90s. Computer companies all had their own fabs, I worked in one, until start up companies like SUN Microsystems started using off the shelf chips from Motorola. SUN moved to the fabless model and designed their own SPARC chips but Intel was too powerful, with Windows and Linux they took over the CPU space forthwith.
During this transition quite a few semiconductor companies adopted the ASIC model and designed and manufactured chips for other systems companies. IBM, NEC, Toshiba, come to mind and there were also dedicated ASIC companies like VLSI Technology and LSI Logic who had their own fabs.
The fabless transformation changed all of this of course and now the ASIC market is dominated by fabless companies. The ASIC business today is split into two categories: There are pure-play fabless ASIC companies (GUC, Faraday, Alchip, Sondrel, Verisilicon, Alphawave, SemiFive, eInfochips, etc…) and Chip companies that also do ASICs (Broadcom, Marvell, MediaTek). Broadcom has the former Avago ASIC business and Marvell acquired eSilicon and the Globalfoundries/IBM ASIC business. MediaTek grew their ASIC ambitions organically.
Why is the ASIC business surging you ask? The same reason EDA, IP and TSMC are surging. Systems companies from all walks of life are now doing their own ASICs. It really has come full circle.
Alchip recently released numbers that are quite telling with four consecutive years of record setting performance. Alchip, founded in 2003, is headquartered in Taipei but has roots in the US and Japan.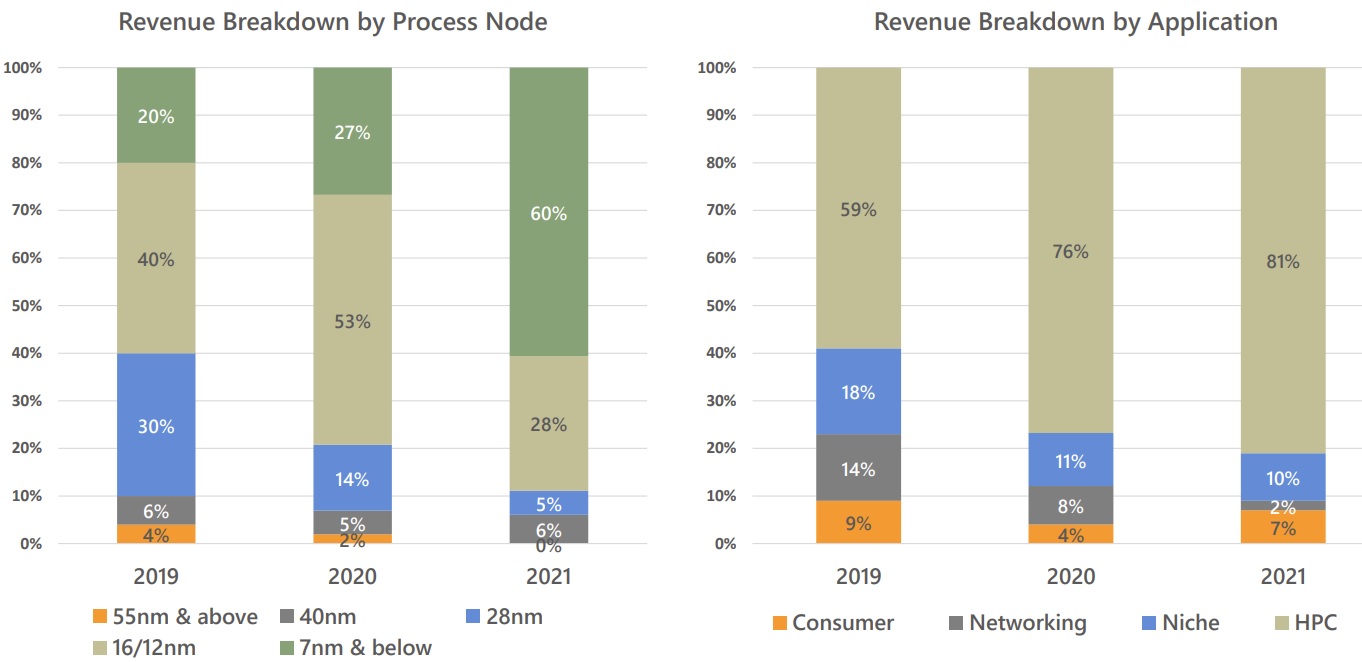 One of the more telling pieces of data from Alchip is that the majority of their revenue (88%) came from FinFET designs from 16nm down to 5nm, some with complex packaging (CoWos and MCM).
Alchip President and CEO Johnny Shen expects strong demand in 2022 to come from AI, HPC, and IoT. He also pointed out that a select number of large production-quantity leading edge AI devices entered mass production in 2021, accounting for the company's record performance.
Also in 2021, Alchip, a TSMC-certified Value Chain Aggregator, taped-out a significant number of 16nm, 12nm and 7nm designs. Several of the 7nm designs involved advanced packaging technology. A number of the 5nm designs will tape out in 2022 and a 3nm test chip is under development, with expected tape out in late 2022.
Bottom line: The ASIC business is the semiconductor world's oldest profession, much of which is done undercover. The chip supply constraints of the roaring 20s have done more for ASIC's than anyone could have imagined and will continue to do so, absolutely.
About Alchip
Alchip Technologies Ltd, headquartered in Taipei, Taiwan, is a leading global provider of silicon design and production services for system companies developing complex and high-volume ASICs and SoCs.   The company was founded by semiconductor veterans from Silicon Valley and Japan in 2003 and provides faster time-to-market and cost-effective solutions for SoC design at mainstream and advanced, including 7nm processes. Customers include global leaders in AI, HPC/supercomputer, mobile phones, entertainment device, networking equipment and other electronic product categories. Alchip is listed on the Taiwan Stock Exchange (TWSE: 3661) and the Luxembourg stock exchange and a TSMC-certified Value Chain Aggregator.
Also read:
Alchip Reveals How to Extend Moore's Law at TSMC OIP Ecosystem Forum
Alchip is Painting a Bright Future for the ASIC Market
Maximizing ASIC Performance through Post-GDSII Backend Services
Share this post via: