TSMC announced their Q2 financial results yesterday. Revenue was $5.2B (at the high end of guidance) with net income of $1.6B. This is up 17.4% on Q1 and up 21.6% year-to-year. Gross margin is up too, at 49% which is up 3.2 points on Q1 and 0.3 points year-to-year. As usual the financial results are not directly that interesting since I don't much care whether TSMC is a buy next quarter. What is more interesting is trying to read the tea-leaves for the big strategic picture on a multi-year timescale.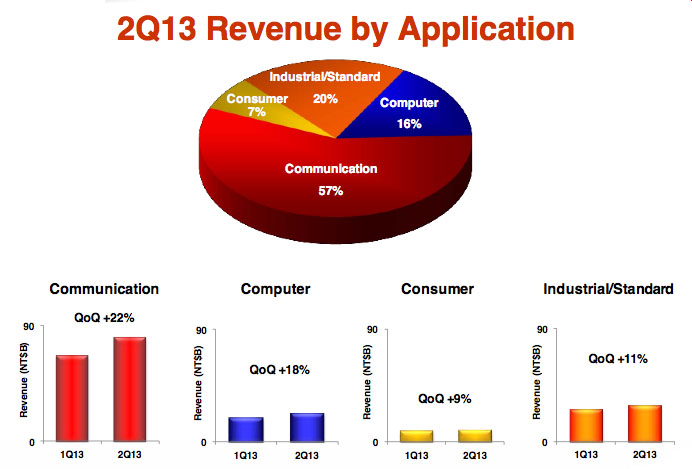 Their business breaks down 57% in communication, 16% in computer, 20% in industrial and 7% in consumer. Pretty much all the grown since last quarter is in the communication area, which isn't really a big surprise, up 22% on the biggest numbers, although other areas are all up in the 10-20% too but from smaller bases.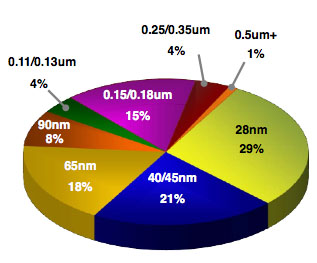 It is interesting to see the shift taking place between process generations. 29% is 28nm, 21% is 40/45nm, 16% is 65nm and everything else is older. Suprisingly, 15% is in 0.15/0.18um (I'm guessing mostly analog and other specialist stuff since there is almost nothing in 0.13um or 90nm).
ARM also announced their results yesterday, and these are significant for TSMC for one reason. If ARM starts to lose share to Intel in mobile (or Intel starts to lose share to ARM in servers) this will impact TSMC negatively (or positively for the servers). Simon Segars, in his first quarterly presentation since becoming CEO, was very bullish on both areas. Perhaps the most interesting little factoid from the ARM presentation is that royalties are up 24% year-on-year, which is much bigger than the growth in overall semiconductor (2%). And perhaps even more interesting is that a large number of cores that ARM has licensed are not yet shipping (and so not yet producing royalties). For instance, the Cortex-M (which is a microcontroller) has 180 licensees but only 50 are yet shipping. Not all of these ARM-based chips will be manufactured by TSMC., of course, but certainly TSMC will get their unfair share as the biggest foundry. That's an attractive pipeline. ARM-based servers are now starting to ship, and AMD (admittedly a biased observer) is predicting double-digit market share by 2016/17 which is huge if it turns out to be true. And while AMD themselves do a fair bit with GF, other server licensees work with TSMC. And those are big chips (mostly 64 bit) which will need a lot of wafers.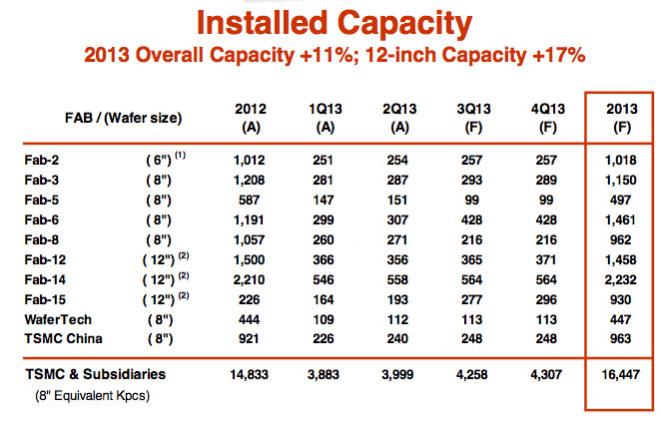 What is TSMC's total capacity? Their forecast for the end of the year is for 16.5M 8″ equivalent wafers per year. Fab 14 alone is 2.2M 12″ wafers (5M 8″ equivalents). That's a lot of silicon, up 11% from last year with 12″ capacity up 17% (new fabs are all 12″ of course). Their capex spending remains on-track for $9.5B to $10B for this year (of which 55% has already been spent in the first half).
When Morris Chang spoke he was bullish too. For overall semiconductor they are cutting their forecast from 4% to 3%. But for fabless they predict 9% growth. And for the foundry industry (not just TSMC) they are raising the forecast to 11% from 10%. And for TSMC bigger than that.
As for 28nm:"Our 28-nanometers is on track to triple in wafer sales this year and our 28-nanometer high-K metal gate is ramping fast, and will exceed the Oxynitride solution starting this quarter. For the Oxynitride solution in which we do have competitors, we believe that we have a substantial lead in yield. For the high-K metal gate solution, we do not have any serious competitors yet. We believe we have a substantial lead in performance. If you recall, ours is a gate-last version and our competitors are mainly in the gate-first version."
20nm: Risk production has started and volume production starts Q1 2014. Doesn't see any real competition.
14nm: Volume production starts a year after 20nm in early 2015.
Morris again:"On the 16, if we put it on a foundry to foundry or foundry to IDM basis, we are competitive. If you put it on a grand alliance to IDM basis, we are more than competitive."
(BTW the transcript for this part keeps saying IBM but that makes no sense and it must really mean IDM, integrated device manufacturer. Or, to be precise, Intel. What Morris is saying is that they will be competitive with Intel at 14nm).
Presentation is here. Transcript of call is here. Transcript of ARM's call is here.

Share this post via: