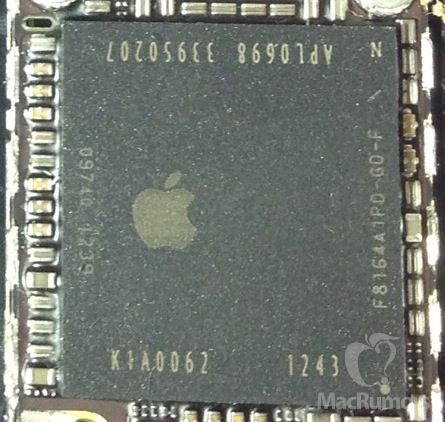 As a semiconductor professional and an Apple customer I'm very interested to see what is inside the iPhone5s. Rumors are spreading, photos are leaking, creating a nice build up to the next release of the mobile device that changed the world.
Honestly, last year I was a bit disappointed with the iPhone5. Inside is the A6 SoC which uses the Samsung 32nm process technology, even though Samsung announced a fully qualified 28nm process in June of 2011 (Can Samsung Deliver?). As a result, rumors swirled that Apple would switch to TSMC 28nm, rumors which I found to be false (TSMC Apple Rumors Debunked). So no, sad to say the iPhone5s will not have a TSMC 28nm SoC. My guess is that it will be Samsung 28nm which is said to be in production now.
Unless the iPhone5s has some cool new features like finger print scan and NFC for quick coffee house purchases, I will probably wait for the TSMC 20nm powered iPhone6 next year.
The other rumor that came out of Taiwan this week from DigiTimes is that Apple signed an agreement with TSMC for 20nm, 16nm, and 10nm. I'm in Taiwan now and can tell you that NOBODY here takes DigiTimes seriously. Same thing goes for Seeking Alpha, DeepChip, SemiAccurate, and other click hungry rumor websites. TSMC has beefed up security in the recent months so I seriously doubt that type of information leaked out here. Apple is also VERY secretive so I think it is just one of those tabloid journalism attempts to catch your eye.
From my discussions at the 50th Design Automation Conference, the top fabless companies are still looking closely at the different FinFET processes, waiting for the final PDKs (Process Design Kits) to be delivered later this year. Given the capacity issues at 28nm (since only TSMC yielded), I fully expect the fabless industry to keep second and even third source FinFET options open. As for who wins the node with the most first source contracts? It will be a tight race between TSMC, GLOBALFOUNDRIES, and Samsung with wafer price being the critical factor. My bet of course is on TSMC since they have the required capacity for mobile and trust is always part of the wafer purchase equation.
From what I know today, all three foundries will be ready for FinFET tape-outs in Q4 of this year. Here is my personal score card for the top fabless semiconductor companies on where they will manufacture FinFET Devices next year:
[LIST=1]
Apple @ TSMC and Samsung
Qualcomm @ TSMC, GLOBALFOUNDRIES, Samsung
Nvidia @ TSMC and Samsung
Xilinx @ TSMC
Altera @ Intel
Broadcom @ TSMC and GLOBALFOUNDRIES
NXP @ TSMC
Freescale @ TSMC
Mediatek @ TSMC and GLOBALFOUNDRIES
Marvell @ Samsung

This of course is subject to change when the 1.0 production version of the PDKs (Process Design Kits) are released. TSMC could sweep the entire node like they did at 28nm and 20nm. But for someone to say that any of these companies has signed a foundry deal for 10nm is just silly. 10nm negotiations have just started and will absolutely hinge on who delivers 16nm as promised and at what price. All of this is just my opinion of course but let common sense prevail!

lang: en_US

Share this post via: