As a fitting postscript to my "Brief History of the Fabless Semiconductor Industry", semiconductor research company IC Insights compiled a list of the top semiconductor companies for the first half of 2012. As the traditional IDMs go fabless and sink in the ratings, the foundries post record gains led by TSMC at 22%, GlobalFoundries at 18%, and UMC at 16%, WOW! GlobalFoundries also passed UMC for the #2 spot with $2B in Q1/Q2 2012 revenue versus $1.8B. You go GloFo! TSMC is still the foundry market segment leader with $7.9B.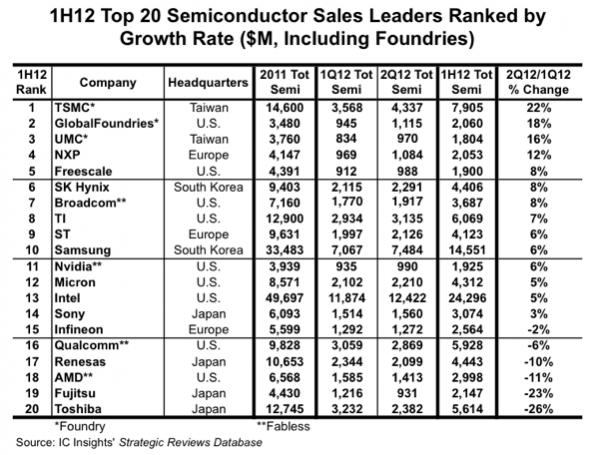 In case you are not familiar with them, IC Insights is a leading semiconductor market research company offering coverage of current business, economic, and technology trends, top supplier rankings, capital spending and wafer capacity trends, the impact of new semiconductor products on the market, and other cool semiconductor industry information. I really like these guys, they are a bloggers best friend.
The biggest losers here are the Japanese IDMs; Toshiba, Fujitsu, and Renases which declined 26%, 23%, and 10% respectively. While Toshiba is riding the memory pricing rollercoaster, Fujitsu and Renases are in transition to the fabless business model moving manufacturing to TSMC. AMD also took an 11% hit which is not surprising as the company is still in "flux". Check the blogs "The Coming Battle for AMD's x86 Hidden Cache" and "AMD 2Q Financials — The Good, The Bad, and The (Pretty) Ugly" for more information on AMD.
U.S. Memory maker Micron moved up one spot with a 5% increase in sales. As Micron digests Japanese memory maker Elpida, expect another spot or two jump with an additional $2-3B in sales. Elpida is the last Japanese DRAM maker so this is an end of an era for the Japanese semiconductor industry. How long before Japan is completely fabless? Certainly within my lifetime (I'm 51).
Qualcomm, the fabless semiconductor wonder, posted a surprising 6% decline. Rather than taking personal responsibility, Qualcomm CEO, Dr. Paul E. Jacobs Ph.D, blames 28nm supply shortages even though Qualcomm is working with multiple foundries and I can tell you that TSMC has fulfilled ALL contractual commitments for 28nm. Either Qualcomm is bad at forecasting demand or this finger pointing is a diversion for deeper problems at Qualcomm. As TSMC clears all 28nm backlog in Q3 let's see where the finger points at the next Qualcomm conference call. You can bet I will blog it because I really hate finger pointing. In stark contrast, the non-finger pointing Broadcom posted an 8% gain. And the mighty Intel posted a disappointing 5% increase based on lackluster Ultrabook sales and no position at all against ARM in the mobile market as of yet.
All-in-all a good financial start for what will be a great year in semiconductors. 28nm is breaking ramping and revenue records, 20nm tape-outs will commence in Q1 2013, the mobile market segment continues its meteoric rise, and the semiconductor ecosystem has never been stronger. So, do you still think that the fabless business model is broken Mr. Mark Bohr of Intel? I'm also not a fan of asinine PR stunts so I will continue to haunt Intel on this one.
Share this post via: