Atrenta presented an update on the TSMC Soft IP Alliance Program at TSMC's theater each day at DAC. Mike Gianfagna, Atrenta VP of Marketing, presented an introduction to SpyGlass, an overview of the program and a progress report. Dan Kochpatcharin, TSMC Deputy Director of IP Portfolio, was also there. Between Mike, Dan, and I there are about 100 years of semiconductor ecosystem experience. If Paul McLellan was there it would be double that.
TSMC and Atrenta announced the Soft IP Alliance Program last year at DAC. The program uses a special set of SpyGlass rules specified by TSMC to validate that soft IP meets an established set of quality goals before it is included in TSMC online. The program leverages Atrenta's SpyGlass platform that is used by about 200 companies worldwide to analyze and optimize their RTL designs before handoff to back-end implementation. SpyGlass checks things like linting rules, power, clock synchronization, testability, timing constraints and routing congestion. It highlights problems and provides guidance to improve the design.
SpyGlass can also be used as an IP validation tool, and this is the foundation of the Soft IP Alliance Program with TSMC and Atrenta. Atrenta developed a set of SpyGlass rules specifically tuned to verify the completeness and integration risks associated with soft, or synthesizable IP. Called the IP Kit, the integrated package also produces concise DashBoard and DataSheet reports that summarize the results of the IP Kit tests. Figure 1 shows an example of a DashBoard Report.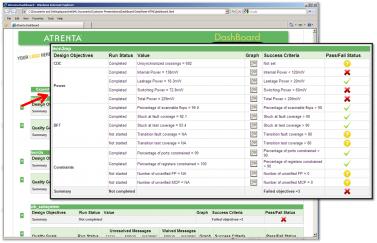 TSMC and Atrenta collaborated on the development of a version of the IP Kit that met TSMC's requirements for delivered quality of soft IP. This technology formed the basis of the Soft IP Alliance Program, and testing of partner IP began last year. Deliverables for the Soft IP Alliance Program include: installation instructions, a reference design to test installation procedures, documentation, automated generation of all reports and a training module. For soft IP to be listed in TSMC Online, the DashBoard report must show a clean (or passing) grade for all tests. Figure 2 illustrates the kind of tests that are performed before IP is listed on TSMC Online.
At DAC this year, a progress report was presented on the results of the program. Ten IP vendors have joined the program, including Arteris, Inc., CEVA, Chips&Media, Inc., Digital Media Professionals Inc. (DMP), Imagination Technologies, Intrinsic-ID, MIPS Technologies, Inc., Sonics, Inc., Tensilica, Inc. and Vivante Corporation. Three additional soft IP vendors have recently joined the program as well.
TSMC and Atrenta are now working on the second generation of the soft IP validation test suite. This version will add physical routing congestion metrics. An update for the program will be presented at the TSMC Open Innovation Platform® Ecosystem Forum in San Jose on October 16, 2012. I hope to see you there!

Share this post via: