There were quite a few announcements at the Samsung Foundry Forum but my favorite was the IP partnership between Samsung and Silvaco. IP is a critical part of the fabless ecosystem and one of the advantages an IDM foundry has over a pure-play is the vast amounts of internal IP that have been silicon proven over the years. With Samsung being a leader in consumer electronics AND semiconductor manufacturing one could only imagine the types of IP that have passed through their fabs. Well imagine no more: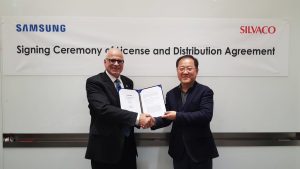 Samsung Foundry Begins Partnership with Silvaco to Launch their Semiconductor IP Assets
Targeted to consumer, mobile, IoT, automotive and AI/ML/HPC applications, the suite of design IPs includes wired and high-speed interfaces, analog and mixed-signal blocks and advanced security hard/soft cores.
Wired and High-speed interfaces include: 
PCIe
DDR/LPDDR
MIPI PHY
Ethernet
HDMI
USB3.1 / DisplayPort
V-by-One
IP targeted to consumer applications include: 
Audio Codecs
Video Frontends
WiFi
High-performance and low-power analog IP include: 
PLLs
Integer
Fractional-N SSC
Low jitter
Data Converters
ADC
DAC
System Components
I have always said that EDA and IP go together like peanut butter and jelly. Silvaco has a very clever and highly scalable IP licensing model that came with the IP Extreme acquisition. Rather than compete head-to-head with the IP behemoths, which I highly discourage, Silvaco has changed the rules of IP engagement. The new Samsung relationship for example, where Silvaco will commercialize, market, distribute, customize, and support Samsung Foundry IP across multiple technology nodes. The Silvaco IP business model is highly collaborative with some of the top semiconductor companies around the world. The Samsung announcement is THE most disruptive IP announcement thus far this year and I expect more to come from Silvaco IP in the coming months, absolutely.
Stars of IP party on Tuesday night at Topgolf. 
ClioSoft SOS7 is now integrated into Silvaco Analog Custom Design flow. 
Silicon Creations is using our ACD flow at 5nm.
We have new solution for IO characterization that 5X to 10X faster than existing solutions with no accuracy loss using our Viola + Jivaro tools.
PR to come regarding donation of the Silvaco 15nm Open Cell Library (a generic open-source, standard-cell library provided for the purposes of researching, testing, and exploring EDA flows) to SI2.
Here is our web-page that describes the Samsung IP: https://www.silvaco.com/products/IP/samsung_foundry_ip.html
Here is the Samsung press release:  https://www.silvaco.com/news/pressreleases/2019_05_13_01.html
DAC Theme: 
From Atoms to Systems: smart software solutions before and after manufacturing make all the difference. Stop by the Silvaco booth to learn more about our latest innovations: 
In partnership with Samsung Foundry, Silvaco now brings a suite of proven hard and soft IP to SoC engineers world-wide which include wired and high-speed interfaces, analog and mixed-signal blocks and advanced security functions.
New Viola™ I/O Pad Characterization solution saves days of simulation time.
Silvaco's Analog Custom Design tool suite integrates ClioSoft's SOS7 design management and multi-site team collaboration software for designers who use Silvaco's Gateway™ schematic editor and Expert™ hierarchical IC layout editor to develop analog and mixed-signal designs for process nodes down to 7nm. This integration meets the demand by worldwide designs teams to create ICs and collaborate without risking productivity or data security.
We are showing the following products at DAC:
SIPware™ design IP for IoT, Mobile and Automotive ICs applications with hundreds of production-proven cores, including I3C, CAN-FD, and AMBA-based subsystems, plus the addition of new hard and soft IP from Samsung Foundry
Xena© for enterprise and cloud IP management with fingerprinting features for IP compliance
Gateway™, Expert™, Guardian™ for schematic driven physical layout with scripting and native DRC/LVS for designer productivity
Jivaro™, Belledonne™ for optimization and analysis of extracted netlists and dramatic acceleration of SPICE simulation while maintaining accuracy
VarMan™ for high sigma analysis of analog blocks, standard cells libraries, memories with accelerated SPICE simulation, failure detection and accurate yield estimation
SmartSpice™, SmartSpice Pro™ for fast circuit simulation of advanced nanometer-nodes
TechModeler™ for creating highly accurate behavioral Verilog-A compact simulation models of novel devices, from a small number of input samples
Cello™, Viola™ for accelerated standard cell library creation and characterization of advanced FinFET nodes as well as mature technologies
Victory™ for 2D and 3D TCAD process and device simulation of nanometer CMOS, power devices, automotive applications and atomistic simulation of nano-meter scale devices such as quantum dots
About Silvaco, Inc.
Silvaco Inc. is a leading EDA tools and semiconductor IP provider used for process and device development for advanced semiconductors, power IC, display and memory design. For over 30 years, Silvaco has enabled its customers to develop next generation semiconductor products in the shortest time with reduced cost. We are a technology company outpacing the EDA industry by delivering innovative smart silicon solutions to meet the world's ever-growing demand for mobile intelligent computing. The company is headquartered in Santa Clara, California and has a global presence with offices located in North America, Europe, Japan and Asia.