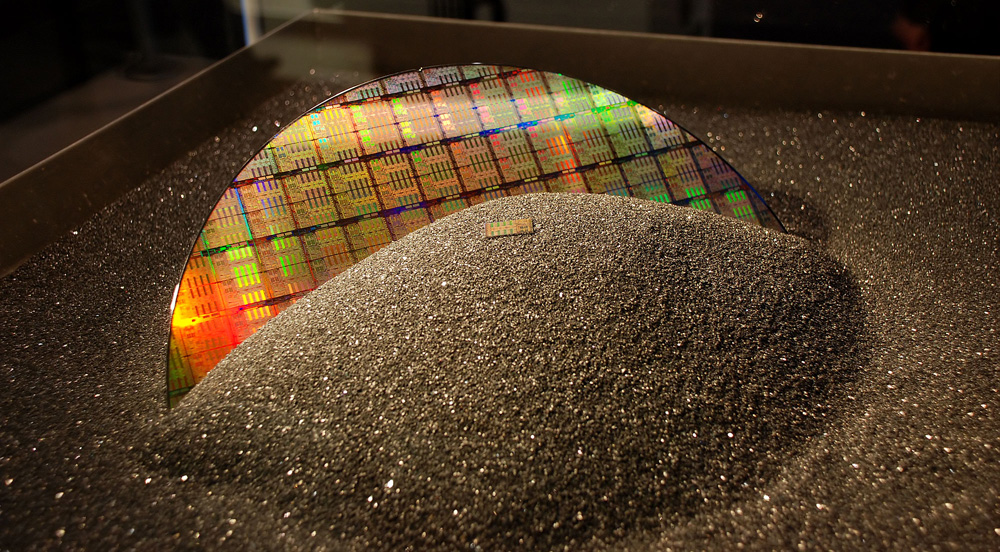 Pinpointing exactly when 450mm died is tricky. Intel's pullback in 2014 has been cited as a pivotal moment because it was the main backer of the proposed transition, as it had been for the shift to 150mm (6-inch) wafers in the early 1980s.
However, the participation of global foundry leader TSMC was also seen as crucial if 450mm wafers were to become reality, as was support from Samsung Electronics and the semiconductor equipment sector, the latter having shouldered the financial burden of the 300mm transition.
Two years after Intel's pullback in 2014, TSMC quietly wound down its participation in the Global 450 Consortium, founded at SUNY Polytechnic Institute in New York in 2011.
The reported reasons for Intel's decision were low utilization rates and an empty fab 42 shell, but why did TSMC turn cold on 450mm?
The answer to that question – or at least one interpretation of it – can be found in a newly published oral history interview with Shang-Yi Chiang, TSMC's vice president of R&D at the time.
Earlier this year, Chiang sat for an interview as part of the Computer History Museum's oral history program. The transcript of the interview is now available as public record.
"It seemed a foregone conclusion that [TSMC] would go along with the next size… which was aggressively being pushed by Intel," Chiang is quoted saying in the transcript. "Intel tried very hard to get TSMC and Samsung to join forces. Intel already started spending a couple billion dollars in preparing for 450-millimeter wafers," he said.
After TSMC's founder and CEO Morris Chang presented a roadmap for 450mm at an investor conference, "all of a sudden… the industry became very hot for 450mm wafers," according to Chiang.
However, that's when the TSMC R&D chief revealed his reservations about the commitment.
"One day in 2013, I think around March… I went to Morris Chang's office. I said, 'I don't think we should promote these 450mm wafers. In the past, our competitors [were] UMC, SMIC, and those guys are much smaller than we are. [If] we promote 450mm, we take advantage of them. But right now, we only have two competitors, Intel and Samsung. Both are bigger than we are."
Chiang argued that 450mm would tie up too many of TSMC's R&D staff, reducing its ability to pursue technology advancements in other areas. However, Intel – with a bigger R&D budget – would be less affected. Therefore, the main reason for going to larger wafers was so "a big guy can squeeze the small guy out", Chiang said.
Subsequently, Morris Chang called more than 10 internal meetings to discuss the matter, but he also dispatched Chiang to consult with equipment vendors, including Applied Materials, Lam Research and KLA.
In the end, the TSMC founder decided not to support the transition to 450mm. However, the problem was how to communicate that decision without sounding "negative".
"If you just say directly that TSMC will not do that, it is a negative image because you are not looking at the future," according to Chiang's interview transcript. Instead, it was decided that the decision would be framed as a shift in priorities. Instead of 450mm, TSMC would focus on "advanced technology".
Chiang also recounted how he conveyed the decision to Intel's technology and manufacturing chief Bill Holt. It was at a private meeting at SEMICON West 2013, hosted by ASML and attended by two representatives from Samsung Electronics as well as two each from Intel and TSMC.
Holt opened the meeting by saying he believed the industry should be aggressive in moving to 450mm, and that all the players should share the costs, according to Chiang's recollection.
Samsung's representatives did not say anything. When Chiang's turn came, he gave Holt the bad news, but the Intel manufacturing chief did not take it well.
"He was very upset and walked away," according to Chiang's recollection.
Holt, who began his Intel career in DRAM development in 1974, retired from Intel in June 2016.
Chiang, a US citizen whose most recent assignment was with TSMC's mainland Chinese rival SMIC, retired from the industry last year and now resides in Silicon Valley.
Also read:
Future Semiconductor Technology Innovations
3D Device Technology Development
Three Key Takeaways from the 2022 TSMC Technical Symposium!
Share this post via: