In recent times semiconductor companies have revealed their intentions to license their in-house processor architectures for the first time – IBM want to license their Power CPU architecture, nVidia to license their GPU architecture. Most recently, a rumor has surfed: Qualcomm will license their DSP architecture. We should notice that this rumor has absolutely not been confirmed or commented by the company, and the reason is simple: we don't think that Qualcomm has any interest to license their DSP, on the short term like on the long term. We're going to look at the challenges and requirements faced by a semiconductor company who wants to enter the DSP IP licensing market place and compete with established DSP IP licensors such as CEVA and Tensilica.
The DSP market is a fragmented and diverse one that requires a broad set of solutions, with flexibility and scalability being essential. It is not a market where a "once size fits all" DSP approach meets the broad set of market requirements for different end markets. Essentially, to license DSP, a company needs to offer a portfolio of application-specific DSPs, each tailored and maintained to most efficiently address the end market that it is designed for. The DSP IP vendors in the market today including CEVA offer customized, application-specific platforms consisting of hardware and software offerings for the unique needs of applications such as LTE/baseband, WiFi/connectivity, imaging and vision, voice and audio.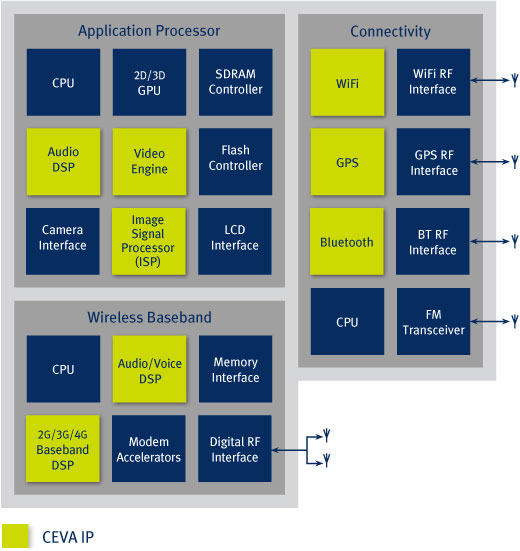 Qualcomm's products, like Snapdragon processors, are performing extremely well, tailored for a specific market, application processor for mobile application. For example, LTE and vision applications require a unique vector instruction set architecture, and must enable special data flow and processing offloading. In the audio/voice domain, the low power requirements of always-on use cases cannot be met with a VLIW / multi-threading processor such as Qualcomm's QDSP or Mediatek's Blackfin DSP; it requires a much lower power and smaller footprint DSP. Why would Qualcomm address other market segment to sell a DSP IP, and develop hardware and software offering, specifically tailored for these segments?
As important today for a company looking to license a DSP is the availability of value added software, delivered in source code format allowing licensees modification rights. Would a semiconductor leader like Qualcomm be willing to deliver its proprietary software and algorithms to a potential licensee of their QDSP architecture? After all, without this software, customers will hesitate to license just the hardware from a company they may see as a competitor. Will any semiconductor vendor or OEM feel comfortable to license a DSP from a competitor? Moreover, what could be the benefit for Qualcomm to licensee its proprietary software to a direct competitor, when the company spend a lot of money, through acquisition (AMD's mobile graphic unit for $65 million in 2009) or internal development (ARM Architecture compatible CPU), just to make sure their product differentiate?
Developing a software ecosystem is another challenge wireless semiconductors will face if and when they license their DSP. DSP IP licensor CEVA has invested thousands of man years into developing its ecosystem, and now has a massive developer community around its DSPs. This has been a key reason why the CEVA DSPs have shipped in more than 4 billion handsets, smartphones and other types of computing, communications, video, imaging, gaming, entertainment and automotive products. Speaking about a well-known CPU IP vendor, ARM, the company has invested on the long term to develop an ecosystem around their CPU IP and more than 1000's companies are now part of this ecosystem. Any company willing developing a CPU or DSP IP core can do it, providing the right engineering resources are available. Would the company try to address the market as an IP vendor, they can be successful on some niche market, but they will fail on the mainstream market! Why? This new IP vendor can't rely on a strong ecosystem.
So to sum up, most customers looking to license processors for CPU, GPU or DSP functionality in their SoC designs are not looking for just a blueprint of processor architecture. They are looking for a solution to address their design requirements, from tools through to system integration capabilities and even the software that runs on the processor. Semiconductor companies and OEMs looking to licensing a DSP are looking for a combination of a special purpose DSP architecture combined with value added software and a robust ecosystem that can meet the power, performance and area needs of their targeted applications.
Why successful semiconductors like Qualcomm, strongly investing to build differentiation, would step into the Processor IP licensing realm, offering to their direct competitors some of the nuggets (DSP or GPU IP cores) being integrated into their most successful products? We can guess that Snapdragon processor product line generates several billion dollar revenue each year, does anybody can think that Qualcomm will put at risk such a large amount of their revenue, to generate a few dozen million dollar (at best, if DSP IP sales are really successful)…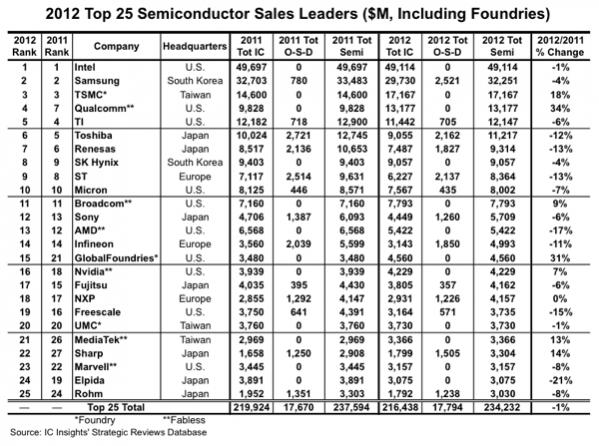 I have found a document, scanning the web, written by Qualcomm. Here is an extract:
"Qualcomm's Hexagon DSP SDK enables developers and manufacturers to create compelling user experiences by improving audio, imaging, computer vision and video performance on devices powered by Snapdragon processors. "
This document is probably the source of the rumor, but I think if you read with attention, you will notice that the important wording is: "…devices powered by Snapdragon processors." My opinion is that Qualcomm want to sell IC like Snapdragon, not DSP IP core, and that licensing DSP (or GPU) would be a strategic nonsense. As far as I know, Qualcomm strategy has allowed the company to build a $12 billion IC business from scratch, in less than 20 years. There wasn't any room for nonsense in this strategy, why would the company start now?
Eric Esteve from IPNEST

More Articles by Eric Esteve …..
lang: en_US

Share this post via: