When Intel entered the server market in the 1990s with their Pentium Processor and follow on Xeons beginning in 1998, they focused on the simple enterprise applications. At the same time they laid the groundwork for what will turn out to be a multi-decade, long war to wrest control from all mainframes and workstations. The announcements this past week by Calxeda with the first 32-bit ARM server chip and by ARM with their new 64-bit server architecture known as the "v8 Core" we see a similar strategy unfolding. We should not be surprised at ARMs aggressive push into server but we should also recognize that the battle between ARM and Intel will also occur over decades with many new interesting twists and alliances.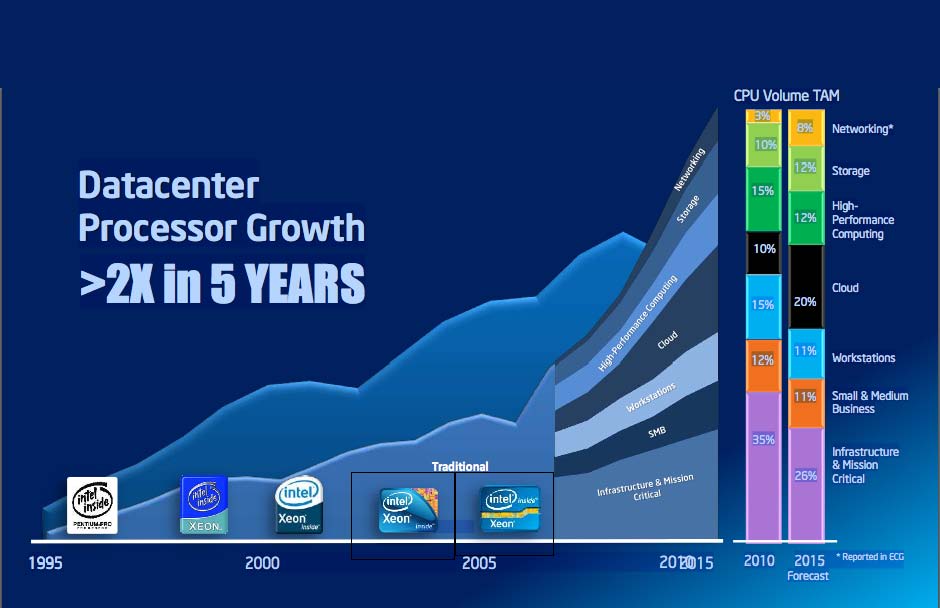 For the past year, Kirk Skaugen the General Manager of Intel's Datacenter and Connected Systems Group has shown the slide to the left to describe not only the growth of the Server Market but how it is divided into many sub segments. The overriding message is that Intel is going after it all, but the more important point is that the market fragmentation will cause suppliers to customize their processors for the particular markets. The interesting takeaways from the Calxeda (pronounced Cal-Zeda) introduction that can be found here is not the fact that it is reported to be 90% lower power than Intel Xeon's or said another way 10X the performance at the same power, it is that they are driving a complete new vector which takes into account packing density.
How many complete servers with networking and SATA storage interfaces can you cram into a 1U server (think pizza box size). The Calxeda chip integrates 4 ARM Cores with a DDR3 memory controller, 6 Gigabit Ethernet connections and 4 10G XAUI interfaces, SATA ports to interface up to 5 drives and 4 PCIe2.0 controllers. Think of it as a complete Server on Chip (another use of the acronym SOC). By tuning this chip to under 5 watts it allows dense packing without all the large, spacious cooling solutions, required with Intel Xeons running at up to 110 Watts. So what are the prospects for Calxeda? Although it is only a 32 bit chip, the Calxeda solution, assuming it undercuts an Intel Atom with its I/O chipset could play in the entry level office, small business server market handling rudimentary functions. It will also get a play in the data center dishing out web pages that don't handle critical transactions. The datacenter companies have two large operating cost items: the power bill and the equipment cost. Google, Facebook, Amazon and the rest of the big server buyers can't afford not to look at the Calxeda solution and to play around with it. HP recognized this and that is why they are establishing what they call the "HP Discovery Lab" in Houston for customers to test out their applications on the new server built with Calxeda parts. Assume that Google and the rest of teams of engineers tuning their code for ARM.
One other aspect of the Calxeda business model that is interesting. The tradition with many Xeon based servers is to buy the biggest processor and then load it with VMWare for the purpose of dividing many workloads on one processor since individual workloads rarely utilize even a fraction of a single processor. Calxeda's model is to say instead that the user should get rid of the VMWare and run a single application per processor core. So now we have two economic models fighting it out. I am sure both are suitable for various market segments. But now VMWare will align closer with Intel. Now that we have seen what Calxeda has developed, what should we expect from nVidia, AMCC, and Intel. AMCC announced they have an ARM v8 running on FPGAs. This is fine, but too early to tell what direction they are headed. It is likely that nVidia has something in the labs that they will announce when they have silicon to sample. nVidia has the advantage of selling into the High Performance Computing (HPC) market today and would like to leverage that further into the datacenter. For Intel, there clearly is a need to rethink their architectures in ways that are dramatically different. For the dense server market they will need to imitate Calxeda in the integration of I/O (SATA and Ethernet).
Secondly, they are probably thinking and designing along the path of more heterogeneous processor cores (for example dropping the x86 floating point unit in some cases – as Calxeda has done in its server chip). And finally, they no doubt will demonstrate at 22nm that large L3 caches make a huge difference in performance benchmarks, even for simple applications. Why do I say this? Intel's ultimate strength is in process technology and the fact that they are the world's greatest designers of SRAM caches. They go hand-in-hand as the SRAM cache is the pipe cleaner for the new process technology. The Calxeda parts have a nice L2 cache but no L3 cache. Intel is brute forcing large L3 caches into Xeon based on the justification that any workload that remains on the processor die and avoids going off chip to DRAM is a power saving solution. As Intel builds Xeons with larger caches it simultaneously sell customers on the value proposition that the high ASP Xeons (as high as $4200 per part) save much more than that on their power bills. Today the highest end Xeon has 30MB of cache, in 12 months this could be 60MB on 22nm. Intel will argue many applications running on the Calxeda chip must go off to DRAM whereas with Intel they stay on the processor. This is where the PR performance/watt battle is likely to be fought with benchmarks over the next year. If Calxeda and the other ARM server processors gain traction, look for Intel to offer a "Celeron" server processor strategy that drags Calxeda into a scorched earth price war in a very narrow niche.
Meanwhile, the Intel high-end juggernaut will continue to steam ahead with more cores and bigger L3 caches. No one today can say how this will play out. Competition is good and there is a sense that more alternatives will lead to better economics. The good news is that the battle is joined and we get to live in interesting times.
Note: You must be logged in to read/write comments
Share this post via: