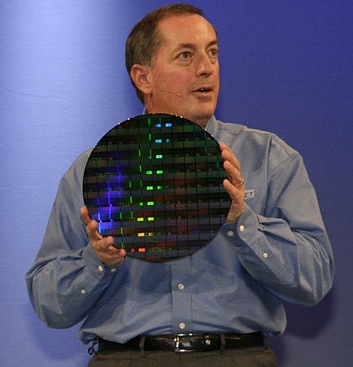 It is hard not to be impressed by Intel's stunning financial performance since the 2008 downturn. They are on track to post revenue of $55B this year or 50% higher than 2008 while nVidia and AMD will be flat to less than 10% better. More significantly, earnings will be 3X that of 2008. More significantly, in the past 12 months they have funded a $10.5B CapEx budget, bought back $10B in stock and distributed roughly $4B in dividends. As for the stock: it is right around where it was September 1, 2008.
ARM continues to get the glory in the processor world at the expense of all other semiconductor vendors. Their P/E levitates at 69, a place that Intel occupied in the summer of 2000. I worked at Intel in the early 1990s and competed against them off and on with Cyrix and Transmeta until 2002. They are not only a tough competitor; they always have a backup plan that relies on another crank of the process technology to get them out of jams. Moore's Law is devastating to upstarts and Intel is about to turn the crank one more time with 22nm. I listened to the earnings conference call 3 times with Paul Otellini and Company. It is amazing how matter of fact confident they are with their current execution and with what is coming down the pike.
Here are the facts that I found to be counter to the current thinking on Wall St. First, client computing is up 20%+ year-to-year. Data Center is up only 15%, but a new processor, Romley, looks to kick in soon. ASPs in the client space are flat and this is huge. It means that the integrated graphics is allowing Intel to hold up ASPs while at the same time minimizing the revenue of competitors (i.e. AMD and nVidia).
With regards to the coming Windows 8 O/S release, Otellini clearly communicated the strategy as it rolls out in consumer and enterprise. For consumer, Intel is willing to drop CPU+Graphics and Chipset down to $30 vs. $20 for AMD, a price premium the market is currently willing to pay. It is hard to see how ARM processors would get more than AMD's price. Furthermore, Intel is funding the ultrabook effort that I am sure will result in some exclusivity over the next year or so.
As panels and other components drop in price, Intel will grow its percentage of the system BOM, something that today is occurring big time in the notebook market. In addition, from the sounds of the call, I am guessing Intel will ramp their NAND joint venture with Micron and begin to build SSDs, which implement a proprietary bus between the x86 mobile processor and the ultrabook fitted drives. Some ultrabook vendors are looking at a combo SSD and HDD to try to win customers over Apple MAC Air due to greater capacity. The SSD would contain the Windows O/S in order to provide faster O/S and Office boot and run time performance. As I read it, Intel says Ultrabooks are $899 this year, $699 next Q4 and with a 22nm Celeron in 2013 they drop into the $500s.
In the enterprise market, Intel said that corporations are only 50% of the way through their WinXP to Windows 7 upgrades cycle and it looks like there is another 18 months to go with this. In essence, Otellini is saying Intel's client business has clear sailing through 2012 and into 2013. Although Windows 8 comes out in 2012, the SP1 (Service Pack 1) will not be available until sometime in 1H 2013. Historically, corporations hold off on PC upgrade cycles until SP1 is released. By then Intel's complete line of 22nm Ivy Bridge processors will be deployed. Look for Intel to leverage the McAfee DeepSafe Security technology to keep corporations on board with Intel x86.
Finally, Otellini got around to addressing the competitive threat of ARM in a way that I thought should have been handled at a much earlier time frame (say 24 months ago). The assumption across the broad analyst community was that ARMs low power was inherently a function of architecture. My experience at Transmeta was eye opening in that when you dig down into the details of power and performance, you find that every workload has an optimum processor architecture. ARM has come from the bottom up and seeks to implement a Clayton Christensen version of Innovators Dilemma. If they were to have access to Intel's Process Technology at the same time as Intel, then their momentum and the desire of customers to be free of Intel could be overwhelming. As Otellini stated, the competition with ARM comes down to Physics and not architecture. When you have equal workloads, then the winning processor is the one that gets the work done with the best transistors. Intel wins on transistors.
Otellini has crafted an internal business model that is becoming more leveraged on the value of process technology and the lead Intel enjoys over TSMC and other Foundries. As a baseline it appears that Intel will continue to serve the client market with x86 processors (including chipsets) with 50%+ gross margins. For enterprise it is 60%+ and for Xeon based servers it is 80%+. The alternative business model that is waiting in the wings is the Leading Edge Foundry model that Apple is best primed to take advantage of. If Apple utilizes 22nm at Intel while they are simultaneously at 28nm with TSMC, then Apple will pay Intel a 60%+ gross margin for the benefit of a 50% die size and power reduction.
There is one more alternative path to the above model that is even more attractive to Intel and Apple. Apple agrees to prepay Intel for a fab expansion outside the US in return for parts with lower ASPs. The reason it is outside the US is because that is where Apple has most of its $81B in cash to avoid US taxes on repatriation. Imagine the competitiveness of an Intel 22nm fab partially funded by Apple based in Israel vs. a TSMC 28nm Fab based in Taiwan.
Full Disclosure: I own Intel and Apple Stock
Share this post via: