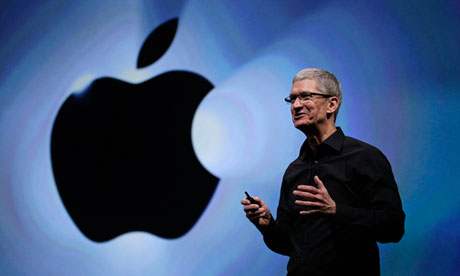 Apple's stock is down 10% after they announced "disappointing" results. They are only disappointing in the sense that some analysts expected even bigger profits. At $13.08 billion it is the largest quarterly profit for any corporation that is not in the oil business ever. According to wikipedia, even the oil companies only ever managed 3 quarters where they made a bigger profit.
Samsung announced its preliminary results too. Their profits were up 89% to $8.3B. Sales of the Galaxy S III reached 30 million units five months after it was introduced in May…nice, but Apple sold 48M iPhones (unfortunately analysts expected 50M) since iPhone5's introduction in September, so in 3½ months. That's twice the rate.
In fact Apple makes so much money on iPhone that its profits on iPhone alone are greater than Samsung's profits overall. And Samsung are (by revenue) the largest electronics manufacturer in the world. Oh and they have a semiconductor division that must be doing pretty well since they make so many components for…Apple.
Perhaps the most amazing Apple number is that its operating expenses were just $3.2B last year. They took $3.2B and used it to make $40B in profit. Their gross margins are around 40% on everything they sell. They have fewer than 100,000 employees and half of those are in the Apple stores, the most profitable retail per square foot ever seen (more than Tiffany's for example).
Of course Apple does face a problem. It is so large and so profitable that it is hard to keep growing profits fast, which is why the stock is down. Revenues were up by 18% last quarter compared to 2011. But Apple made over $40B in profit last year. To grow by 18% again means finding another $7.2B in profit. Apple's net margins are roughly 25% so that means adding about $30B more in revenue. That is a lot. Intel's annual revenues are $50B for example. The smartphone market and the tablet markets are for sure not saturated, but the steepest part of the growth curve may be over, especially at the premium end. In fact one of the worries that analysts have is that the iPad mini is cannibalizing sales of the iPad not-mini and, of course, delivers less profit per unit. If Apple, as predicted, releases an iPhone nano it will have the same problem. It will probably be a wild success but, at a lower price point, deliver less profit per unit.
All the numbers are not in yet for the entire mobile market, but it may well be the case that, once again, Apple and Samsung between them made more profit than the entire market, as has been the case for the last few quarters. All the other players aggregated together lost money. Not all of them, probably Lenovo, Sony and Huawei will be profitable at least. Even Nokia made money in its last quarter (if you lay off 20,000 employees you can get by with a lot less revenue). Google's Motorola is still losing money though, and many of the other companies do not have enough volume to be able to make money.
Of course Apple may well find another entire product line. With Apple making over half its money on iPhone it is hard to remember that it is less than a decade since it was introduced (June 2007). The long-rumored Apple TV may turn out to be big…or not…or non-existent.
One of the unremarked stories, too, is the switch from WinTel to Mac. Go to any Starbucks and look around. Everyone has a Mac. No-one has a PC. The PC is still king inside corporations but outside, not so much. Go to any web company. Macs everywhere. Graphics, music…all Macs.

Share this post via: