The recent announcement from Arteris that iC-Logic chose FlexNoC and C2C to create a flexible and high speed communication chip to respond to the increasing demand of high speed connectivity in car infotainment systems is very interesting, as it shows that SoC designed for the Automotive market segment also require advanced IP functions which are widely used in the most advanced SoC, like application processor for smartphone or multimedia controller for Set-Top-Box. These chips from IC-Logic are supporting the infotainment segment in automotive, not the motor control, and will be used in the passenger cell, nevertheless, it's significant to see complexes functions like NoC being used in the automotive segment, usually closer to the military or aeronautic segments than to the consumer electronic or wireless handset!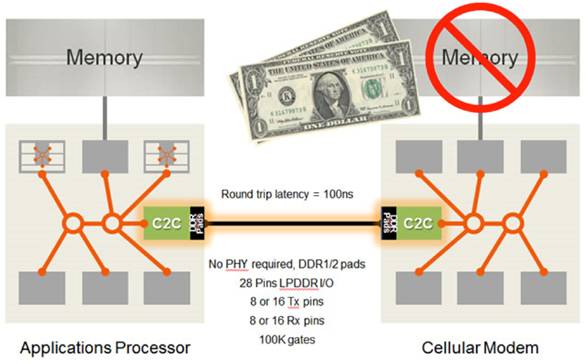 Let's listen to the reasons why IC-Logic has selected Arteris FlexNoc and inter chip communication C2C IP: "iC-Logic licensed Arteris FlexNoC and C2C because we needed fast design cycle time and full compatibility with other SoCs. FlexNoC's ease of use and integrated simulation and verification features helped us to optimize our SoC integration and development time," said Martin Damrau, Managing Director at iC-Logic. "And our choice of the C2C chip to chip interconnect IP ensures our compatibility with application processors using C2C. Thanks to the collaboration with Arteris, iC-Logic added C2C integration expertise to our skill set enabling us to quickly design SoCs with this sophisticated interface."
Just a remark: C2C is a technology initially developped by Texas Instruments… like OMAP is the flagship SoC family from TI, initially developed to support smartphone and media tablet applications.
If we look at first at C2C, and remember –or take a look at- the blog from Kurt Shulerabout the various high speed interface protocols currently used in the wireless handset (and smartphone) IP ecosystem, and cross this information with the above comment made by Martin Damrau, we realize that IC-Logic integrates C2C to ensure their chip compatibility with application processors using C2C. I have no insight information, but I would bet that this application processor could be OMAP platform from TI! If you replace the "cellular modem" chip by the chip designed by IC-Logic, that means that the system integrator could get the same benefit in automotive infotainment than in smartphone: share the same memory device between the application processor and the SoC designed by IC-Logic, and consequently save the cost of one memory devices.
Even if the production volumes in automotive are not the same than in wireless handset, these volumes are in the million units range, per year, and longevity is a lot longer: five to ten years to be compared with a dozen months. Using C2C can help to save several million of dollar during the product life. And, from a pure technical standpoint, C2C is a low latency (100 ns for a round trip), high bandwidth chip to chip connection link, allowing supporting gigabit per second range for data exchange based on standard parallel I/Os (LPDDR1 or 2) so you don't need integrating (and acquiring the license of) SerDes based high speed PHY like MIPI M-PHY if you would use USB SSIC or MIPI LLI.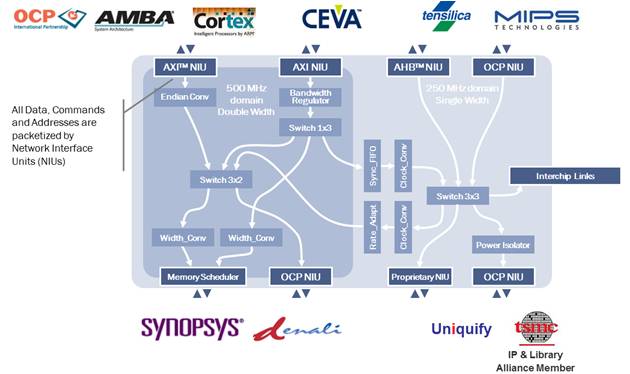 Using a chip to chip connection link to exchange data and benefiting from Bill Of Material (BOM) cost reduction makes sense, whichever the market segment your chip is serving. But I remember, back in 2006, not that long ago, that NoC was considered as a rocket science type of function, reserved for the most complexes SoC. In other words, only a few people understood how it worked! Seeing NoC being used in market segment like automotive, where the chip architect have to carefully select the function to be implemented, simply because the time to market is a lot longer than in consumer like segment, as well is the production period (five to ten years is common), is a strong sign about the democratization of the NoC. Which is very good for Arteris, and for existing Arteris' customers, as this means that the technology is here to stay!
According with the Press Release from Arteris, iC-Logic chose FlexNoC and C2C to create a flexible and high speed communication chip to respond to the increasing demand of high speed connectivity in car infotainment systems. iC-Logic's use of FlexNoC and C2C has helped reduce design schedules and increased the potential market for users of their SoC. "iC-Logic's use of Arteris FlexNoC and C2C interconnect IP for its high speed communication SoC is an innovative way to reduce SoC time to market and grow the market size for application processor SoCs," said K. Charles Janac, President and CEO of Arteris.
Eric Esteve from IPNEST
Share this post via: