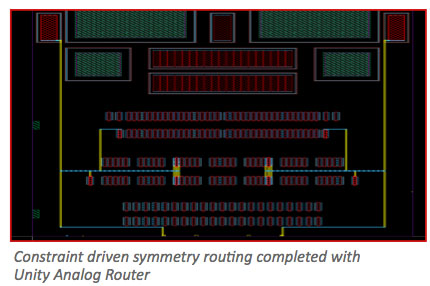 Automation for digital design has been mainstream for a couple of decades but place and route for analog is still in its infancy. Many attempts have been made over the years to automate analog design in one way and another, the bodies are piled up on the hillside. Much analog design is still largely done with custom layout and circuit simulation. Analog design will probably never be automated in the same way as digital design, partially because analog designers have expertise that needs to get incorporated into the design, and partially because analog designs are often small enough that it is reasonably to partially hand-craft it, which is obviously not the case with a block of few million standard cells. But analog designs are getting larger and the process restrictions more complex meaning that a purely manual approach doesn't scale.
Last year at DAC Pulsic announced the Pulsic Planning Solution. After planning comes implementation so this year at DAC Pulsic is announcing the Pulsic Implementation Solution providing designers with easy-to-use, guided flows to automatically implement precise, hand-crafted quality design layouts.
The products that make up the Pulsic implementation solution are the Unity Analog Router, the Unity Custom Digital Router and the Unity Custom Digital Placer. Pulsic's customers have been running into the bottlenecks of analog and custom digital design. Throwing more engineers at the problem is not a solution, and using regular digital place and route isn't able to handle the delicate issues in custom digital and analog design that require shielding, matching two halves of the design and so forth.
The constraint drive shape-based routing technology, based on over 200 man-years of experience in analog routing has led to a flow focused on the specific needs of analog designers to create precision routes at hand-crafted quality. The weakness of many analog solutions is that creating the constraints to drive the tools is an enormous task that doesn't really scale any better than handcrafting the design. But proprietary geometry recognition algorithms mean that minimal set up and tool knowledge is required. There is full support for features such as mirrors, symmetry, common centroid and current density limits. The designer retains full control and can use the router interactively or automatically.
Under the hood, there is a tightly integrated suite of shape-based routing technologies. The router encompasses hundreds of specialized utilities that work together simply on the same shape-based data model to give custom digital design teams precise, handcrafted quality results with automated speed. It has been engineered to work with the latest complex process rules (28nm and below) and makes efficient use of available area, even for areas with extreme aspect ratios or high congestion.
More details are here.
Share this post via: