Just in time for TSMC's technology symposium (tomorrow) ARM have announced a whole portfolio of new Processor Optimization Packs (POPs) for TSMC 40nm and 28nm. For most people, me included, my first question was 'What is a POP?'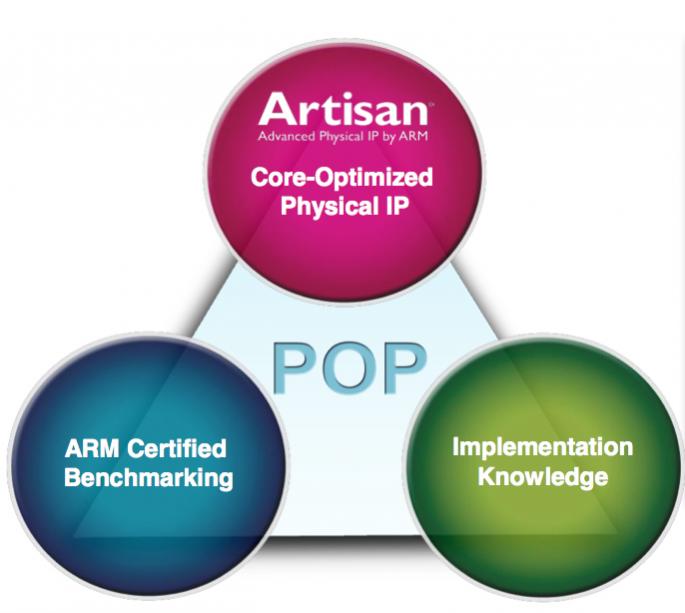 A POP is three things:
physical IP
certified benchmarking
implementation knowledge
Basically, ARM takes their microprocessors, which are soft cores, and implements them. Since so many of their customers use TSMC as a foundry, the various TSMC processes are obviously among the most important. They examine the critical paths and the cache memories and design special standard cells and other elements to optimally match the processor to the process. They don't do this just once, they pick a few sensible implementation choices (highest performance 4 core for networking, medium performance dual core for smartphones, lowest power single core for low end devices). A single POP contains all the components necessary for all these different power/performance/area points. Further, although we all casually say things like 'TSMC 40nm' in fact TSMC has two or three processes at each node to hit different performance/power points, so they have to do all of this several times.
Then they provide the performance benchmarks that they managed to achieve, along with all the detailed implementation instructions as to how they did it. These are EDA tool chain independent since customers have different methodologies. But the combination of IP and documentation should allow anyone to reproduce their results or get equivalent results with their own implementations after any changes that they have made for their own purposes and to differentiate themselves from their competitors.
Companies using the POPs get noticeably better results than simply using the regular libraries and doing without the specially optimized IP.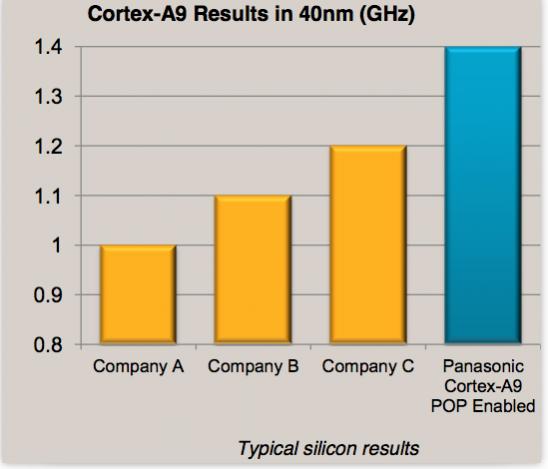 About 50% of licensees of the processors for which POPs have been available seem to have licensed them, currently there are 28 companies using them. Here's a complete list of the POPs (click to enlarge):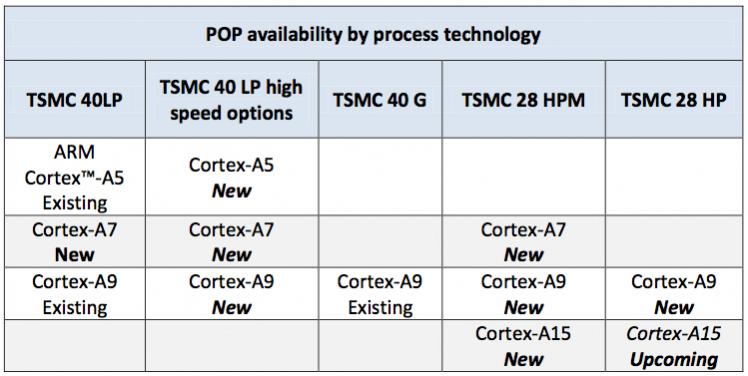 Of course ARM has new microprocessors in development (for example, the 64 bit ones already announced) and they are also working closely with foundries at 20nm and 14nm (including FinFETs). So expect that when future microprocessors pop out that a POP will pop out too.

About TSMC
TSMC created the semiconductor Dedicated IC Foundry business model when it was founded in 1987. TSMC served about 470 customers and manufactured more than 8,900 products for various applications covering a variety of computer, communications and consumer electronics market segments. Total capacity of the manufacturing facilities managed by TSMC, including subsidiaries and joint ventures, reached above 9 million 12-inch equivalent wafers in 2015. TSMC operates three advanced 12-inch wafer GIGAFAB™ facilities (fab 12, 14 and 15), four eight-inch wafer fabs (fab 3, 5, 6, and 8), one six-inch wafer fab (fab 2) and two backend fabs (advanced backend fab 1 and 2). TSMC also manages two eight-inch fabs at wholly owned subsidiaries: WaferTech in the United States and TSMC China Company Limited, In addition, TSMC obtains 8-inch wafer capacity from other companies in which the Company has an equity interest.
TSMC's 2015 total sales revenue reached a new high at US$26.61 billion. TSMC is headquartered in the Hsinchu Science Park, Taiwan, and has account management and engineering service offices in China, Europe, India, Japan, North America, and, South Korea.

Share this post via: