I just read three very interesting blogs from Arteris. In the first "The Semiconductor Industry Needs an IP Switzerland", Kurt Shuler, VP of Marketing for Arteris, enjoys about the fact that four big IP players (ARM, Synopsys, Imagination and Cadence) are emerging after years of fragmentation within the semiconductor IP industry. You can see the Top 10 IP vendor by license revenue in 2012 (from Gartner):
For chip makers, this new landscape is certainly better, or at least more comfortable: if the pure one-stop-shop (a single vendor selling IP) is perceived as a high threat, as this unique company could be bought by anybody, including a competitor chip maker (imagine what's happen if Samsung buy ARM Ltd only!), on the other hand, having to negotiate price, license contract, technical support etc. with as many vendor as the number of integrated IP… is also a nightmare, at least extremely time and resource consuming. Kurt position Arteris as "an IP island, enabling semiconductor vendors to choose "the best IP for the job," helping SoC design teams assemble and verify their chips at an increasingly fast pace".
The nature of the product developed and marketed by Arteris, "Network-on-Chip" or NoC, makes this assertion 100% (if not 110%) TRUE. The NoC is by nature at the intersection of all the functions, IP and self-designed blocks, within a chip. Read more about "IP-Switzerland" blog.

The second article is a synthesis of the discussions that Kurt had with no less than 13 analysts. Kurt summarizes these discussions by extracting three main points:
#1: Chips manufactured on the latest process nodes will cost more
#2: Never assume what you call your product or technology is what other people call it!
#3: The IP industry is growing up
The first point is true and means that our industry will have to re-invent itself, at least if we expect to benefit from continuous innovation and creativity that only high competition can bring, and not an ultimate consolidation, where only a couple of chip makers will survive…
The third point is not only true in 2012, but we can expect IP market to grow for another decade, in my opinion.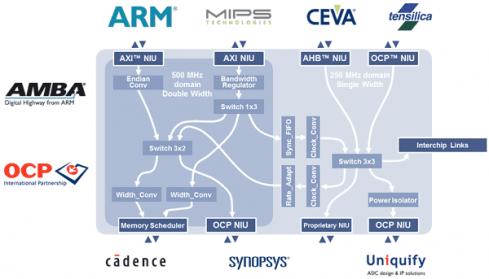 Kurt wrap-up the discussion he had with the 13 analysts (this is the second point), it seems that they disagree on the way to call Arteris flagship product. In Semiwiki, we have always called it "Network-on-Chip", and I would like to explain why. In a blog about Arteris and Sonics, I have posted a comment, back in December last year:
Posted on 12 -03 2012
Just an addendum, I have made a Google search for "On Chip Communication Network" (or OCCN, acronym used by Sonics to name their SGN IP) and "Network On Chip" (NoC, used by Arteris to name FlexNoC IP). The result is impressive!
– "On Chip Communication Network" gives 220 000 entries
when
– "Network On Chip" gives 6 620 000 entries
Even Google is voting for Arteris…
I have checked again today:
Verified on 04 -30 2013
"SoC fabric" gives

13 800

entries
"IP fabric" gives

37 800

entries
"interconnect ip" gives

22 800

entries
New search for

"network on chip"

:

3 650 000 entries

And for: "On Chip Communication Network" gives

126 000

entries
My conclusion would be that Arteris should keep using "Network on Chip", sometimes it's better to listen to your feeling than analysts…especially when it gives better results!
Finally the last article that Kurt has recently posted is an interview from Laurent Moll, CTO at Arteris: System-Level Design sat down with Laurent Moll, chief technology officer at Arteris, to talk about interoperability, complexity and integration issues.
Such an interview is almost impossible to summarize is a few words, as it's very complete and address from the nature of Network-on-Chip, to IP selection to IP commercialization… But this article is certainly a must read! For some of us, tomorrow is a bank holiday, so you should have time to read it…
From Eric Esteve
Share this post via: