Accuracy, ease of use and performance have always been paramount for electromagnetic analysis software. Historically, it has been hard to find all three of these qualities in one tool. The result is that many high speed analog and RF designers resort to using multiple, often overlapping, tools to get the job done.
Lorentz Solution set out years ago to solve this problem. Their success to date shows that this is working. ThePeakView electromagnetic design platform is used by the largest FPGA, RF and foundry companies. PeakView has a finely tuned field solver, flexible passive device synthesis and automatically generates physics based RCLK models for time domain analysis.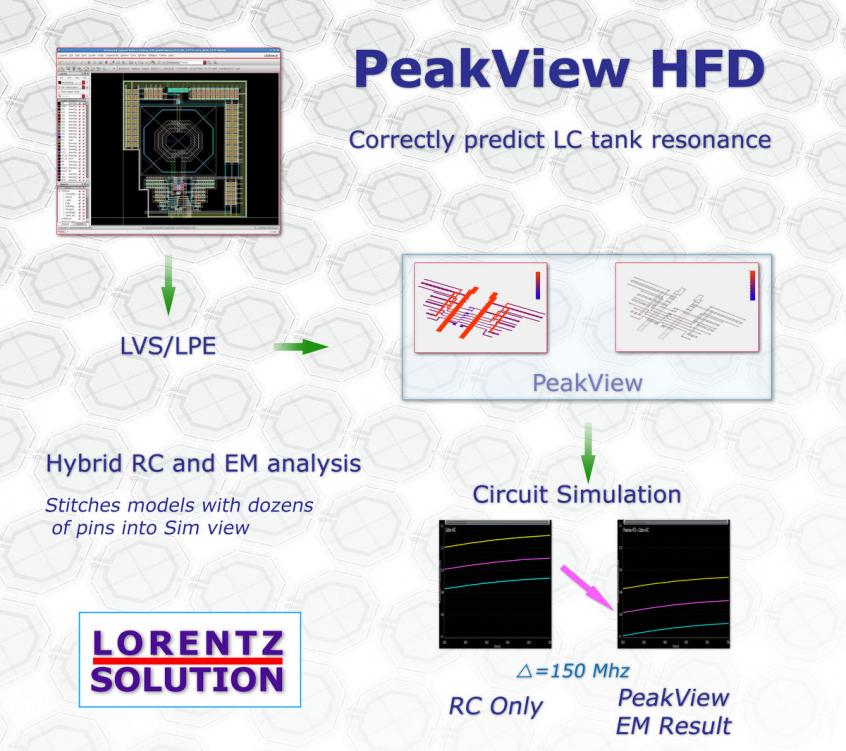 With higher frequency designs and more advanced process nodes, the challenge has moved on to a new frontier – multiple device electromagnetics. Designers increasingly care about coupling between passive devices or interconnect, and also the effects of shielding and DFM structures like metal fills. The best example of this trend is the elevated need to model critical interconnect for inductance – not just R and C anymore. Circuit designers are learning that extraction tools are not accurate enough for the job.
Lorentz has implemented a set of new technologies that make it easy and efficient to look at coupling among devices and interconnect while considering DFM structures too. The 3.1.1 release of PeakView brings these features together.
Hierarchical EM (HEM) gives designers the flexibility to rapidly model large and complicated EM structures. A powerful direct solver handles each 'partition' then the coupling between partitions is factored in, producing a single EM model. Customers are using this to model caps, inductors, transmission lines and interconnect together all in one run. It is ideal for ensuring that mutual inductance is not going to interfere with circuit operation.
Incremental EM adds the ability to change and move devices around for coupling analysis and get fast results. It works by only re-simulating has what changed in the design. After the first run, all changes in subsequent design iterations will run at lightening speed – giving the designer true EM results for all devices and device coupling.
High Frequency Designer takes circuit analysis beyond simple RC extraction and adds true EM field solver capability to the LVS->LPE->Simulation flow. High port count critical interconnect is electromagnetically analyzed and back-annotated into an updated simulation view in the designer's library.
Physics Based Interconnect Modeling ensures that designers have RLCK subcircuits suitable for SPICE simulators running time domain analysis. The problem with field solvers is that that they only output s-parameters. Lorentz had previously solved this problem for devices, but now boasts the ability to give physics based RLCK models for arbitrary interconnect.
This new suite of capabilities, running in a millimeter-wave silicon tested solver, means that designers can easily and confidently build circuits where verification includes factoring in electromagnetic effects at the circuit level, something that has never been done so easily before. Moving well integrated EM analysis and design to an earlier point in the flow means fewer iterations, more productivity and increased first time silicon success.
By Tom Simon
Director of sales and Business Development
Lorentz Solution, Inc.

Share this post via: