Design Data Management (DDM) is a bit like insurance. It's something every semiconductor company has to have, and as a result it's probably something taken for granted. In order to make their products more useful, the DDM vendors have added more functionality to manage more of the lifecycle of design data.
Dassault's Synchronicity DesignSync is over 15 years of age, so it is a mature product, but it has been continuously enhanced and improved and is the mostly widely used design data management solution in the semiconductor industry.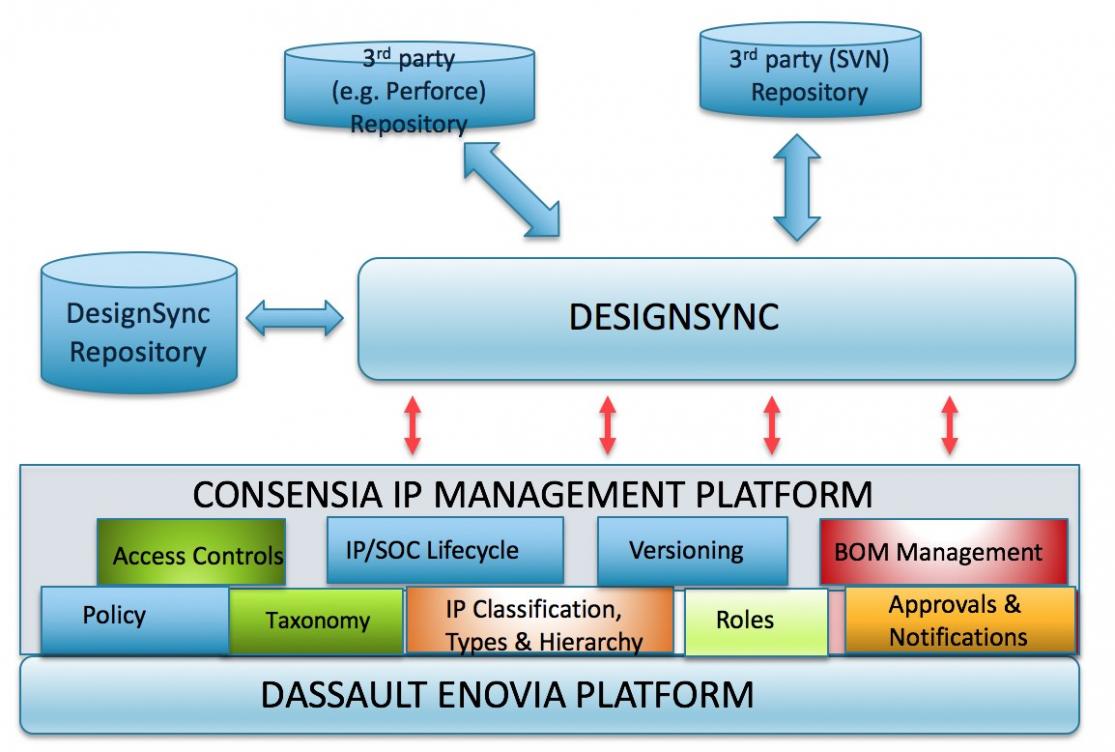 Consensia, a channel partner of Dassault, is holding a DesignSync webinar to explain how DesignSync is now part of a platform based approach that Dassault takes to managing the lifecycle of all design data, including internally developed and external IP management.
WEBINAR REGISTRATION
Thu, May 18, 2017 8:30 AM – 9:30 AM PDT
In the webinar, Consensia will explain the differences between file based and changed based DDM, something that they have offered since 2007. They are also going to discuss why the change based approach, or DesignSync Modules along with caching methods, and new administration tools, make it easier to set up new projects, replicate user workspaces with less data, tag an entire manifest once (instead of tagging hundreds or thousands of individual files) and reduce storage needed to support design teams.
As well as undertaking version control, DesignSync manages the release process for design teams developing and releasing an SOC or Bill of IP comprised of multiple data types from different sources – including other DDM repositories.
Consensia's view is that DDM solutions have to interoperate across the enterprise to be of greater value to its customers. With all of the recent M&A and consolidation in the semi industry, even some of the 'smaller' semi companies have design teams comprised of groups using different flows, and oftentimes, different DDM systems.
For example, an SOC may be comprised of digital content created by designers using a Synopsys flow with SVN for version control, and an analog team using Cadence with DesignSync for version control. There may also be a third team using Perforce for version control. The process of pulling all of the design data (including internal and 3[SUP]rd[/SUP] party IP) together from different sources to release the design is likely to be a manual process that can take days or even weeks to complete.
Consensia will show how DesignSync hierarchical references, or HREFs to address this problem. The manifest for a DesignSync module version stores a list of individual file versions along with the associated directory structure, and if a hierarchy is included, references to sub-modules, known as HREFs. HREFs are processed when design data is fetched into a workspace. If a module version that contains an HREF is fetched, the HREF is resolved and the reference module versions are fetched as well.
This process enables DesignSync to pull in design data from other DDM repositories, and generate a release with a complete genealogy of the design making it possible to resurrect the design, as it existed at a previous point in time.
WEBINAR REGISTRATION
Thu, May 18, 2017 8:30 AM – 9:30 AM PDT
Also Read:
CEO Interview: Sanjay Keswani of Consensia

Behind the 3DEXPERIENCE for silicon
Share this post via: