COVID was certainly a black swan event but semiconductors have seen similar events over the past 50 years, some of which I have experienced personally. The Dot-com bubble comes to mind but there were others. The question is will history repeat itself and the answer, according to Malcolm Penn of Future Horizons, is yes.
Malcolm is a longtime friend, colleague, and one of my trusted few. I used to attend the live version of his Annual Industry Update and Forecast here in Silicon Valley but now it is virtual like everything else semiconductor. Malcolm has also been a guest on our Semiconductor Insiders Podcast: Podcast EP40: The Semiconductor Supply Chain and the Real Cause of Semiconductor Shortages.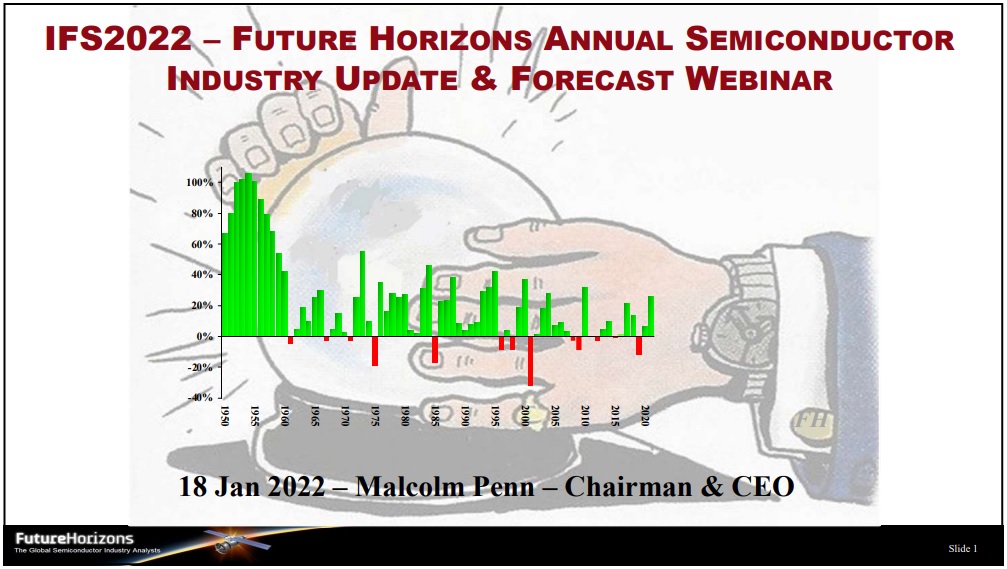 For the 2022 Update Malcolm spent an hour covering 33 slides in great detail including his previous high end prediction of a 24% increase in semiconductor revenue for 2021. It ended up closer to 26% but he was closest (I was at 10-15%). The most important part of the presentation to me was the historical look at the semiconductor industry and his prediction for 2022. Spoiler alert a crash may be coming.
You can get his complete slide deck HERE for 150GPB which is quite the deal if you consider the time invested, absolutely. A highlights reel is at the bottom of this page.
If you look at his opening slide you can see the historical ups and downs including the 2020 Dot-com bubble I mentioned earlier. One of his slides shows the previous up and down turns since 1961 in more detail. While the current bust of 2019 and boom of 2021 doesn't quite measure up to the Dot-com cycle it is still significant. This sets up the Perfect Storm slide #6 in the deck and after a decade of single digit growth you really have to wonder.
Malcolm also mentioned EDA but let's look at that in more detail. EDA is also a single digit growth industry but lately, as you have read on SemiWiki, EDA growth has been booming with double digit growth.
ESDA Reports Double-Digit Q3 2021 YOY Growth and EDA Finally Gets the Respect it Deserves
ESD Alliance Reports Double-Digit Growth – The Hits Just Keep Coming
The reasoning is twofold: First and foremost, systems companies are rushing to do their own chips and this now includes automobile companies. The chip shortage is a big driver but the increasing software burden of the systems companies is a close second. Automated cars now include millions of lines of code and this code can be developed and optimized in parallel with chip design. The smart phone companies figured this out a long time ago when Apple and others started doing their own SoC chips.
Second, venture capital has been pouring into the chip sector at record rates. AI is a big driver for startup chip companies and electronic vehicles is another bubble waiting to pop. Last told there were 300 companies developing AV/EV related products, I mean WOW. Again,  Déjà vu Dot-com bubble.
Malcolm then moves onto key drivers, their impact and roles. The key drivers are the Economy, Unit Demand, Capacity, and ASPs. Malcolm goes into detail but I will make an additional comment on capacity.
We have capacity, that has never been the problem. Utilizing that capacity is another story. For example, in 2019 TSMC saw a -7% downtick in automotive chips and another -7% in 2020. That is why the car companies did not have enough chips, cancelled orders. In 2021 TSMC saw a 51% uptick in automotive and 2022 will probably be the same since inventories are building like never before.
But the chip shortage narrative continues and so does the CAPEX contest between Intel, TSMC, and Samsung. The biggest difference is that TSMC builds capacity based on customer orders with some big pre pays and the IDM foundries do not. TSMC is also building big capacity for Intel which complicates things a bit. The one saving grace is that the equipment companies are going to have a difficult time equipping all of these new fabs with the supply chain issues they are suffering. Especially ASML and EUV. No way will they be able to outfit all of the new leading edge logic and memory fabs that are in the press release phase.
Malcolm continues with his agenda and has us approaching the top of a rollercoaster. He does not show how steep the drop off is but he is convinced it is coming. He has a nice graphic for that one as well. His forecast for 2022 is 4% at the low end and 14% at the high end. I'm a bit more optimistic with a 10-15% industry forecast with TSMC again hitting the 20%+ growth rate.
Malcolm finished with key takeaways and the Q&A. For me it's all about the supply chain which Malcolm covers in detail. When the dust settles and COVID is under control we will see a much stronger supply chain that will not be schooled again, just my opinion of course.
Also read:
The Semiconductor Ecosystem Explained
Are We Headed for a Semiconductor Crash?
Share this post via: