New products always take precedence since EDA is a "mature" market. I have inside knowledge on this one so I can tell you it is not to be missed. Coincidently, but not really, a related white paper was just published so if you are not going to 56thDAC you can still get a virtual briefing. If you are going to DAC be sure and stop by the Fractal booth #561 to get a demo.
New Product: IP Delta QA
Associated white paper Why IP sign-off is not enough
EDA in the Cloud
It has finally happened, EDA is actually in the cloud and the results are incredible. SemiWiki is also in the cloud and as I sit at the Google Cloud Platform control panel I realize that all of the cloud talk in the past barely scratched the surface of what can be done. We are now seeing actual chip design case studies versus marketing hyperbole and DAC is the place for it, absolutely.
There is a dedicated Design-on-Cloud Theater in the Design Infrastructure Alley sponsored by my favorite cloud partner Google. Take a look at the three day schedule, there is plenty to see for all interested parties.
On Tuesday at 10am I will be moderating the Practical Advice From Those Who Have Already Adopted Cloud session. It's organized by Cadence and will include Willy Chen from TSMC and cloud customers. I spent time with Willy and Vivian Chang at Fab 12 last week so we are ready to go.
The other cloud event I will attend is the "Calibre in the cloud: Case study with AMD, TSMC and Microsoft Azure" lunch. This is an off-site luncheon at the Westgate Hotel. Willy Chen of TSMC will be part of this one as well. A press release just went out in case you are interested:
Mentor and AMD verify massive Radeon Instinct Vega20 IC design on AMD EPYC in ~10 hours with ecosystem partners Microsoft Azure and TSMC.
IP is critical for modern semiconductor design and analog IP has always been a challenge. MunEDA has been doing this for the better part of 20 years so they are the ones you want to listen to.
Wally Rhines on Fundamental Shifts in the Electronics Ecosystem
 "The last few years in the semiconductor industry have defied long-term industry trends.  Growth went from 3% average to double digits, M&A was near record lows, while IC venture capital hit a new, all-time high.  What drove this sudden upsurge?  And more importantly, will this dynamic trend continue?"
And don't forget Wally will be signing complementary copies of his book "From Wild West to Modern Life" books at the Mentor booth #334 Monday at 5:00pm and Tuesday at 10:00am. There is a limited supply so get there early.
SemiWiki Fabless book giveaway in the Methodics booth #945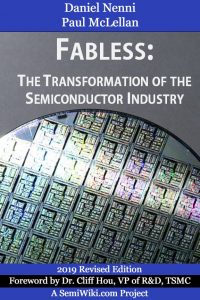 Copies of the 2019 updated version of "Fabless: The Transformation of the Semiconductor Industry" will be available compliments of Methodics. In addition to signing books I will be presenting my version of Semiconductors: Past, Present, and Future! In the Methodics theater. Stop by, say hi, and check the full theater schedule.
TSMC 2019 Open Innovation Platform® Theater (Booth #326) schedule is HERE.
Being the number one foundry does have its advantages and a massive ecosystem is one of them. It really is interesting to see what the fabless ecosystem is up to so you might want to take a look. Presentations start at 10:15 and end at 5:30pm with raffles in between. The presentations are 15 minutes, which is nice, and the presenters generally stay afterwards to answer questions so it is a great place to network.
Discover the Benefits of S2C's FPGA Prototyping Solutions booth #952
In the last 15 years S2C Inc. has shipped more than 2,000 systems to over 400 customers including the top semiconductor companies around the world. Stop by and meet the S2C team and see the new AI on the Edge FPGA prototyping demo. See Compiled ONNX models in an FPGA prototype with an ARM Cortex A53 and Mali-GPU on a Xilinx Zynq™ Development Kit using an FPGA implementation of NVIDIA® Deep Learning Accelerator (NVDLA acceleration). You can also learn about Ultra-deep Trace Debugging, High-throughput Transaction-level Verification, and Multi-FPGA Design Partitioning.
If you see me walking around with a beautiful woman that is my wife of 35 years. This is her second Las Vegas DAC, the first being in 1985.  DAC has matured quite a bit since then but so have we so it will be a memorable experience just the same, absolutely.
Share this post via: